Most South Indian Kolam is drawn in Penang or Malaysia during joyous Indian festivals or celebrations.
I checked with my niece, Thurga the significant of Kolam and was made to understand that it is a Hindu belief.
It seems the geometrical patterns and designs drawn at the entrance of the house invites Goddess Lakshimi into the household and keeps away evil spirits.
It is also a way to share our happiness with "God's small creatures" around the house such as birds, the ants, insects and the chickens. So Kolams are drawn with rice flour for the ants, raw rice for the birds and coconuts for the chickens.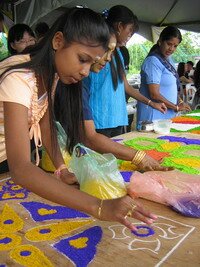 Find out more about Kolam: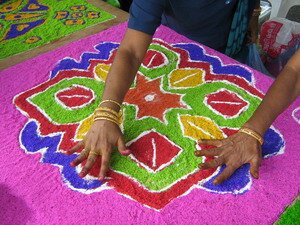 South Indian Kolams are mostly drawn by woman and young girls. It is usually drawn in front of the house or prayer room. On festivals like Navarathri and Ponggal, they are traditionally drawn before sunrise and sunset.
The Tamils and Maliayalis are big in Kolam drawing. Daughters from young age will watch their mothers drawing Kolam. So Kolam drawing is passed down from generation to generation.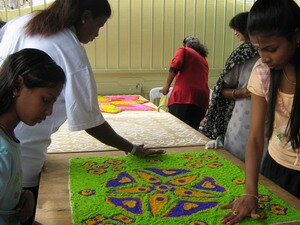 Nowadays, Kolam drawing is fast disappearing as people tend to live in condominiums and apartments. And it has become a novelty to learn Kolam drawing in some urban districts.
Generally, a Kolam is drawn with bare fingers using predetermined dots. The dots are either connected together to make a pattern or loops are drawn encircling the dots to complete a design.
If rice and grated coconuts are used, Thurga fills her hand with the rice or coconuts and slowly allows it to fall as she forms the pattern following the dots.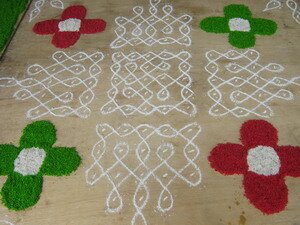 Nowadays there are perforated rolling tubes, perforated trays and stencils available to speed the process of making kolams.
During festivals and weddings, rice flour paste is used instead of the flour. When added to a paste, the kolams are not easily rubbed off in temples or wedding halls. Making into colorful paste, one could see a brighter and well polished finish.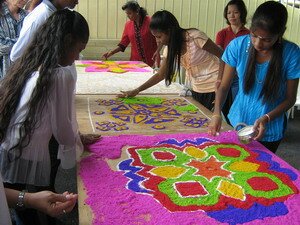 South Indian Kolams may be drawn in various designs, such as dots (pullik kolam), and straight lines (kottuk kolam).
They may also inter-twining and intersecting lines or in squares and circles. Intricate geometrical patterns maybe pentagonal, octagonal and hexagonal.
The end result whichever the design will be in shapes of animals like peacocks, flowers like lotus flower and some huge Kolam in shape of chariot of the gods. Indians being the Sun worshipper will mostly have their Kolam in the shape of the SUN.
For Krishna Pooja, some families draws tiny feet to lead Lord Krishna to the prayer room. Amazing and happy facts, I exclaimed with delight to Thurga! Of course, sweets are placed in the prayers room for Lord Krishna to partake not the rice flours!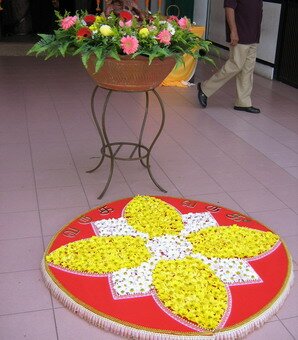 What makes me most unhappy is the fact that convenience takes over traditions and customs. Plastic molded designs are placed in one Malaysian Indian wedding we went to recently!
The essence of having Kolams and inviting God's small creatures is lost. It defeats the purpose of having Kolam then.
No evils can be driven away. No welcoming for the God if they decide to witness the wedding ceremony. And last but not the least important I guess for some, is the fact that God's small creatures got plastic flowers for food.
Go to Top of South Indian Kolams Page
Back to Indian Engagement Page
Back to My Island Penang Home Page