Three Pure Ones Folklore, Penang Story. Many people don't know much about the folklore of The Three Pure Ones. They seem to be over shadowed by either Buddha or Goddess of Mercy.
I think they must be in a much higher level for us humans to comprehend or understand their divine roles about this Three Pure Ones Folklore. That is why you don't hear so much about them as my dad will just explain briefly about them.
They are Yu-ch'ing(Jade Pure), Shang-ch'ing(Upper Pure) and T'ai-ch'ing(Great Pure). In the centre of the Three Pure Ones Folklore, is the highest deity of the Taoist people.
He holds a flaming divine pearl which represent the creation of the Universe, however at this stage the Universe is in a chaotic stage.
On his left sits Shang Qing holding a "Ru Yi", a wish fulfilling ornament. And on his right sits Tai Shang Lao Zun holding a mystical fan, written with yin and yang symbolizing the completion of the Universe, and the way of Tao can be spread, and living beings can seek salvation.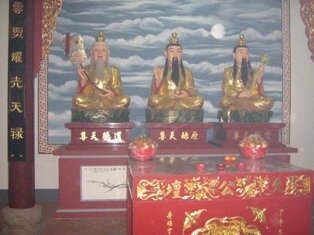 According to legend Lao Tzu was keeper of the archives at the imperial court. When he was eighty years old, he set out for the western border of China, toward what is now Tibet, saddened and disillusioned that men were unwilling to follow the path to natural goodness.
At the border, a guard, asked Lao Tsu to record his teachings before he left. He then composed in 5,000 characters.
In this sense the Taoist doctrine of wu-wei can be understood as a way of mastering circumstances by understanding their nature or principal, and then shaping ones actions in accordance with these.
Understanding this, Taoist philosophy followed a very interesting circle.
Look, it cannot be seen - it is beyond form.
Listen, it cannot be heard - it is beyond sound.
Grasp, it cannot be held - it is intangible.
These three are indefinable, they are one.
From above it is not bright
From below it is not dark
Unbroken thread beyond description
Form of the formless,
Image of the imageless,
It is called indefinable and beyond imagination.
Stand before it - there is no beginning.
Follow it and there is no end.
Stay with the Tao, Move with the present.
Go to Top of Three Pure Ones Folklore
Back to Places of Worship Page
Back to Goddess Parvati Vel Page
Back to My Island Penang Home Page