Step by Step to making Ti Kuih are preciously kept by Aunty Yean as she still remembers her mum who worked day and night making this traditional Kueh Bakul in the good old days.
How she squatted beside the fire place till the wee hours at night, sleepless nights for two months before Chinese New Year to help her mum earn this once a year business is really inspiring to me.
Aunty Yean sure have alot to tell, even a slap or two from her mum when she forgets there are certain words not to be uttered. I smiled as I remembered my own experience of getting a knuckle or two.
But having said that, Penang Nyonyas makes their Ti kuih with lots of love and dedication. So not forgetting, when making this delightful Kuih, there are some taboos or 'pantang' words that need to be observed.
Well you can say, big deal. I can buy from the supermarket now all year round. I agree but wrapped in poly sheets, you think it can beat the usage of banana leaves and firework? Think again!
Ti Kuih and Chow Kong (Kitchen God)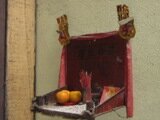 Like all traditional Chinese, we offer the this delightful Ti Kuih to Chow Kong (Kitchen God) on the 23rd of the 12th month of the Chinese Lunar calendar.
We believe that Chow Kong made his yearly journey up to heaven to report the happenings, good or bad to the Heavenly God. A bad report by the Kitchen God means a family will suffer from bad luck during the year to come.
So to prevent the Kitchen God from reporting anything bad about the family, we served him with the ever sweet and sticky Kuih Bakul. It is so sticky; he won't be able to speak fast.
This tale never ceases to make us, (when we were kids) roll to laughter that humans can outwit the gods. But we laugh behind the backs of our elders, not in front or you get a policeman stare too.
Preparation and things to do. Just to recap the whole preparation. See the photos of Aunty Yean preparation of Kuih Bakul.
A lot of effort, time and sleepless night but still this gutsy 70 years golden Aunty Yean customers won't leave her alone. All this planning to get ready takes days of washing and drying items for use.
My hats off this wonderful woman and Ah Cheng, her daughter who dutifully listens to her mum advises.
Methods
Steaming the Banana Leaf.
Washing the rattan basket or tins.
Lining the tin or basket with steamed banana leaf.
2 or 3 layered Water steamer.
A fire place, gas or electric stove.
Firewood.
Taking care of fire using gas or firewood
Ingredients for Kuih Bakul
1 kilo of glutinous rice, soaked till softened. Soak for 6 to 8 hrs. Rinse twice within the time frame. Grind till very fine.
1 kilo of white Sugar
Rice, soaked till it soften = 6 to 8 hrs
Grinding and sieving
Draining and turning to dried out faster = 6 to 8 hrs
Mixing to sugar till runny consistency

Banana leaf:

Bask over fire till softened and foldable.

Use wet cloth to wipe lean.

Line the rattan basket or milk tins.
Making Kuih Bakul
Fill up the steamer with basket or tins of flour and sugar mixture.
Cover the basket or tin with cloth, to prevent the water from dropping inside.
Seal the lid, to keep the steam in for at least 12 hrs.
High heat until water boil.
Tips to know when water boils, place a few coins inside the steamer. When water boils, it rattles.
Lower the heat and cook for 12 hrs minimum
Do not let the water dry out!
For firewood, safest is 16 hrs cooking time.
After 16 hrs, leave till to cool and firmed up before opening the lid.
Aunty Yean starts the fire by 7am. At 11pm, she takes all the charcoal out and allow it to cool till morning. In between the time, she prepares, the banana leaf, grinding the rice.
Back to Step by step to making Kuih Kapit Page
Back to photos of Kuih Bakul Page
Back to step by step making Jam puffs page
Back to My Island Penang Home Page