Getting around in Penang is not difficult as you may think. Arm yourself with a good penang map and have fun in our island.
Getting around in Malaysia Penang Island safely by car, ferries, busses, bikes or trishaws. My island Penang is still safe to get around, night or day. Georgetown Penang can be visited by walking.
Beaches In Penang all along Batu Ferringhi especially with Penang Rasa Sayang Hotel being renovated sets the mood for your relax pleasure.
Enjoy your Penang holidays be it in Batu Ferringhi staying at Holiday Inn or going up the Hill is not difficult. I start with Georgetown Penang.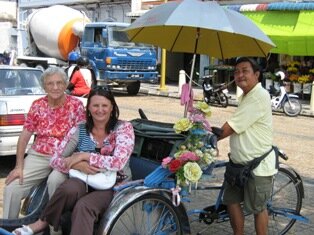 Getting around with pinang trishaws, most can be found around Georgetown, the main hub of the island.
The streets of harmony are along the places where trishaws are easily found. The Chinese and Indian temples, Mosques, shopping around Chulia Street, Pitt Street and street markets.
Getting around the places of interest and Heritage trails can be easily done around these areas. Find how you can get around in this page: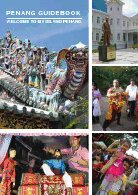 Getting around in a trishaw for a pleasant city tour is most exciting. Even as a locals, we find it so fascinating and fun.
And if you see any interesting places you love to take pictures, the trishaw peddler will be happy to stop for you to take pictures. The standard price is RM30 hourly, I was told by trishaw man Mr. Lau.
Mr. Lau is seen around Georgetown with his trishaw daily. Mr. Lau mobile number is . According to tourist Norah and Helen from Perth, they found Mr. Lau jovial. Very hands on, knowledgeable, accommodating and speak many languages.
Have a good Map in your hands to get to more places. Knowing our events and happening will make your days more fun and fulfilling. Not forgetting the numerous holiday we enjoyed all the year round.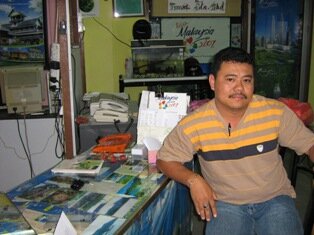 Shops for renting motorcycles or bikes can be found along Chulia Street in Georgetown. Also trishaw can be found in Batu Ferringhi. The tourists loves to get around at night as it is cooler in Batu Ferringhi.
Getting around in Batu Ferringhi where the beaches are from Georgetown Penang, using the bus is easy.
In Batu Ferringhi, I found Mr. Baharuddin Hassan (Dean) of Bonus Vista Tours Travels Sdn Bhd to be very helpful, humble and friendly.
He was telling me about how he ends up providing other packages due to his customer's request. Getting around Dean Motorcycle and Car is no hazzle. There is unlimited mileage too if the offer is still open.
Some common requirements: Collision Damage Waiver (CDW) Cars RM15 daily or RM105 weekly, Bikes RM5 daily. Negotiable monthly rates too can be discuss. Deposit refundable).
Some safety tips before hiring a motorbike. The lights, brakes and horns are a few items to check to see whether there are functioning. Be sure to wear helmets for both you and the pillion rider.
According to Dean, some hotels provides bicycles if you need them.
Cycling is another easy form of getting around Penang. Rentals are fairly cheap too. And if you are cycling as a back packer, just arm yourself with a good Pinang Map and bike through Penang.
You can cycle round the whole of Penang island in a day. And if you are a cycling enthusiast like PETER, we have good news for you.
There is a very reliable shop in Carnavon Street, where you can get the best gears for your bicycle. Peter should know what he is talking about as he as cycled over 75,000km since he started cycling in the 90's.
The next best bicycle shop is in Thailand. Read about Peter cycling to Penang and his journeys from Holland to China passing through many countries in Asia.
For many Malaysians this seems to be strange, Peter from Holland does regularly rides his bicycle from his hometown Sitiawan near Pulau Pangkor to Penang.
He is so addicted to his bicycle that he even gave his bike a name: Jim. And you can read about Jim's adventures here.
If you are staying for a few days, renting a car sound sensible and enjoyable. Getting around the relaxing way is driving as you are not tie down by the schedules of planned tours.
My friend of twenty years, Richard Goh runs a car rental agency. You can rent the car either daily or weekly. For Richard's car rental, if you Rent seven days, you only pay six days cost.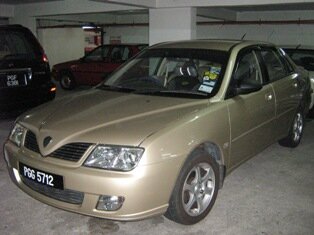 Before I forget, there is no air condition on most public buses or mini buses. So wear light attire if you going to enjoy the bus ride.
It can get crowded during peak hours. Approximately around office lunch breaks, school dismissal hours, between 12 noon to two afternoon.
So really, getting around my Penang Island, or Malaysia Penang, nearby Georgetown Penang or far up to the beach of Penang is enjoyable, relaxed, convenient and fun.
You need a valid international driving license and a good Penang map to enjoy this leisurely adventure of your life in our island.
Just remember though, the driver drives on the right hand of the car and on the left side of the road. You may have to watch for speed limits in the vicinity of hospitals and schools.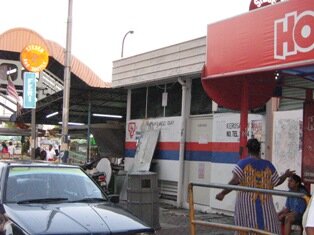 However if you want to go to other parts of Penang Island, the main bus terminal is behind KOMTAR (tallest building in Penang). Here one can find the buses for all routes in Penang.
There will be several boards displaying the routes the buses are plying. Just be sure you have coins for your fares. There won't be any change if you put in extra.
And if you are coming from the ferry, some bus services can be found just after the bus stop on your right. Refer to maps of Pinang to help you.
Along Georgetown, you will see 20 shuttle link bus stops and one may take as many rides you want for free. You get to see a big red sign at 20 bus stops.
Our Penang Georgetown Municipal Council provides free shuttle bus service in Georgetown. Starting from 7AM-7PM. The free transit link is provided on weekday, Monday to Friday, and 7AM-2PM on Sat. No service on Sunday and public holidays.
So come on here and enjoy our sunshine. Get my newsletter so you know what I have written on some happenings in Penang. You can read more about our Penang News here.
Go to Top of Getting Around Page
Back to Penang Free Shuttle Page
Back to Traveling to Penang Page
Back to Penang Bus Schedules Page
Back to My Island Penang Home Page