Penang Ancestor Worship for me, is a time to offer gratitude, prayers and food to my maiden side family ancestor. It is also time to remember my teacher and mentors.
In ancient times, Ancestor Worship is aim at seeking help from ancestor for protection from misfortunes, so it is not strange to see photographs of one's dead forefathers in some homes.
In Penang Ancestor Worship, there are basically two ways. One is the Buddhist way which is practiced by many Buddhist that is going to the temple to offer "dana".
The teaching of the Buddhist ways is relatively the same as Confucius and to perform meritorious deeds such as donation or helping the poor will help to transcend our ancestor to attain a higher level of training in their worlds.
In this page, you will find: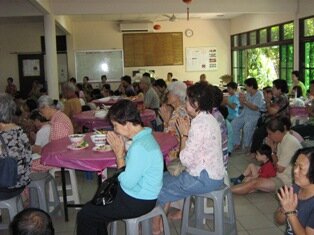 The Buddhist practice is easy as all you have to do is bring yourselves to the temple. In Penang, the temple ladies usually volunteers to cook for the temple.
Families interested to offer "dana" offers a small donation for the cooked food and offering. Easy, don't you think?
At the Wat (temple), approximately at 11 am the priest will walk in to perform the ceremony. Reverent (the chief monk) will offer and chant prayers in Penang Ancestors Worship with us.
As we chant and prayed following Rev monk, we were also guided to our mindset what to think so that our prayers can reached the spiritual and astral world.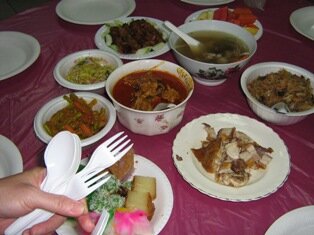 The chanting of prayers will conclude with the attendance in front "offering merits" to the ancestors. The devotees interested to perform this ceremony are given a jar of water and a bowl for pouring the water as prayers are chanted during Penang Ancestor Worship.
If you want to perform the "merits, there is a white board that you have to register toget this seating. This is usually reserved for those attendance whose had a recent lost.
Most Buddhist temples performs this ceremony during festive times like Chinese New Year, Cheng Beng or Seventh month of the lunar calendar.
For me, this is a beautiful sight, as I can see the values of traditions being carried out. Children know the seriousness of this ceremony and they do keep very quiet as their parents are deep in prayer during Penang Ancestors Worship.
Memories of yesteryear's of my late parents, uncles and aunts rushed to me as I offered my sincere prayers almost at most of these festive times in Penang Ancestor Worship.
We then offer the food to the priest or monk after chanting the prayers. By the same token, we are offering a good deed by offering food to the monks.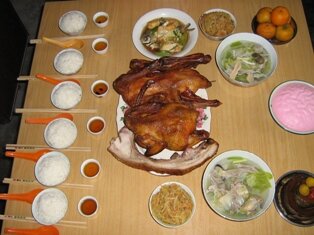 The teachings of Confucius ways is basically never forgetting one's God, parents or teachers. Also, worship brings the families closer, thus creating a powerful sense of family loyalty and strong family ties.
Children far and near will travel home to pray to their ancestors.I get to meet my relatives mostly during our Penang Ancestor Worship too.
So usually the "kong chu" or family home will be the busiest house of the year. Preparation for Penang Ancestor Worship includes food preparation, fruit, roasted pig lings, chicken and duck.
Wine, tea, fruits and local kuih are served. In short all good food that you know your ancestors loved. Even the food offering has its meaning and significance.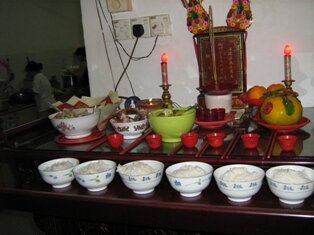 Added to the core of teaching is filial piety and respects for your ancestors and elders. Filial piety within, large extended families, encouraged everyone to understand their own roles and position in the family and society.
The family is viewed as a refuge in times of trouble and a place for sharing joy. We are reminded that if we cannot love our own parents, children and siblings, how can we love others.
So charity begins at home. Confucius exhorts children to love and respect their parent irrespective of whether they are dead of alive.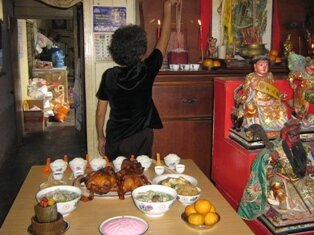 A ritual used to invite ancestors into our homes in Penang Ancestors Worship. The praying ceremony for the Confucius way will start off with prayer to the Heavenly God Thi Kong) and Mui Sin. Seeking permission for the departed ancestor to be allowed inside the house to partake their yearly meal.
After asking permission from the Door Diety or Mui Sin, the head of the family will then advise the ancestor.
Here Aunty Yean uses a pair of "kidney shape" poey to translate whether the ancestor has arrived and ready to partake the meal.This task is usually done by the grandmother or mum who happily compliments you as she gives the joss sticks to you for coming home to offer this prayer.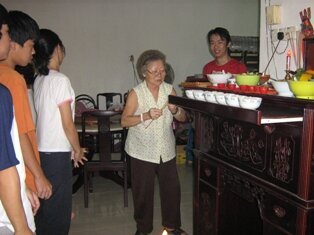 In a household where the elders are alive, the head of the family will commerce by offering the joss stick for all to pray.
Once the ancestor has finished eating, joss paper or Hell bank notes is burned for their use.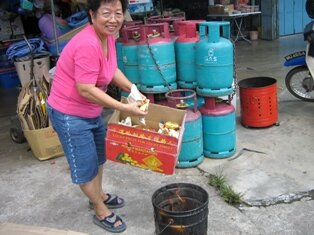 It is believed that the descendant will have prosperous time in their business or career. In the Penang Ancestor Worship, it is believed that if ancestors lived comfortably, so will the descendants.
Back to Top of Penang Ancestor Worship Page
Back to My Island Penang Home Page