Goddess Parvati Vel is about a folklore of the evil demons who had such a big ego that he did not want to surrender to Lord Muruga.He though he could hide from Lord Muruga in this Goddess Parvati Vel.
When he took the form of a mango tree but Lord Muruga's spear split the tree. One part he turned to a peacock as His vehicle. The other he turned to a cock as his flag or banner.
The Vel (sacred spear) which Goddess Parvati gave to Lord Muruga is the most powerful weapon in his armory. Lord Muruga fought for ten days and destroyed the evil Soorapadman and his brothers.
The above was one of many told to me by different locals as I probe for more understanding of the Indian folklores. It was great to find out more about the many incarnation and roles Parvati and Lord Shiva played in each.
Parvati is one of the major aspects of Devi, the universal goddess folklore. She appears as Lord Shiva's consort, considered in this form to be a mountain goddess.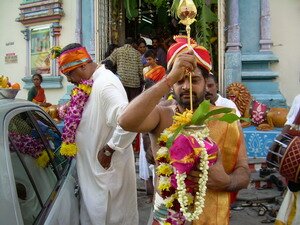 As the tales of Goddess Parvati Vel were told, at the time when many stars and planets were populated by asuras (evils) and rishis (sages).
Soorapadman captured some devas (good beings). As the peace effort failed, the Lord waged a war against Soorapadman.
Some asuras were destroyed but yet Soorapadman couldn't be killed or captured. Lord Muruga then prayed for the legendary VEL, Vetri Vel which is associated with victory.
Goddess Parvati sent him the holy VEL or lance, the most advanced weapon that could tracked Soorapadman and flushed him out of any from wherever he hid. At that time, Soorapadman had fled and was hiding in the deep sea in the form of a mango tree.
Lord Muruga managed to find him and hurled the Vel which split the tree. He then tore one half into a peacock to serve as his Vahana (vehicle) and the other half as a banner or victory pennant.
The dying demon, who had become two parts at the strike of the Vel, repented and Lord Muruga, full of mercy and compassion, accepted him as His vehicle (peacock) and banner (rooster).
Go to Top of Goddess Parvati Vel Page
Back to Thaipusam Vel in Penang page
Back to My Island Penang Home Page