Diving in Malaysia is for most people interesting on the east coast(Tioman, Redang, Perhentian) and in Sabah Borneo (Sipadan is one of the worlds most spectacular - and expensive- places to
The west coast of Malaysia is not well known for it's diving spots. Does it mean diving on the west coast is impossible?
On the contrary, diving in Penang may be impossible but with Langkawi and the over 90 islands, it is possible diving in Malaysia, the west coast is a good choice.
Penang and Langkawi as the most famous hotspots on the west coast, you would expect a good diving site too. And we have it! Within reach of Langkawi and Penang the tiny uninhabited island of Payar is the diving pride and joy of the west coast.
Learning to dive, the first few steps
A non diver can not understand the excitement being underwater. Photos and videos do not justice to the experience itself.
Malaysia is a good country to start your diving adventure. A good place to start is Pulau Payar with it's quiet waters and plenty of things to see in your first dive.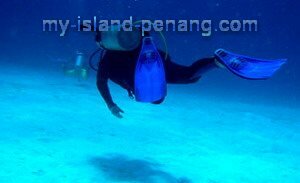 There are a few prerequisites to start a diving in Malaysia course. You must be able to swim and you must be reasonably fit and healthy.
Our dive Company has an excellent PADI Open Water course (4 days) in which you will learn all the necessary basics for diving at Pulau Payar and (in principle) any other place. Additional course are available depending on the demand.
Experienced divers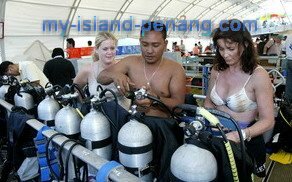 When experienced divers talk about diving in Malaysia they mostly talk about the east coast and Sabah.
But after having seen Pulau Payar, many will acknowledge Payar too is an excellent dive spot. Maybe less known, but less known doesn't always mean less interesting.
The experienced divers do get their share of the fun. They too will have the possibility to explore the reefs and find an abundance of fish, anemones, nudibranches and other sea animals and plants.
Our dive masters know all the good spots on the reef so you will not miss anything.
What will you see?
Divers have always the same questions:
How deep do we go?
What's the viz (visibility)?
What fish is here to see?
Experienced licensed divers who will do fun dives will go as deep as 30 meters, the maximum RE-creational divers are allowed to dive.
However, the best area to find what you are looking for most is between 6 and 15 meters but even in very shallow waters the reef is fantastic.
In general the visibility is great, especially if you realize the marine park is right on the busy Straits of Malacca.
Safety
Non divers ask me sometimes: "Isn't diving very dangerous?" My answer is always the same. If you follow the safety regulations which you learn in the very first Open Water Diver course lesson, there are few things that can go wrong.
Yes, it is dangerous if you are flying in and straight go for a dive. You need to rest 2 days before and after dive. This is to allow the body to release air pressure. If not, I was told ear drum might burst might arise.
Then again, it's much more dangerous to sit in a car on the motorway then go underwater with your buddy using the regulations you have learned.
It is beyond the scope of this page to give you these details as they are part of the Open Water Course, our Dive Company has available.
And in case you are flying out, make sure you have not been diving for at least 24 hours to let the nitrogen bubbles, which formed in the blood, outgas out of the body circulation.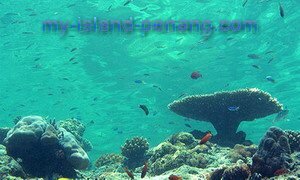 Diving in Malaysia is generally safe and fun. The dive community is quite small. For example if you dive at Pulau Payar and you go to the east coast or Sabah, it's not unlikely your dive master on the east coast will know the dive master in Payar.
Diving in Malaysia is a life changing experience. It will make you aware how fragile the system underwater is.
Many divers get addicted to diving. Some will become professional filmmakers or p hotographers. But all share the love for fish and sea life in general and threat it with respect.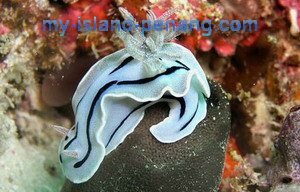 So make it not only life changing but also a safe experience. As a photographer and diver, my diving friend Ning tells me it is an enriching experience.
I feel very privileged to receive her photos taken in her photography diving expedition. I cannot begin to tell you how many hours I looked at many marine life photos and not feel bored, in fact I feel so awe inspired.
My antennae tells me to share the wonderful colors of our ecosystem and our marine life. I am intoxicated by the babble of hundred fishes, marine sea life and corals.
Simply put "magnificent" is my expression! I wrote a page some time back for Ning when she told me about Sipadan. This is her excellent photography work and you will see what a great diver she is took.
Equipment
As you expect from a professional dive organization, our dive company has everything you need available (well... you still need to bring your own swim suit). Masks, snorkels, fins, wet suits, everything is available.
However, experienced divers may want to bring their own equipment. After all, diving with your own gear is still preferable then to use rented material.
Tours from Penang or Langkawi
Our dive company has a range of Water Certification Courses to Pulau Payar available. The diving industry is booming so enjoy our courses.
Tell us what you need? Want to know more about our Pulau Payar Diving Certification Courses? Or if you are ready, fill up the form provided.
Greatest Dive Sites: Malaysia , World.
Go to Top of Diving in Malaysia Page.
Back to Diving Certification Course Page.
Back to My Island Penang Home Page.