Herb Baked Potato is a dish Joseph, my Eurasian friend prepared for the kids. They loved potatoes in almost any way it is cooked. A baked potato, also known as a jacket potato, is the edible result of baking a potato.
Generally potatoes are baked either in a convection oven. But we love our Herb Baked Potato with a crisp, golden skin, and is light and fluffy on the inside. Great comfort food!
The Asian too loves the potatoes and of course we know it is The food for the Europeans and we can't beat their style of cooking.
The potato is not Malaysian staple food. We eat potatoes as a dish. Only lately Malaysian too enjoyed potatoes like the Westerners.
This potatoes has come a long way to be part of our Malaysian food. And in all our locals Malaysian food culture, be it Penang Nyonya Food or Penang Eurasian Food, potatoes is a "must have dish".
Joseph graciously sent some over one day and it has become my family's favorite dish. But the special request is lots of garlic must be added. Their crave for garlic is simply amazing.
Ingredients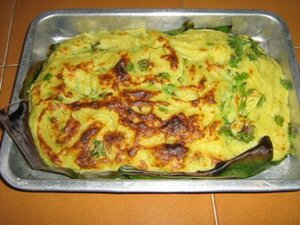 I was not surprised by their demand but have to researched further to their taste. As I love potatoes with lots of garlic too, it was not hard to cooked more. They eat until one day, they jumped up to say, this is THE recipe!
1 kat potato, boil till cooked. Smashed it with a fork
1 teaspoon Salt or to taste
1 teaspoon Pounded Black Pepper
10 pips Pounded Raw Garlic
5 strings of Coriander leaves, Stem cut finely. Leaves ,just shred the leave to rough pieces
Method
Line a tray with banana leaf or greased a tray
In a bowl, mixed all ingredients.
Then poured into the greased or banana lined tray
Baked for 10 to 15 mins
Oven Temp: 150 deg centigrade or 350 deg F for not more then 10 mins
Served hot
Variations
Vegetables like chives can be used too. Chopped chives to fine bits before adding to the potato.
Go to Top of Herb Baked Potato Page
Back to Lina Jam Puff Photos Page
Back to My Island Penang Home Page