Come with me to experience the Puasa Ramadan in Penang, the fasting month for Muslims. My Muslim friends has been observing Ramadan or fasting for the past three weeks now.
Puasa Ramadan is a very special month of the year for the Muslims. It is one of the five pillars of Islam. My friends tells me that it is a time for inner reflection, self control and devotion to God.
Ramadan is also a time of intensive worship, reading of the Qur'an, giving charity, purifying one's behavior, and doing good deeds.
Learn more about Puasa Ramadan here: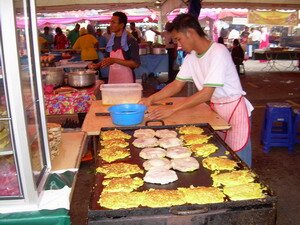 A good friend who is a Muslim convert also told me that, fasting is a way of experiencing hunger.
Developing sympathy for the less fortunate, learning and appreciation for all of God's bounties is truly significant elements during Puasa Ramadan month.
Fasting is also beneficial to the health and provides a break in the cycle of rigid habits or overindulgence.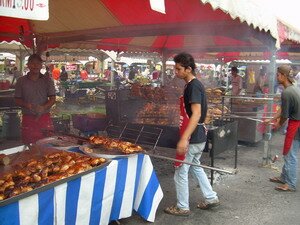 The daily fasting time commences at the breaking of the dawn. It is at this time, I hear my neighbors cooking for their "sahur" pre-fast meal.
I value the discipline shown by my working mates as I observed no food or drink passed through their mouth for 12 hours from dawn till day break.
Sometimes, though mindful of offending them, we asked whether were they ever hungry or don't feel like fasting.
It seems the first three days are difficult and once the body got adjusted, they feel good and tries not to break the fast. It is easier to fast when all are fasting. And if you take time off or break the fast, you still have to compensate it back later.
When one is younger and not understanding the faith, you may go off track. But once one is older or more mature, fasting during Ramadan become part and parcel of a good Muslim, my lady friend Rohana told me.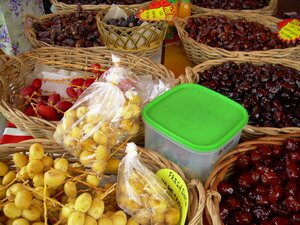 Rohana tells me contrary to the belief that breaking fast means big eating. According to the customs of their Prophet Muhammad, breaking fast with dates is a common practice since ancient times.
No wonder I see dates on sale everywhere. Fresh dates in yellow and red beside the preserved ones.
Then, some of the men folks will go to the surau (community mosque) to offer their sunset prayers (mazhrib). Only after an hour would they really eat. Her family prepares her home cooked food and you would too. Yes She is a great cook.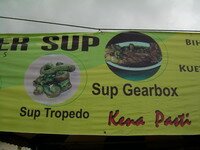 In Penang or Malaysia, food sold are in abundance. One does not have to cook. In Penang, we have Pasar Ramadan. Approximately 3pm to 6pm, you will see hundreds of stalls selling all kinds of food.
Rice prepared in different method like Nasi Dagang, Nasi Ayam and varieties of savory meats. If you miss traditional Penang or Malaysian kuih or local delicacy, this is the time to find it.
If one thinks you can stay slim at this time, I would not bet on it. It is as if I can say, what you think is what you get. So you try going around and lo and behold, my stomach rumble and my heart tremble.
Cakes, meats, sweetmeats, and rice in hues of bright colors is great teasers! Now you would have to find what you want to eat or buy. Most people choose to let go their belt during fasting month.
But if a family does cook, it will be a wide array of food to eat. One is privileged if you are invited to break fast with a Muslim family. Trays (hidang) of food is prepared like you are invited to an engagement or wedding of the family.

Most Muslims prefer to give their Zakat in Ramadan because there are more rewards for doing so. But it is not necessary to pay Zakat in this blessed month.
The amount is based on their annual earning of 2.5%. Living in the Malay community, I am aware of some other charitable activities they have in their mosque.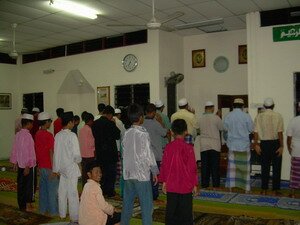 In the evenings, you will see large crowd outside the mosque when charitable Muslim families would invite their community for dinner. Some smaller community or kampongs offers Kanji Purnama or Morei. Kanji Purnama or Morei is minced meat porridge.
It will be cooked in the vicinity of the surau and to people breaking fast in the surau. Families wanting to perform this act of charity does it by bringing specially prepared food to the surau.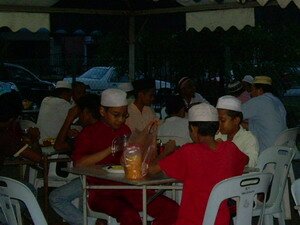 The last ten days of Ramadan are a time of special spiritual power prayers. Everyone tries to come closer to God through devotions and good deeds.
The night on which the first verses of the Qur'an were revealed to the Prophet, known as the Night of Power, is generally taken to be the 27th night of the month.
The Qur'an states that this night is better than a thousand months. Therefore, many Muslims spend the entire night in prayer.
During the month, Muslims try to read as much of the Qur'an as they can. Most try to read the whole book at least once. Some spend part of their day listening to the recitation of the Qur'an in a mosque.
The much-anticipated start of the month is based on a combination of physical sightings of the moon and astronomical calculations.
The practice varies from place to place, some places rely heavily on sighting reports and others totally on calculations. The sighting of the moon is done in various locations in Malaysia.
Then, the keeper of the Royal Seal will announce the date to celebrate Adilfitri or Hari Raya Puasa.
Muslims uses many phrases to congratulate one another for the completion of the obligation of fasting. Here are some sample phrases:
"Kullu am wa antum bi-khair" (May you be well throughout the year) - Arabic
"Atyab at-tihani bi-munasabat hulul shahru Ramadan al-Mubarak" (The most precious congratulations on the occasion of the coming of Ramadan) - Arabic
"Kullu am wa antum bi-khair" (May you be well throughout the year) - Arabic
"'Eid mubarak (A Blessed 'Eid)" - universal
Non Muslims friends will usually wish Selamat Buka Puasa if it is time for breaking fast. And Selamat Hari Raya for the completion of Ramadan.
Go to Top of Puasa Ramadan in Penang Page
Back to My Island Penang Home Page