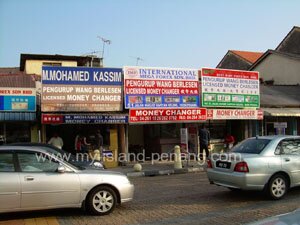 The Penang money changers are Licensed moneys changers. The Bureau de change can be found all over Georgetown, in shopping malls, public banks. Even along the coastal areas in Batu Ferringhi too which is quite far from central Georgetown.
The Money Changers are usually of Indian or Indian Muslim descent. Even in England or France, we seem to see them rather then the British white people. So they will be quite familiar to you.
The shops can look pretty unusual with bars and all. But it is understandable for security reasons, those money changer shops were built that way.
You get better rates if you change with our licensed Penang money changers. They are mostlyfound in Lebuh Pantai and Jalan Mesjid Keling.
Currency Exchange
The currency exchange for the Malaysian Ringgit is approx RM3.20 per USD plus-minus 10 to 20 cents. For other currencies, please checkwith the local money changers or banks. The former offers better rates and are open to negotiations.
For your convenience, we have a currency converter available.Penang Money Changers
Denomination of Malaysian ringgit
The Malaysian ringgit or dollar comes in notes of RM1, RM5, RM10, RM50, RM100, RM500 and RM1000. There are also coins of 10sens, 20sens and 50sens. (100 sens = 1 ringgit).
If you see a copper coin, that is the denomination of 1 cent. The colors of other coins are in silver.Presently 1 and 5 cents are no longer in circulation.
If the bank or the ATM runs out of money, you can change your money at some of the hotels. But the rates can be a little steep.
In Malaysia the maximum you can withdraw from the ATM is RM 2000.00 per day. In some big cities like Kuala Lumpur, it can be more. But if you need to withdraw more than the stated amount for the day, you can do it over the counter.
Please remember, the Malaysian ringgit is not convertible outside Malaysia so make sure to use all your Malaysian ringgit before leaving. So carry a maximum cash of RM100 per two to three days will see you through.
Use our public buses or free shuttle services if you are in the heart of Georgetown. For the more up-to-date on your currency rates.
Banks and ATM
The banking facilities in Penang are within walking distance to any hotels or places you stay. Our currency is called Ringgit Malaysia or RM.
Some useful information:
Currency:

US$ 1.00 is approx Malaysian ringgit RM 3.20.

1 Euro is RM 4.50




Credits Cards:

Can be used in hotels, shopping malls and up scale restaurants. Some small town shops will only accept cash.




Traveler's Checks:

Can be exchanged at the Banks. Western Unions can be exchanged at certain post offices and banks. Some hotels might be willing to exchange Travelers Cheques but the rate will not be profitable.




ATM Machines:

The most convenient is Hong Kong and Shanghai Bank (HSBC), though there are many other banks available all over Penang which accepts all major credit and debit cards (cirrus-maestro, MasterCard, visa).
It is wise to carry enough cash to at least get you through the first day of your stay - about 100 Dollars.
Go to Top of Penang Money Changers Page
Back to Malaysia Calendar Page
Back to Penang Introduction Page
Back to My Island Penang Home Page