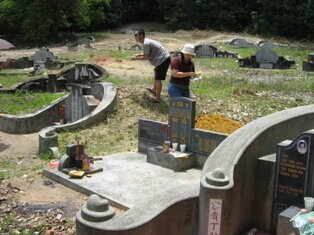 Kee Clan All Souls Day, going up the hill (sua teng) or bukit with Newman Kee to clear his grandfather and aunt tombs has been interesting.
Usually on Cheng Beng Day, offerings to our honorable ancestors from Chor Chor Kee Lai Huat to the fourth generation lineage in the kongsi will be done on a yearly affair.
Before that, we will make effort to go to clear or clean the tombs. As this is usually a yearly event, we will pull the weeds from the ground of the tombs, level the grounds, paint the lettering if it has fade. Check to see whether the tombs stones eroded badly.
This repairs can be done during Kee Clan All Souls Day. Other days are not permitted as it might disturb the feng shui.
This is a strong belief that you would want to do all things correctly (meaning in terms of prayer and homage) to effect a more prosperous year for the descendants.
Weeding and clearing the tombs stones is an act of love and respect for the dead. It was done to remind them they are not forgotten. After clearing, we then placed joss colorful papers, weighted down some pebbles so it wont fly everywhere.
As this cemetery is a private plot for the Kee Kongsi, I then went around looking for tombs of loved ones that I knew. Sitting on the very top of the hill was Great Great Grand Father Kee Tek Phang and his wife.
I am pleased I made an effort to return to Kee Kongsi for Cheng Beng this year. I then offered a silent prayer to be permitted to return again the following year to offer my gratitude to my ancestors for Kee Clan All Souls Day.
Honestly, I was always the happy go lucky kind of person. Dad when he was alive, never really demand that we do this or that. That is why it has been years, I returned to Sungai Bakap for anything. And I am glad I did.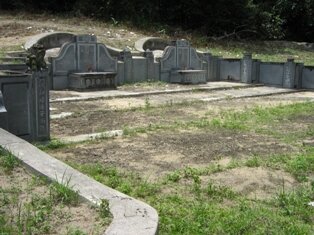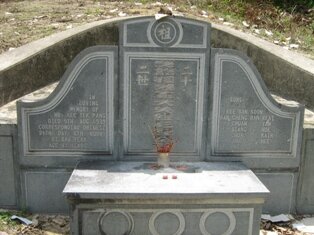 It was actually an accidental visit one day but turn into a nightmare. Why, years back, I used to bring dad home freely and the ancestral home was always open.
But it was a different story when I got home this time. I could not get in as all was locked. I walked the street to find someone familiar but I found no one. Read what made me come again here for Kee Clan All Souls Day.
Then again a few days later as I was not happy with my last visit. I found my aunts, talked to them and then they promised to keep the doors open for me and others who returned home.
I later found out that as most of them are getting old, they could not keep all doors open. This prompt me to talk to my uncles and aunts to find out more about my ancestors, stories of Chor Chor.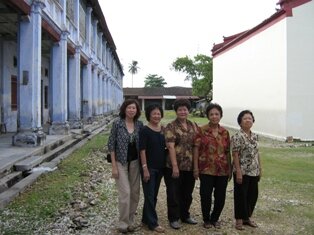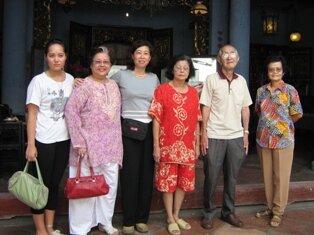 The more I asked the more I discovered about our Chinese migration to Province Wellesley, Penang and how we were involved in the Larut Wars and all.
Thanks to the Chinese ancestors Kee Lai Huat and Khaw Boo Aun (lady chor chor brother's) I now know my history of Pangkor Treaty. And how the Chinese established themselves in Malaya.
So in short, better know this, our forefathers are either from the secret society of Hai San or Ghee Hin, or a communist. No other ways. :) ha ha.
I thank David Teoh of Penang who wrote and gave me lots of insights of our Chinese history which he found in Chinese old newspapers or online Chinese archives.
As most of us are English educated and did not make an effort to the Penang Museum, we would have not known our history.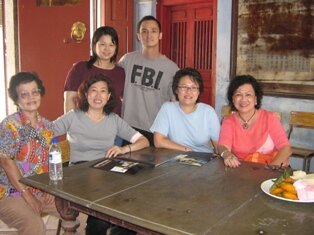 Please pass this site around as my ardent wish is to create an awareness for my Kee cousins or nieces and nephews. Talk soon.
Go to Top of Kee Clan All Souls Day Page
Back to Kee Ancestral Home Page
Back to Kee Kongsi Cheng Beng Page
Back to Kee Lai Huat Vision Page
Back to Province Wellesley Taochiews Page
Back to Kee Ancestors Lineage Page
Back to My Island Penang Home Page