The Penang Thaipusam is notably the biggest Indian Festival in Malaysia. The other popular location is Batu Caves, in Kuala Lumpur. Most tourist I talked to, planned their holidays to Penang to join in this colorful celebration.
You have to witness this grand pilgrimage of Hindus coming from all states of Malaysia during Penang Thaipusam. Not excluding the other races, they can be seen carrying trays with coconut, vibuthis (holy ashes) and flowers to offer to Lord Muruga.
Being a local, I have taken this festive event Penang Thaipusam for granted and never truly appreciate our unique festival.
But this year, I am inspired to be there for the three days to feel the ambiance of the festival that has become a tourist event, a must see.
Okay, so like a good local, let me share with you some useful information should you come during the off season. Where to find some Indian temple or locations, who are involved in Penang Thaipusam and why they do it?
Where Lord Muruga's 113 years old statue is house?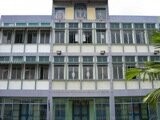 Walking in Georgetown Penang, you will definitely come across 128 Penang Street. Lord Muruga statue is housed in this three story Chettiar clan's residence.
During off season of Thaipusam, you can visit Chettiar house to offer prayers. But prayers are only performed twice a day. Early morning puja until about 11am. If you miss that, come back for the evening prayers starting 5 or 6pm.
I was not sure why it was not housed in a temple like most statues should be. But according to Chandra, the Chettiars being one of the few early settlers in Penang are the "keepers" of Lord Muruga's statue.
One could understand why as the statue is heavily decorated in gem stones and precious of all colors and size. The glittering gold leave statue is a site to behold.
Most of the business around Penang Street belongs to the Chettiar clan. As they are vegetarians, their food are specially prepared in one of the house too.
Where are the Thaipusam chariot and bullock cart stored?
Just opposite the Chettiar's three storied building, stood a huge block of orange doors. This is where the Chariot and bullock cart that paraded Lord Muruga statue stood.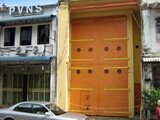 If you happen to be around the vicinity a month before Penang Thaipusam, you will see Indian men polishing the chariot. Excitement for Thaipusam is in the air once these men start opening the huge doors and polishing.
It is a reminder to start fasting, devotees will come to the Sri Mariamman Temple in King Street.
Penang Thaipusam chariot will be drawn by a bullock cart with two heavily decorated bulls.
As early as am, prayers will commence and devotees with offering trays will pack the whole street. This year, we were one of first hundreds to arrive early to witness.
What does the devotees do during Thaipusam?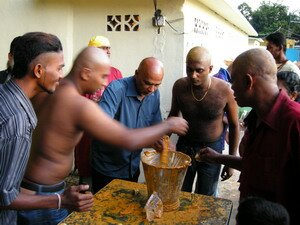 Fulfilling of vows by Hindus are the highlights of Penang Thaipusam. Hindus, young and old wanting to fulfill their vows does many forms of sacrifices depending on the gravity of your illness or wishes.
Some will be carrying kavadis (mini chariot), paal kudam (milk offerings), paal kavadi, some shaving their head bald.
Married couples can be seen carrying their new born baby on sugar cane poles will climb up the 248 steps to the Waterfall Temple (Arulmigu Balathandayuthabani temple) in Jalan Kebun Bunga (Waterfall Road) to complete their penance during Penang Thaipusam.
Three days of Penang Thaipusam
This year, Penang witness a special Vel Ceremony, never before had this been performed. Elephants helped to deliver the spear "Vel". Two pythons and cows, Indian vehicles for Lord Shiva were seen in Waterfall Temple.
A day before Thaipusam, the "Vel" (spear) from Goddess Parvati was specially delivered to the Waterfall Temple.
The first day of Penang Thaipusam is called Chetty Pusam. The actual day is the second day when the majority of Hindus converged and pray in remembering the Goddess Parvathi who gave her son the invincible lance (vel) to fight the evil demons.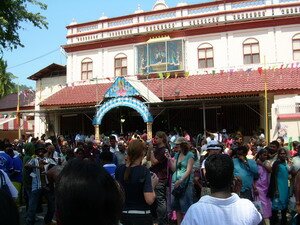 The procession weaves through major streets of the city and takes about 12 hours to reach its destination.
It will pass through Lebuh Chulia, Lebuh Victoria, Jalan Magazine, Jalan Datuk Keramat and Jalan Utama before arriving at the Thendayuthapani Nattukottai Chettiar temple in Jalan Kebun Bunga (Waterfall Road).
As the procession passes by, devotees are seen breaking thousands of coconuts along the way to cleanse the road for the Lord to pass. Coconut water is deeming to be the purest water for any form of purification in Indian culture.
Approximately 8 in the evening, the Penang Thaipusam possession will arrive at the Thendayuthapani Nattukottai Chettiar temple in Jalan Kebun Bunga in Waterfall Road.
The chariot will remain at the (Thendayuthapani Nattukottai) Chettiar temple in Jalan Kebun Bunga till the third day and will make its return journey on the third evening.
Catch this proposal ceremony late at night in Waterfall Temple
On the second day of Thaipusam, at midnight, Lord Muruga will be taken up to the hilltop temple for his pending marriage proposal to his consort Valli.
This marriage to his consort Valli never materialized to these days. It was said that someone sneezed when the ceremony was conducted.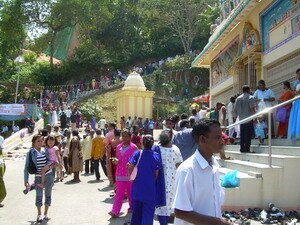 In Indian and Chinese culture, any kind of noise like glass breaking or sneezing is considered a bad omen.
Stalls selling Indian traditional clothes, peacock feathers, traditional food, deserts, snacks and medicine were seen doing brisk business on the 3 days of Thaipusam.
For the three days of Penang Thaipusam, no one will go hungry as hundreds of tanneer phantals (makeshift refreshment stalls), have been set up by individuals and corporate companies every year along the Thaipusam procession route particularly Jalan Utama (Western Road).
If you want to try Indian vegetarian food, it is good food at its best at this time of the year.
Tamarind rice, Sweetened rice, White rice with different varieties of sambal and curries will be handed out as you walk along the routes of the during the Penang Thaipusam possession.
Refreshments Preparation for Penang Thaipusam
If you are thirsty, there is refreshment, like sour milk or yogurt or water. I am so inspired every year to see more and more of other races participating in the rituals and handling out food.
This evidently showed our cross cultural respect and multiculturalism which is being greatly admired. Sincerity, love and warmth you can't find anywhere else.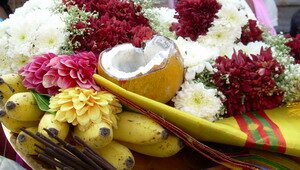 Volunteers were seen busy assembling cut out images of Lord Muruga, Lord Ganesha and other deities to decorate their stalls for the festive celebration during Penang Thaipusam.
If you are anywhere near these locations, be alert as all times. Picket pockets and sometimes fights will happen but with the police personnel been enforced at various locations, I hope this will curb any unpleasant incidents.
Many roads will be closed to make way for the kavadi bearers and the thousands who will throng the streets to witness the celebrations.
It is wise to park your vehicles some safe places away from the Penang Thaipusam procession routes as most routes will be block.
Preparation for devotees performing the rituals
To fulfill vows made to Lord Subramanian, some devotees have their tongues and cheeks skewered with long silver needles and metal hooks pierced to their chest and backs.
The most extreme form of devotion is the carrying of the spectacular Kavadi for the deity.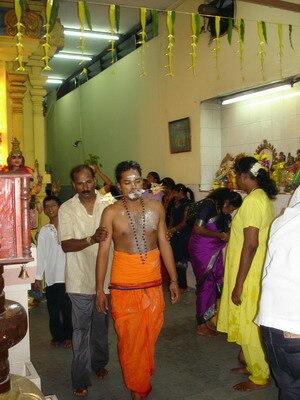 Devotees who are performing the rituals must observe a strict fasting month. They must take vegetarian food and conduct prayers at home or in temple.
Observing austerities is important for a month before the festival in order to purify them. This will help them go through the whole rituals. Some will not share the same bed with their spouse for the whole month.
You can see the kavadi fixing or skewered rituals in Penang. Go to the Sivam temple in Jalan Dato Keramat (opposite formerly known building Birch house) or Lorong Kulit temple (opposite the Penang Jail).
On the first of Thaipusam at about 8pm in the evening, early kavadis bearer wanting to beat the heat of the second day, will come to either one of this temple. A prayer will be perform before the actual piercing.
These temples will be busy for two straight days as devotees wait in turns for the kavadis to be handed over. More than 1,000 kavadis of various sizes and colors would be carried this year, I am told.
Then before the procession, there will be a prayer. Friends and relatives will gather to offer their blessing and support.
They will usually accompany the kavadis bearers on the journey chanting "Vel! Vel!" and lots of whistling and beating of drums can be heard.
The Penang Thaipusam possession
They will be so inspired and you get to see them dancing to the devotional music played along the way.
Some kavadis are made from wood, while more elaborately decorated 'Alagu Kavadi' with metal skewers are anchored on various parts of the devotees' bodies.
Teenagers usually carry simple wooden one while the woman will carry pot of milk over the head. Yellow saffon clothing is the holy attire for this celebration.
You will also see them being pulled by ropes. It is an act to keep the flesh from sticking to the skewers. So removal of the skewers won't be painful for the kavadi bearer.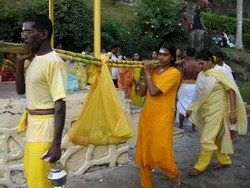 Upon reaching the hill top temple, devotees will offer the pot of milk that is tied on the trident of their deity to the priest of the hilltop temple to be pour over the statue of Lord Muruga.
Those with hooks and skewers have a priest chant over them as the metal implements are removed and the wounds treated with holy ashes "vibuthi". There is not a drop of blood and no pain when the skewers are removed.
You can see this skewers removal ceremony on the hilltop temple. This can be observed at the foothill of the Waterfall Temple.
These are some of the Penang Heritage that is in dire need to be preserved. Most of the traditional cultures is what makes Penang into a heritage city recently.
Another interesting page about Thaipusam is written from Peter, my Dutch friend.
Peter gives on this page a personal view about Thaipusam 2007
.
Go to top of Penang Thaipusam Page
Back to Penang Vel Thaipusam Page
Back to Photos of Thaipusam Vel Page
Back to Photos Kavadi Ceremony Page
Back to My Island Penang Home Page