The Penang Festivals comes from various cultures of Muslims, Hindus, Buddhist and Christians. Our celebrations observe religious holidays that are often marked in the lunar calendar, so they do not take place on specific dates.
But whenever you visit us, can you feel the excitement of our celebrations? Honestly, I am not able to write all the hundreds of festivals. As a guideline, some festivals are celebrated together and are gazette public holidays for all to enjoy.
Find here a quarterly extensive guide to Events and Festivals. Interesting places and happenings too and observe each of our community as they excitedly participate in ethnic festivals.
You will see things that only happen in Penang and be amazed by the co operation shown towards festivities.
The multi-ethnic Penang includes some of the most fabulous festivals and parades that you will ever see. To witness our festivals, is an eye opening experience.
It will be one of the most unforgettable moments, almost magical to an extent, to connect and feel the diverse cultures which makes Penang today.
So far, having revisited some Penang celebrations, it is so refreshing and different. Maybe one become more appreciative with what is left of our heritage and traditions.
As Chandra and I have more time in hand, every chance to go out of the house to revisit places of interest or for prayer or function, we just do it.
So far, we had participated in some Penang festivals and these are my experience.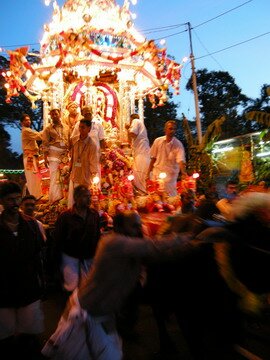 In January, we did a traditional Ponggal ceremony at home, boiling the milk, making the fire in our garden and cooking sweetened rice.
Ponggal festivals is the harvesting festival celebrated in January. Festivals is held after harvest and is an interdisciplinary Sabbaths for the rural Hindus.
Read our experience here: Ponggal. Then see how we cook the rice here.
One of the must do item for Indian festivals is the drawing of Kolam. Spiritually it is welcoming the Gods to enter our domain and physically, the Hindus believe that on this day even God's smallest creatures are not forgotten.
Go to Botanical Garden Penang Waterfall hilltop and Chettiar Temple in the evening to welcome Lord Muruga.Penang Festivals
As they park the chariot, the statue will be carried into the main Nattukotai Chettiar Temple. This is when the true Thaipusam gets to its peak. One of the main Penang festivals and event highly recommended for locals and visitors
The Eve of Thaipusam
For the first time in Penang, a ceremony was performed at the Queen Street Temple, Sri Mariamman Temple. It was a colorful ceremony where the vehicles of the gods and deities such as elephants, pythons and bulls were present to receive the spear.
Read more about the Vel ceremony here.
First Day of Thaipusam
Thaipusam in Penang Festivals is celebrated in three days. The first day, the Chettys, the rich Indians in Little India will fulfill their vows by carry peacock kavadis.
Second Day of Thaipusam
Second day is when others will follows with kavadis, ladies will carry milk, mothers with new born can be seen carrying their baby on sugar pole.
At the same time, watched our nephew Sanjif performing his rituals in the temple, before they skewered him and began his long walk up to Waterfall Temple.
The peak of Thaipusam is on the second day. Day to night, the roads leading from Jalan Dato Kramat, Western Road towards Botanical Garden is packed with people.
Location to be during Thaipusam
Dato Kramat Stadium Indian Temple is where most skewering and hooking are done. So, if you want to witness this lifetime experience, just be prepared and be inspired by their faith and trust in the Gods.
Third day
It is the homeward journey when the engagement between Lord Muruga and his consort has to be canceled. And next year, the Lord comes try again and this rites has been going on for centuries.Penang Festivals
The scene is still crowded and it begins in the early evening and proceed till early morning to Chetty Kovil, where the statue of Lord Muruga is again housed till the next year.
See the collection of Videos and photos we made here.
In between Chinese New Year, you also have to watch for another celebration up in the north beach. This temple in Teluk Bahang have a different procession.
This time the Goddess Kaliamman is taken on her yearly journey in the seas of the Andaman, near to the bays and shorelines of Teluk Bahang.
This year we were caught as it clashes with the Chap Goh Meh celebration in town. We had fun going up and down the beaches in Batu Ferringhi but it was sure jammed.
For this event, we arrived at about 5pm which is great to observe some part of the temple rituals. We even did a video of it.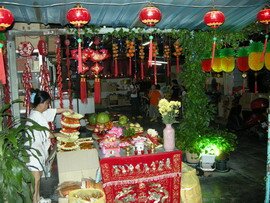 Chinese New Year is near again. For this year, Chinese New Year, another Penang festivals will be a lot happier with a new addition to the family.
But during spring cleaning, usually one month before the New Year, we try to get into the mood to throw away some stuff, or give away some.So Penang Festival is good for humanity to foster bonds of brotherhood.
Chinese New Year is a celebration of the living and sometimes for the dead, our ancestors. There were temples to go for prayers and I feel so blessed having gone to a handful of temples to pray and same time, to revisit. It has been fun so far.
This year is the RAT year. But Pied Piper is not in Penang. But the Chinese are quite superstitious so flowers, fruits with beautiful and positive sounds or phonetics are purchase and hung in homes or offices.
Celebrating New Year, the traditional Chinese does their yearly duties of prayers to ancestors and gods or deities in homes or Penang temples.
The first to fifth day for Chinese New year is most joyous as most family member takes time to visit each other in this Penang Festivals.
Giving and receiving Ang Pows and wishing each other are the next best thing one can do for the celebration. Not forgetting ushering the year with Lion Dances.
Most times for fifteen days, we get to get both types of Lion Dance, the happy and cheeky Lions and the ever serious Lion coming to wish or ward evils off your business premises.
Then for us, there is a universal birthday in Penang Festivals for man which for the Chinese is celebrated on the seventh day of the Chinese New Year.
We had Yee Sang where we toss the dish as high as we can as the belief is the higher you lift the better for your business.Penang Festivals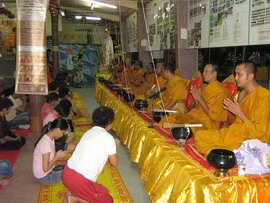 Then on the 8th night, we have prayers to God of Heaven which is also the Penang Chinese Hokkien New Year Day.
That is a midnight prayers celebration with fire crackers and fireworks all over again. But I prefer to go to thePenang Hill Jade Emperor Temple to pray.
When I was young, Chap Goh Meh is most fun. We have Chingay, where the men folks challenging their skills lifting bamboo poles on the street.
Young maidens being chaperon out to throw oranges. Nowadays try as they might, the good old days Penang Festivals events cannot be matched. A cultural show is organized to suit the multi cultural locals.
Throwing oranges like last year to me seems so ridiculous. Trying to capture the good old days, Nyonya Traditional dances like fan or coconut shells dances are organized for the hotel guest to see.
Even some locals, I am sure don't know how graceful and delicate Nyonya ladies are. Well, half a loaf is better then none.
If I have to go to the hotel to see beautiful Nyonyas wearing their sarong kebayas and thrilling me, I surely make an effort to see the old world charm.
It is a great opportunity for me to reminisce on my childhood remembering mum and dad singing "Suriram, Rasa Sayang, and some ditties and pantuns. Ahh The good old days.
Stories my dad told me years ago turn alive as I pondered but not like Pak Pandir dreaming away building castle in thin air.
I am looking forward to Chinese New Year. Chinese New Year and Chap Goh Meh is a must see Penang Festivals ritually celebrated in this part of Malaysia.
Cheng Beng is another important Penang festival. April for Chinese is All Souls Day. For Cheng Beng, my sister Junnie and brother would go up Mount Eskine to clean the tombs and paint the writings for grandfather tomb personally.
The weeding would be done by some part time laborers who wants to earn some extra cash. After which we would join in with other Buddhist devotees for an offering in the Burmese Temple to offer our prayers.Penang Festivals
This year I make an extra effort to return to Kee Ancestral Home for Cheng Beng. What a surprise as not only do I get to pray in the ancestral hall.
I get to go up with Newman Kee, my nephew to clear the tombs of his grandfather. As it was a private cemetery, I went around searching for others tombs of loved ones I knew.
Penang Malays before they celebrate their New Year or Hari Raya, fasted for a month. Locals or kampongs Malays does their fasting in a unique manner which is truly heartening.
Going to Sungai Bakap again for the Hungry Ghost Festival was another surprise. For most prayers for ancestor, I thought it is a big do.
Hungry Ghost Festival according to Nu Kor (my aunt) is a big celebration in the good old days. And just short of Chinese Opera, the praying to the hungry ghost remain the same for the past years.
Over 10 tables of food for the lost souls of Sungai Bakap community is prepared and cooked by us. This according to my aunt is a great deed for our ancestors and descendant of the Kee Kongsi.Penang Festivals
If you are in Penang on every last Sunday of the month highlights in Upper Penang Town can be very interesting for you. You get to see many arts and crafts of our Locals. Some dying arts like shells making, origami and many more can be seen.
This is the season for going vegetarians. The events run during this time is under strict guidance from the so called Nine Emperor Gods or "Tai Su'.
The Tow Boo Kong Temple is where we decided to concentrate and merge ourselves in the ceremony. The welcoming ceremony for the9 Emperors Gods sets the excitement commencing at a nearby beach.
Watching the arrivals of the Nine emperor Gods was fascinating. The presence is seen as nine spirit mediums in a trance like manner, eyes partially opened, mouth with pacifier and whip in their hands.
Scary but I continue to observe the rites they performed receiving the water and back to the temple.
This event runs for nine days and different temples have different events. Some highlight we witnessed is out of this world. We get to see Spirit Mediums being consulted.
Seeing them in trance not one but three or four at the same time to be called for different chores like advising and giving talisman or praying for the lost souls and simply to be around.
Honest decent looking man sitting and chatting and out of sudden he is in trance and his assistant seeing his actions know who has arrive. Strange, weird, I dunno.
The making of spiritual medicine playing with hot boiling oil and drinking and spewing them is terrifying. Not to mention the playing with spiked balls, skewering andhooking and walking and running with a long 9ft pole skewered across your mouth.
Go to Top of Penang Festivals Page
Back to Places of Worship Page
Back to My Island Penang Home Page