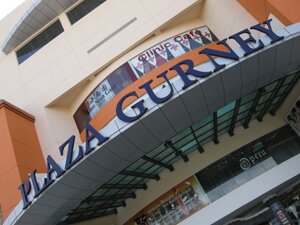 Penang Gurney Plaza, the first thing that springs to most Penangnite's mind when Gurney Drive is mentioned to most people (not the sea view or the hawker centre).
Known as Penang's "Premium Mall", this mall spawns 8 floors, and consists of a large selection of clothing, food and entertainment outlets. At approximately 840,000 square feet, it is definitely one of the largest malls in Penang.
Shopping
Come any festival, thousands of shoppers flock to Penang Gurney Plaza to purchase their festive clothes.
Even in non-festive season however, there are still thousands of shoppers daily looking for clothes. Why?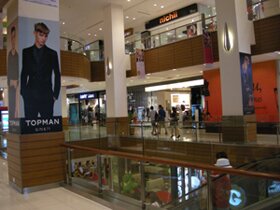 This is due to the plentiful shops that offer different styles that suit to different individuals. Shops like Miki and Giordano cater to infants and children, while those looking for a bargain can shop at Parksons and Factory Outlet.
Those who are willing to spend more can definitely frequent Mango, Dorothy Perkins, Topshop and numerous others.
Shoe-shopping can be accomplished here too, with shops like Nose, Vincci and Charles & Keith.
Luxury brands like Coach and Swarovski have recently landed in this mall as well, so be sure to check them out.
Entertainment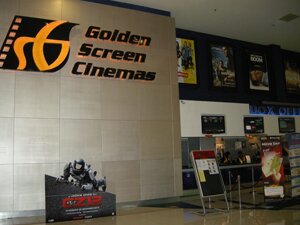 What is a premium mall without entertainment? Here in Gurney Plaza, be occupied with the Golden Screens Cinema cineplex consisting of 12 halls, screening all current movies.
Those who prefer karaoke can sing their lungs out at the established RedBox Karaoke. Teenagers and kids can spend their time at the arcade. Also, fitness buffs can train at the upcoming Jayomi Fitness on the top floor.
Food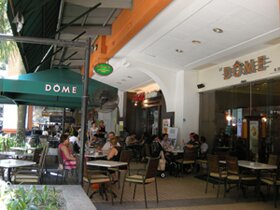 Penang Gurney Plaza is definitely eligible as a food haven. From the common fast food chains like McDonalds and Burger King to cafés like Starbucks and Coffee Bean, there is definitely ample choice of shops here.
Chinese restaurants like Xuan Xin and Dragon-Eye offer exquisite meals, while Western outlets like Chili's and Chicago Rib House are available as well.
The basement allows shoppers to experience pseudo-street food, with Taiwanese shops and Malaysian delights as well. Other notable shops include Michaelangelo's, Euro Deli, Seoul Garden, Nandos and many more.
This article is written by Patrick Cheang.
Go to top of Penang Gurney Plaza
Back to My Island Penang Home Page