This is my first time I am eating Lina Jam Puffs. I find it different but as it is freshly baked, it sure taste good.
Different in the sense that it is like a curry puff. Usually Jam tarts is commonly sold, but jam Puffs must be very Eurasian way of making it.
Her pineapple is coarsely grated and cooked over low heat. This ever DIVINE Penang Eurasian Food recipes is closely guarded by Lina.
Using the curry puff cutter to make Lina Jam Puffs. Big and unique puffs. Not something I have tasted before too. The jam inside are a little wet and nice.
Penang is famous for its food, gourmet and hawker food. Not to be left behind is our Eurasian food.
Like the Nyonya, Eurasian food is slowly dying off. Fortunately for us, Lina is baking her mum's Jam Puff and Tarts. Friends and relatives rings her regularly to order her Jam Puff and Tarts. Beside baking Jam Tart and Puff, Lina is a wonderful cook.
Lina Jam Puffs Baking story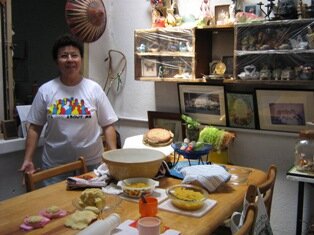 Lina has been making Jam Puffs for years. To occupy her time, as the kids are away, she spends her free time making and baking puffs and tarts. So you can imagine my joy when I caught up with someone who is as keen to preserve our heritage, tradition and culture.
Lina just love baking her Puffs and Tarts. We strike up a conversation after eating Lina Jam Puffs. I could feel her love for her mother's Puffs and Tarts.
You must hear her and she is really full of love. It is a joy to be in company with such a wonderful lady. See photos of Lina rolling the pastry dough and Jam Puffs.
Pastry Ingredients:
300g flour
50g of vegetable fat
50g of butter/margarine
a pinch of salt
3 tablespoons ice cold water
Pineapple jam or fillings of your choice
Method
Measure all of your ingredients and prepare your equipment.
Sieve the flour into the mixing bowl.
Chop up the lard and butter into small pieces and add to the flour. (No problem using all butter)
Add a pinch of salt.
With your hands, rub in the mixture, adding a bit of water at a time until it goes a light brown color or a creamy golden yellow color.
Roll it out as far as you can. Well done, you have just made short crust pastry.
Using a cutter, cut the pastry into shapes like a circle or oval.
Put the pastry shapes in the bun tray so they look like cups or mugs.
Add the jam or whatever else you like in your tarts.
Cook for 12-15mins or if you like the crunchy cook then for 15-20 minutes.
Take it out. Voila, you are done - now enjoy our Lina jam puffs!
Tips:
Try making quiche-just mix some egg and cheese and add to the pastry.
For sweets, try adding toppings, such as Smarties.
Experiment with fillings like chocolate spread or lemon curd.
Try dyeing the pastry an unusual color.
For savories, fresh herb like parsley or coriander leaves, chives can be used as garnish. It makes the tartlets or miniature pies more favorable.
Puff Pastry, For the pastry to melt in your mouth. do not over knead.
A gentle reminder : Don't forget to wash your hands before kneading the pastry. And use oven gloves!
Ingredients for making Jams:
1 ripe large pineapple, approx 600 gms, skin and cut off the eyes
3 tbsp of lemon juice
400 gms sugar
3/4 tsp of unsalted butter
4 cloves
Method
Heat unsalted butter and toast the cloves in a pan.
Combine the pineapple, lemon juice and sugar in a pan.
Stir constantly until the sugar dissolves over a medium-high heat.
For tarts fillings, cooked the jam thicker. Thicker consistency when evident of pineapple fibers start to appear. It cannot coat the back of your ladle.
A lovely orangey shine can be seen.
To use as spreads, a thinner consistency is preferred. It can still coat the back of the ladle.
Allow the jam to cool for 7 minutes before adding it to canning jars.
Close the jars and bath them in 250-degree water for 10 minutes to create a seal.
Tips: Wetter cooked jams is used for the Puffs, whilst Drier cooked Jam is used for Tarts.
For pastry, used the pastry recipe you like or easier still, purchase one form the store. Single rolled or double layer. She can be contacted at .
As for me, Jam tarts are a tasty snack that can be made sweet or savory, depending on your preferred flavoring. A dessert rather simple and homey in itself, yet never boring or dull.
This is the first kind of baked goods that as a little girl I learned to make from my chool teacher. Lina jam puffs is a must, yum.
It was easy and quick to assemble, improved with time, and was our favorite to have with tea. It evokes memories of many happy, precious hours spent with teacher, watching her guiding us through love of food and learning from her.
We always used the following recipe to make, a perfect short crust pastry: sweet and buttery but not too rich, tender and crumbly yet sturdy enough to hold the filling.
Go to Top of Page Lina Jam Puffs, A Eurasian Delight
Back to My Island Penang Home Page