White carrot pickle is my best discovery. It refrigerates well for days. I have prepared this dish over 20 times due to popular request when entertaining. I discovered this while I was in Korea.
Kim Chi and White Carrot Pickle are humble meal that kept the Korean trim and slim. I walked and visit many places in Korea and saw over hundreds of people.
I did not meet a fat person. The most pleasant thing to observe is they eat white carrot every meal! I mean it, every meal.
Got home and did my own concoction. Well to be honest, I never like white carrot but after coming home for Korea, white carrot is all I thought of for days.
My White Carrot Story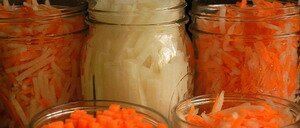 These Korean man and woman though old and aged are so trim, well structured and fresh looking. How to eat it and make it easy and simple for me.
My bad experience was eating white carrot Nyonya kuih (Chai Tow Kuih). Ever since then, I will not eat white carrot.
But I simply must try to learn to how to make them edible. I did not enjoy thinking of eating white carrot, believe you me. But I do want to stay young and healthy, so I have to pursue them to make them edible for me.
I didn't eat the white carrot or radish the first few days when I was in Korea. But looking at the Koreans, I changed my mind about this humble vegetable.
So feel good when you eat white carrot pickle. Through many trials and tasting, I love this white carrot pickle. And it has become a hit now. I get phone calls to do this dish for pot luck, do you believe me? It is not difficult to do.
Ingredients
4 local small Carrots, White Carrot (Radish) or 2 beetroot. approx 600 gm after cut weight
8 Tablespoon Vinegar (S & W White vinegar)
10 Tablespoon Sugar or to taste
2 Teaspoon Salt or to taste
For color, add 1 small carrot
Method
Use a vegetable peeler and skin off the white carrot.
Use a grater to strip out the white carrot
Skin off the beetroot. Slice and cut to strips. Optional, use a grater.
In a big bowl, add Vinegar, Sugar and salt.
Marinate the carrot or beetroot with the sauces till well blended.
Marinate for 2 hours minimum before serving
Serve cold
Onion Pickle is great with rich curries. Strangely, men guest are asking for this too when they heard about my stories about Korean men.
You know the Indian men wants to get rid of their pot belly but some can not stay away from the drinks. Ladies love this vegetable salad as they are more careful in nature! I know I am. :)
Go to Top of White Carrot Pickle Page
Back to My Island Penang Home Page