Spices, curry powders and herbs are very much part of Indian Flavour cooking. I will shared my aunt Kamachi's chicken curry recipe which is jealously guarded secret. To her, spices in home cooked dishes must be specially grounded.
She washes and dries the spices in the sun. The reason she prefers preparing her own grounded spices is because readied grounded curry powders taste too powdery.
She doesn't know what was added inside because when cooking she finds the powder sticking and burns in the pot. Aunt Kamachi uses both fresh and dried chillies for her Indian Flavour cooking and has taught me how to handle both.
Both fresh and dried chili peppers are used in varying degrees for different curries.
When she cooks sweet and sour curries, she adds tomatoes to cut down the hotness but her Curry Deep Fried Chicken are fiery hot that the kids needs plenty of ice water to take away the burning effect.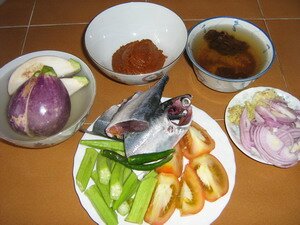 If some of you have tried our local Indian flavour curry, you would agree with me, it is special. And our own local Indians have created it to suit the taste and country we are in. Spices are the heart and soul of Indian cooking.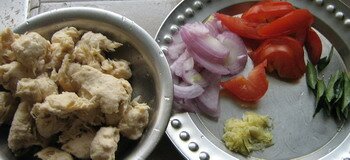 For Indian Flavour (cooking), it is important to note these. Onion, ginger and garlic are a must, they are the friends of the spices like cardamon, cloves and etc.
If you remember for Malays and Nyonyas, galangal, lemon grass and tumeric is important to their kind of culinary heritage.
For spices, depending on the curry you cooked, the recipe will advise grounded or use it whole when sautéing. Herbs like curry leaves, coriander leaves, mint leaves an added taste and color to the Indian Flavour Masak (cooking).
So put these in your thoughts when you want to Indian Flavour masak (cooking. For traditional dishes, it is now recommended to have pickles to accompany it.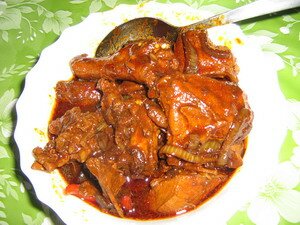 White carrot or beetroot Pickle too cuts down the rich flavoured spice and add more active enzymes for you. Then again, you can have Vegetable Salads too, as fresh vegetables in Indian cooking is rare.
Most famous is our Mee Goreng or Kelinga Mee, once eaten. never forgotten. you will come back for more. See more photos of our Hawker food collection. Basically in Penang, we have two main types of Indian food.
Northern Indian Food
Northern Indians eats lots of bread like Capatis and Roti Pratha. It is accompanied by vegetarian and non vegetarian curries. Meat kebabs, spicy lamb, chicken are served with kurmas.
The curries are not very hotbut using a combination of yoghurt and ghee makes their dishes a specialty.
Southern Indian food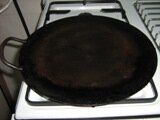 Thosai, Idlee and vadai are food I am more familiar with. It is usually eaten with sambar or curries like fish, prawns crabs and squid.
I loved it most when it is cooked with tamarind and lots of spices and santan. Thosai and Idlee are made from rice and black pea, while vadai is made from dhal.
At home, one can use a griddle to make the Thosai. The griddle when handle correctly will last. It will not rust. Just make sure, you oil it rather then wash the griddle after use.
To use the griddle, scoop the Thosai or any bread like Chapati mixture onto the griddle, using the scoop to circle and flatten it. Cover to cook it for a few minutes.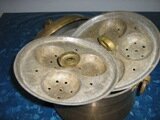 For idlee, you would need a special pot (idlee paneer) with four to five holes, lining it with a muslim cloth and scoops of grounded rice.
When making the mixture of Thosai, you have to grind it finer while for Idlee, it has to be a little rougher almost feeling it sandy. But the final cooked idlee is lovely, soft and spongy.
For sambar, usually dhal cooked with vegetables like carrot, potatoes, peas, ladies finger, cabbage and aubergines.
South Indian cooking has the very best of meat, fish and vegetarians food. I share a listing of some restaurants for Indian food.
North Indian Cuisine
Palace of India, 5M/L, Jalan Tanjung Tokong, Tel:
or 2f-29, 2Floor, Queensbay Mall Tel:
Jaipur Court,9 & 11 Leith Street, Tel:
The Tandoori House, 34-36 Lorong Hutton, Tel:
South Indian Cuisine
Sri Ananda Bahwan Restaurant, 2982 Jalan Bagan Luar, Butterworth Tel: (The best of the 4 restaurants)
Achi Restaurant, 39 Penang Street Tel:
71 Penang Street,Tel:04-261618
Karaikudi Restaurant, Tanjung Bungah, Tel:
Jaya Restaurant, 12, Taman Sri Tunas, Bayan Baru, Tel:
Malayam Cuisine
Passions of Kerala Taman Brown, Tel:
Vegetarian Cuisine
Annalakshmi,Temple of Fine Arts,
Woodlands Restaurant, 60 Penang Street, Tel:
Puspamalar Food Corner, 6C, Jalan Bagan Serai off Perak Road, Tel:
Mamak Nasi Kandar
Hameediyah, 164A Lebuh Campbell,Tel:
Kassim Mustafa, 12 Lebuh Chulia, Tel:
Tajuddin Restaurant, Queen Street
Kayu 216, Penang Road
Go to Top of Indian Flavour Page
Try Aunty Kamachi Curry Deep Fried Chicken
This Onion Pickle cuts down the richness of Indian Food
My kids are crazy of Vegetable Salad, all kinds
Mahmood of Bangkok Lane Mee Goreng.
Back to My Island Penang Home Page