Batu Ferringhi is where the Portuguese ships stopped for fresh water on the way to Malacca in the early days. The stamp by the foreigners had confirmed it to be a favored holiday destination.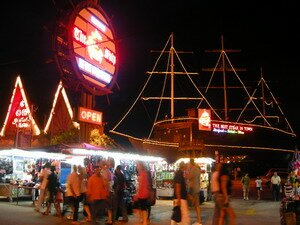 The Ferringhi beaches are by far a popular hunt and that is why resorts, hotels and condominiums are sprouting out like mushrooms ready to be picked.
Penang being an island is surrounded by beaches. To be honest, beaches in Penang are not really clear.
The sea is a bit murky but we still swim as locals who has not travel know how clear or lovely other beaches in other parts of the world are.
Some parts of the beaches have fine white to yellow sand, some are dotted with huge granite boulder. These huge boulders and some low lying trees became a hunt of lovers needing privacy.
All the beaches are opened to public even if the access may be limited. I would say tourist and travelers wants to enjoy the sea sport.
Fun on Ferringhi beach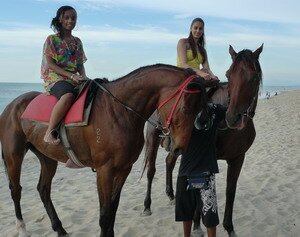 To be honest, sea sport can be fun but it can be quite dangerous. I guess to be adventurous, there is always an element of risk.
Some of the popular sea sports are Jet Ski, paragliding and banana boat. As for the safer sports, don't missed out horse riding. Talk to Suhaime for Sea Sports activities.
The Ferringhi beach is the most popular of all the other beaches in Penang. On weekends, even locals come to take a dip, picnics and the families who can afford their kids to indulge in paragliding, jet ski, banana boating will be enjoying like there is no tomorrow.
I wrote extensively about hotels here.
Eating in Ferringhi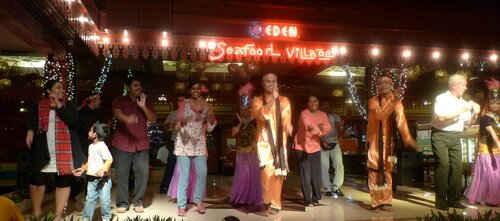 "Batu" as the foreigners calls it is almost quiet in the mornings and afternoon. By evening, the streets are bustling with activities.
Most tourist relaxes taking their siesta away form the heat of Penang. But they sun bath in the hotel beach front or indulging in water sport.
In the evening, it is totally a different scenario. The seafood restaurants Eden the Seafood Village, nightly have a cultural show to entice their customers so it can be fun and are still popular with the locals.
While The Ship, Taj Garden had their workers calling out to tourist. Flaging them with the menus of the day.
The famous Batu Ferringhi Food Court "Long Beach" has a massive varieties of our paradise food not forgetting Laksa, Chapati, Char Koay Teow and much more.
The food is little pricy here but if you can't wait anymore to get to Georgetown, then this will do laaa, as the locals would say!
Yahong art gallery is an old establishment, in demand for batik. Craft lovers who comes to this shop highly recommended by happy clients.
In case you need to buy anything, use the currency converter.
Shopping and Night Bazaar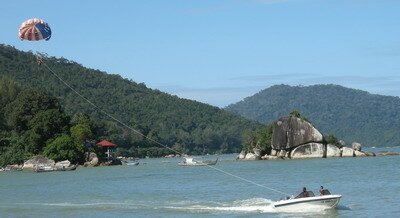 Souvenirs shops of Asian artifact, batik, arts and kiddies swimming needs opened on both sides of the beach. The night bazaars selling everything under the evening sky has almost what you want. DVD seems to be the most sought out despite the many raids conducted by the police.
Today Ferringhi Penang has the choicest hotels for your holidays. And those coming to retire in Penang, there is no shortage of holidays homes or second homes.
Villas, bungalows, apartments are along the north and north east beach, many in a superb beachfront location allowing you to indulge your dreams with a Penang beach vacation.
The road to Batu Ferringhi now is very busy with the heavy construction of condominiums. It is being a great concern for the locals, blowing up hills to built this rise rise, I guess we have to move with times.
All about north of Penang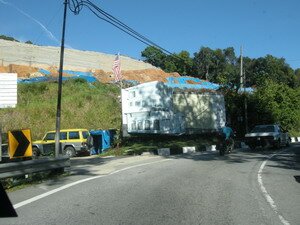 Come follow me to the heritage trails of hotels lined up on the coastal belt of Batu Ferringhi. Imagine driving up from Georgetown to "Batu" as the foreigners called this part of the island.
Batu Ferringhi Beach lies between Tanjung Bungah and Teluk Bahang coastal line. Tanjung Bungah is a township filled with supermarkets, shopping complexes while Teluk Bahang is a great spot for nature lover. The only spot filled with hotels are in Batu Ferringhi and Tanjung Bungah.
Find out how to reach Ferringhi beaches here. Some beaches in Penang along Batu Ferringhi have good spot for picnickers, campers and holidays makers. Foreigners simply loved this part of Penang Heritage City for its beaches and laid back easy life. For budget hotels, there are a few choices.
Let me be your travel agent if you are going home or visiting other destinations. Hotel combined, an affiliation I trust has most of the hotels anywhere in the world which are affordable, even the pricey ones. Have fun in Penang and have a safe journey when you leave Penang.
Go to Top of Batu Ferringhi Hotels Page
Back to My Island Penang Home Page