Nasi Lemak, a Penang Malay Food has been tested over and over by many people. Most people knows it is real true blue Malay food. And by now, almost all have their own version how their family loves them.
Puan Roziah and En Aziz are both friends of mine. I am pleased to share their recipe hand me down recipes by Aziz's mum. Tuk Minah, (you will see pictures of her using the Batu geling and coconut grater), Aziz's mum sold Nasi Lemak in her younger days.
Now Aziz and family are selling the Nasi in Padang Serai, a little town after Tasek Gelugor. They cooked 4 to 6 different types of sambal.
If you want to try them, their stall is in front of the Padang Serai Selasa Ekomoni Supermarket. There is no special sambal belachan because they sell all ready packed Nasi lemak here.
But they do prepared sambal chicken for based on customers request.
It is so popular that at 5pm sharp, her customers will be waiting for them to set up the stalls. Believe it or not, within 3 hrs of selling, 400 packets will be sold out.
| | | |
| --- | --- | --- |
| | | |
| The banana leaf is cut, wipe clean before use. | Give the leaf a twist to form a conical shape. | Press it into the nasi to shaped it beautifully. |
I believe cooking is good sharing and you must cook with love so I share without hiding any secrets. Put a dash of love, a handful of warmth, a cupful of sincerity and that is mum's cooking.
Tuk Minah secret ingredient is the santan. The coconut cream or santan must be boiled, cooked first before adding the rice. If it tastes too sweet or the texture is too oily, the Nasi or cooked rice is ruined.
Nasi Lemak (Rice cooked in coconut Milk)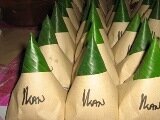 Rice with Santan is usually eaten for breakfast. Nasi Lemak is usually packed with banana leaf.
Method to wash and cook rice
Wash rice with running water.
Pick all bits of pebbles out.
Rinse at least two to three times.
Add three and half cups of the general santan.
Tie the 4 pandan leaves in a knot and place in the rice cooker.
Add salt to taste.
Santan Rice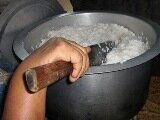 Cooking with gas stove
Add coconut milk and pandan leaves to rice, cover and cook.
When rice is almost dry, lower the heat.
Let rice stand over very low heat for 10 minutes
Turn off the heat and let it stand for 15 minutes before serving.
Cooking Rice with rice cooker
Ingredient serves four persons
3 cups Rice
Half cup of thick Santan
3 cups of water (makes three and half cup of general santan)
Salt to taste
4 Pandan Leaves
A few strips of Ginger (optional)
Note: Santan is known to have 'angin' or wind, so to prevent indigestion, some families add ginger. But the aroma is beautiful when you add ginger.
| | | |
| --- | --- | --- |
| | | |
| Fold the paper to wrap around the leaf. Must stand firmly. | Family at work,with 400 packets per day. | Granddaughter Fadillah obediently learns the trades. |
Some side dishes
Cucumber, tomatoes, mint leaves
Fried or toasted groundnut
Crispy ikan bilis (fried anchovies)
Assam Udang (Prawns)
Sambal belachan
Hard boiled egg or omelets
Dishes - Sambal Udang
Sambal Sotong (Squid)
Sambal ikan kering (Salted fish)
Sambal ikan (Fish)
Go to Top of Nasi Lemak, A Penang Malay Delight
Back to My Island Penang Home Page