Mee Goreng, or what our old uncles and aunts would called Kelinga Mee is a Indian Muslim fried noodle dish. It has a sweet tangy taste as it uses the thick tomato gravy from mee rebus to fry it.
Fried yellow noodle by the Penang Mamaks is really different. Try it and you know what I mean!
It is highly addictive and may make other favorite foods seem bland. A little squeeze of lime juice makes a world of difference for this sweet tomato curry dish recipe. This is the most popular version of the fried yellow egg noodles by the Mamaks of Penang.
The minority in Penang are Mamaks, Nyonyas and the Eurasians and their simple food has made such an impact in our Malaysian or world gourmet.
Mamak Mee goreng is an unforgettable dish. The Chinese and Malays also have their own versions. Mamak Mee noodles are fried in a specially prepared sweet potato and tomato gravy.
According to Mahboob Mohamed Zakaria (affectionately known to his friends as Ali), the secret lies in his method of preparation and cooking.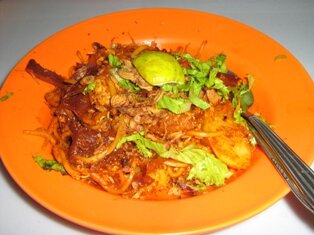 Dried cuttlefish soaked and boiled for hours till it is tender is the main ingredient in this mee goreng dish recipe. The cuttlefish is then cooked in chilly sauce.
If you can get up at 4am in the morning, then you can make this dish, he teases me. Ingredients include shrimp paste, chicken, egg and crushed peanuts.
It is served with several halves of mini lime which should be squeezed generously over your noodles. Anyway he gives me his recipe for Mee Goreng and mee rebus.
Ali is no longer frying Mee goreng but now has a Mamak food stalls next the his former Bangkok Lane coffee shop.
Ingredients
4 Tablespoons oil
2 pips garlic, finely chopped
2 Tablespoon Chilly Paste (mee rebus optional)
100g Bean Sprouts
400 g of Yellow Noodle
2 pieces of fresh bean curd, deep fried till brown and sliced
1 large potato, boiled, peeled and sliced
2 eggs
2 sprigs of springs onions
Seasoning Sauce
1 Tablespoon Light soy sauce
1 Tablespoon Dark soy Sauce
2 Tablespoon of bottle chilly sauce
3 Tablespoon of tomato sauce
Half teaspoon salt or to taste
3 - 4 Tablespoon of water
Garnishing Ingredients
sprigs of lettuce, finely cut
50g of Ewe Chang (fried shallots)
1 each of cut Red and Green Chillies
2 limes
Toasted Groundnuts, chopped coarsely
Cooking Method
Heat the oil in a kuali.
Add the garlic and chilly paste. Fry till fragrant.
Add the greens and fry for a few seconds.
Add noodles and fry over high heat for a few seconds, stirring continuously.
Add the seasoning sauce, bean curd and potato.
Stir to mix well.
Lower heat and spread out the noodle, making a well in the centre.
Add 2 Tablespoon oil and crack the eggs in to the well.
Stir to scramble the egg.
Add Bean sprouts and spring onions and give noodle a quick stir before dishing out.
Top with Ewe Chang and cut lettuce leaves.
Serve with a side dish of red and green chillies and a piece of lime.
Back to Penang Hawkers Food Page
Back to My Island Penang Home Page