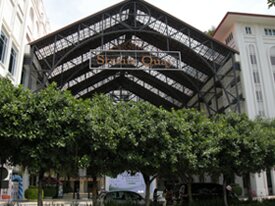 Penang Straits Quay, located right in the heart of Tanjung Sri Pinang which is a reclaimed land project turned billion-dollar investment, one of the more luxurious living places in Penang.
With a wide array of eateries and some specialized shops, Straits Quay is a one-stop affair for most shoppers staying around that area.
One of the highlights here include the only Delicious in Penang, offering quality mains and desserts. Weissbrau is the place to stop for German food, while Healy Mac's is the ideal after-work chill spot.
Looking for Asian delights? Drop by PappaRich, Oh Sushi or Nyonya Express. Starbucks, Coffee Bean, Secret Recipe and Subway can be found here as well. Berlin's Bier Haus and The Library is the perfect spot to spend the weekends.
My personal favourite, however, has to be Bella Marino and their irresistible pasta.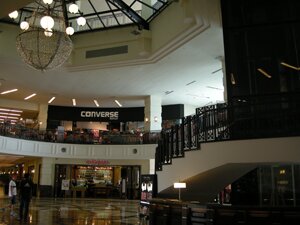 There is quite a number of worthy shops to check out in Straits Quay. The only Versace boutique in Penang is found here on the ground floor, along with several other boutiques selling modern and traditional pieces.
There is a recently-opened Borders bookstore here as well. On the upper level, Switch and a few other gadget shops are there.
An artsy handicraft shop is there as well. Royal Selangor can be found facing the middle stairs on the upper level of Penang Straits Quay.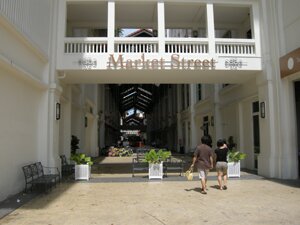 Every second and forth weekend of the month, a flea market is held outside Straits Quay at the Market Street. This is a really pleasant place to shop for pretty tinkers and self-made handicrafts.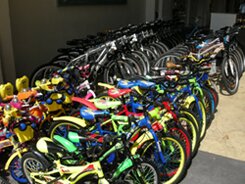 Those wanting to take a tour of the area can also rent a bicycle from the management. At the seafront, yachts and sailboats can be found there, as Straits Quay is the dock for the ships of the Sri Pinang residents.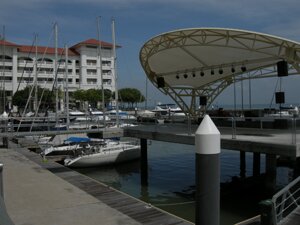 This article is written by Patrick Cheang.
Go to top of Penang Straits Quay
Back to My Island Penang Home Page