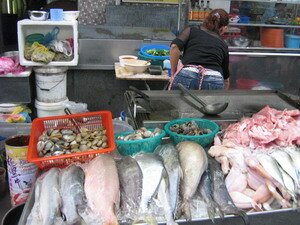 Call it Penang Hawker street or cafe food, there is no argument, we have some of the world's best food in Malaysia. And to me, we have considered it to be all Malaysian Food. Some of these food have scored well too to be called our Malaysian traditional food.
The Satay skewered, refined bites-sized cut, marinated and charcoal grilled over a stove is a safe choice for the less adventurous.
For the more adventurous, a Rojak, Chee Cheong Fun and Jew Hu Eng Chai or Cuttlefish Fish served mixed with Hae Ko or shrimp paste gives a refreshing taste and flavour of our lovely Penang sweet and warmth people.
Malaysian Chinese Food in soups or stir fried froms of Char Koay Teow, Hokkien Mee, Wan Tan Mee, Chicken Rice can be found in every corners, roads and lanes. Nasi Kandar, Popiah, chendol, laksa are Malaysia famous hawker food.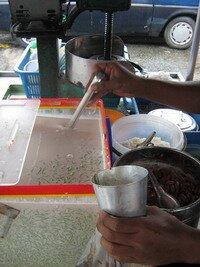 Malaysian food does not consists of only Nasi Lemak, Thosai, Roti Chanai or Nasi goreng(fried Rice). It is nice to be told Penang is the food capital of Asia. Some even said Asia's food paradise is in Penang. See more Malaysian food pictures of our hawker can be seen here.
We used to think people traveled to see the world, but people actually traveled to Penang to eat. Numerous blogs by locals, holiday makers alike shares what ever food they have eaten in Penang. There are not enough days in a year to eat all our food we have.
Publications, including Time magazine, have recognized Penang as having some of the world's best street food.
The Penang Hawkers food from the different ethnic groups of people, has made Penang so popular that if one visit Malaysia, Penang should not be left out.
Penang Hawker food is part of the big Malaysian food fare. Notably it is considered tops in our Malaysian Cuisine, all these Penang Hawker Food, Street Food, Nyonya Food, or Eurasian Food.
Food lovers from all over Malaysia and as far as Asia's cities regularly come to sample our island delicacies with Penang Hawkers food. We have turn simple food to gourmet food.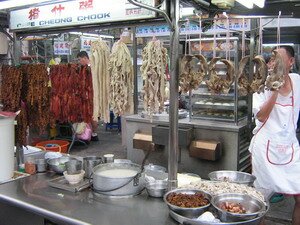 Thanks to the buzz by mouth and the on going food promotion activities in local arena and foreign countries, overseas visitors are becomingly charmed by Penang Hawker food.
Penang rich food culture is one of the key attraction for for those in the Malaysia My Second Home program. The participation from Food Reviewsresulted in some of the best food choices.
Believe me,we went around the past few weeks eating non stop but fortunately the team helped to EAT! Tough choice but honestly, we could not eat all. But since most of voted, they deserved to be listed.
Top 5 best Hawkers Centres in Penang
Lorong Kucing in Pulau Tikus - Evenings only
Street Food in Pulau Tikus Jalan Pasar - Evenings only
Tapak Selera, Hillside, Tanjung Bungah, Halal and non Halal
New Lane Roadside off Macalister Road, Non Halal - Evenings only
New World Park (all day)
Island Glades (Lorong Delima 3) all day
Go to the top of Penang Hawker page
Not enough of food, back to Nyonya Food Page
Need hot and spicy Indian curries?
Don't salivate, go for more Nyonya desserts
Home cooked but away from home food, try then if you are never invited to our houses or too shy to accept invitations.
Still have more space in your stomach, eat my cookies
Back to My Island Penang Home Page