The Eastern and Oriental Hotel has been around since 1885. More than a century since its establishment, the E&O still retained its charm and weathered the passage of time with character and grace.
I would say you need to experience the Eastern and Oriental welcome. The smiling dressed doorman greets you at the door is enough to make you feel the grandeur of its hey days.
Personalized and attentive service is one of the hallmarks of the Eastern and Oriental. This is complemented by the impeccable 24-hour butler service, which attends to your every need.
Closed for many, many years (it was desperately in need of an overhaul) it reopened in April 2001. It is without a doubt the most atmospheric hotel in Penang, with manicured lawns and tropical gardens flanking a white colonial-style mansion, a lace like facade, and Moorish minarets.
The Eastern and Oriental Hotel modern facilities within its enchanting ambiance enable guests to pursue their business interests as well as to network, to socialize or simply to relax.
The Heritage Architecture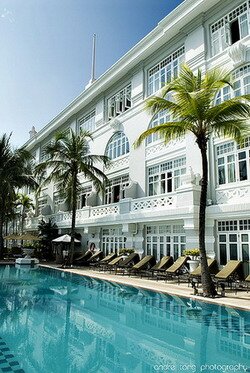 A magnificent pool with its view across the sea is the focal point for guests seeking to unwind or energize the body, mind and spirit.
Its restaurants, cafes and bars, each with its unique aura, tempts with a tantalizing medley of exquisite flavors and aromas.
Suites is what they have, not rooms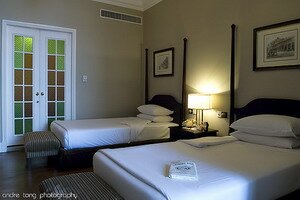 As a writer once put it, that "those who have once visited this famous hotel regard the Eastern & Oriental as a haven to be sought again and again, as the traveler returns to the home of his affection."
There are no rooms in Eastern and Oriental Hotel but 101 suites. The elegance of the suites is luxuriously alluring: an enchanted backdrop to dreamy days and ardent nights, with sea or city view and round-the-clock butler service.
I can sleep in the bathrooms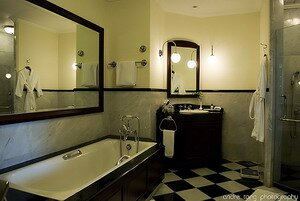 Each magnificent suite in Eastern & Oriental is extravagantly spacious and thoughtfully furnished with modern day amenities and access to the wireless world. The rich Persian carpets by the bedside and bed covers made from the finest Egyptian cotton.
And each suite have a spacious bathroom. These are just some of touches that lend opulence to this luxury hotel.
Imagine being in the Deluxe Suite that comes with a sea view with a separate living room, and a luxurious bathroom. The designed of the suites is highly inviting for those on holiday.
Recommended dining in town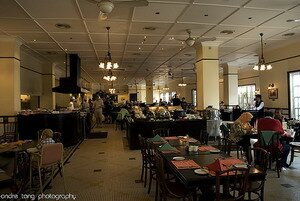 The Straits Suite is an oversized suite with 2 bay window offer panoramic views of the Straits of Penang. The Suite oozes glamour with its décor and suite comes with a main lounge area, and a dining table overlooking the straits of Penang.
Call in for room service and enjoy your meal with the panoramic view of the sea from your room at your own comfort. At the Eastern and Oriental Hotel even the bathroom are charming. Its opulent bathroom includes a claw and a long bath with separate shower.
Food & Beverage
Sarkies Corner - It is a typical colonial coffee shop setting, this place offers all-day dining and celebrate Penang's diverse cultural heritage.
Choose from a wide selection of delicious local fare, international cuisine and spectacular buffets. Fresh local and imported seafood are hot favorites.
The 1885 - A classic restaurant serving contemporary and traditional cuisine with a superb selection of wines from all over the world.
Palm Court - Situated under the hotel's legendary dome, it serves a fine selection of finest teas, scones with cream and Scottish jams, pastries and petit cakes.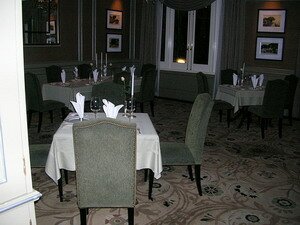 More stimulating finds

Farquhar's Bar -A little piece of colonial Malaya, this bar pours an excellent range of tap beers and serves great pub fare.
Enjoy the beautiful view of the Straits while you try the tasty tapas, and other European and local tit-bits. A great place to relax after work. Book the Hotel here
For those looking for a place for meeting or casual talks, head on to Farquhar Bar. It is the perfect place for a post dinner drink with a band to entertain you and your friends.
Verandah - The terrace on the promenade offers alfresco dining amidst breathtaking views of the tropical garden and sea. Breakfast here during sunrise is a must. The terrace on the promenade offers alfresco dining amidst breathtaking views of the tropical garden and sea.
The Deck - For a fun filled under the sun, check out The Deck for a light meal and refreshments in a casual and comfortable dining.
Function Halls - E & O Hotel boasts a few major function rooms which can fit up to 400 people and 6 small function rooms that can accommodate 150 people, audio visual equipment for conferences, meetings and seminars.
A little History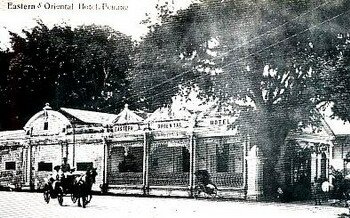 The Eastern and Oriental Hotel was part of a chain of hotels run by the Armenian brothers. Messrs Martin and Tigran Sarkies opened the Eastern Hotel, facing the Esplanade in 1884.
Then the Oriental Hotel the next year. The Craig Hotel on Penang Hill is one of the first few health resorts in Malaya.
In 1887, they extended their operation to Raffles Hotel in Singapore and was managed by Tigran Sarkies, and progress to Rangoon opening up Strand Hotel Yangon under the leadership of Aviet Sarkies.
For that era, the E & O Hotel boasted the longest Sea Front of any hotel with its lacelike facade.
From its foundation by the Sarkies brothers in 1885, the E&O was patronized by colonial administrators, planters and the local and international elite.
Among its more famous guests it has welcomed Noel Coward, Douglas Fairbanks, Hermann Hesse, Rudyard Kipling and Somerset Maugham.
Situated in Georgetown at the intersection of Farquhar Road and Penang Road,the Eastern & Oriental is 20 kilometers from the Bayan Lepas International Airport and a stone's throw from the food havens, shopping complexes and entertainment outlets of downtown Georgetown. Book the Hotel here
Take a walk to Fort Cornwallis, the City Hall and the Penang State Museum. Browse the shops, bazaars and restaurants for great bargains and delicious treats, and discover Indian or Buddhist temples, mosques and churches in quiet little corners.
Penang offers a mixture of sights and sounds you will never forget. The colorful tapestry or rojak as we are known for its multi cultural fusion is hte life line of penang.
Hailing a taxi or trishaw is fairly easy; otherwise limousine services (hourly and daily rental rates) are available for those who wish to explore the Island. By the way, Lone Pine Hotel in Batu Ferringhi is another hotel belonging to the E & O Hotel group.
Go to top of Eastern and Oriental Hotel Page
Back to My Island Penang Home Page