Sun Yat Sen was a world-renowned revolutionary who devoted his entire life to overthrowing the Qing Dynasty and setting up the Republic of China.
His achievements were recognized and admired not only by the local and overseas Chinese, but also by the global community.
A little history of Dr Sun Yat Sen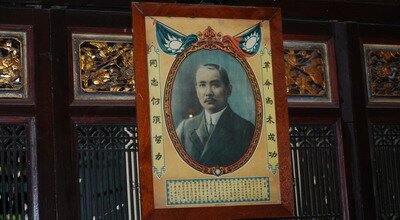 A farmer's son, he was born in Guangdong province in 1866. His elder brother brought him up in Hawaii with his mother.
He studied medicine in Hong Kong and after graduating in 1892 he worked in Macao, Guangzhou and Honolulu. Sun Yat Sen became interested in politics and established the "Revive China Society".
His Ideals and Revolution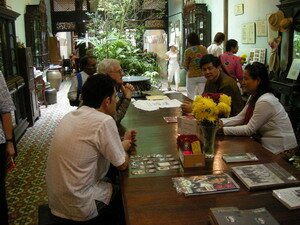 Dr Sun Yat Sen came to Penang in 1905. By this time, he was running and in exile from some countries for making speeches to promote revolution in China.
For many immigrants who left China during the early 19th century, many realize the need to assist the Tung Meng Hui to overthrow the Manchu government.
Not surprising, his greatest backing came from Penang party members. One of the wealthiest at that time was Goh Say Eng, whose wife owned the Chinese Residency (Shih Chung School).
His last stop in Penang was only an hour to see his family who had stayed here for a year before sailing back to China for the another uprising in Wuchang Uprising, also called the 'Double Tenth Revolution' on 10 October 1911.
He launched nine further attempts to oust the Qing Dynasty. All failed because of faulty planning and lack of adequate weapons.
Then, in 1911, the United League made plans to strike at Wuchang in late October but an accidental explosion in nearby Hankow forced the revolutionaries to act earlier.
Manchu resistance was overcome with surprising ease and a provisional revolutionary government set up. Dr Sun, who was not in China when these happened, was invited to become President in 1912.
Later that year, the United League together with four smaller organizations formed the Kuomintang (Nationalist Party). But Dr Sun's struggle was not over yet as the Kuomintang battled regional warlords to consolidate control over the country.
The First President of the Republic of China
In 1911, Sun Yat-Sen was elected first President of the Republic of China. He assumed offices on January 1, 1912, with the seat of government in Nanking.
Unfortunately Sun Yat-Sen's administration was short-lived, functioning only for three months, as political circumstances dictated him to resign from the presidency.
Penang Base
Today, 120 Armenian Street showcases an exhibition on Dr. Sun Yat Sen in Penang. It was in Penang that Dr. Sun convened the Penang Conference to plan the Canton Uprising in Guangzhou, China. The seed of the Wuchang Uprising was also initially planted here.
The Kwong Wah Jit Poh, one of the world's oldest Chinese newspaper was started by Dr. Sun and his Penang supporters at these premises. Dr. Sun lived in Penang for four months in 1910 together with his family, including his second wife Chen Cui Fen.
Today in China, appreciation is in order as some reformation happened during his 3 months Presidency. This is truly an impressive achievement, three months in office and two major reforms happened.
No more borne feet for the ladies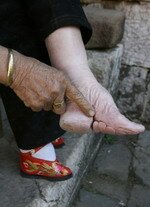 Tang Dancers would bind their feet with long strips of cloth to help them take the small, light steps which were demanded by the dancing style. Manchus who conquered China in the 17th century tried without success to abolish the practice.
Manchu women were forbidden from binding their feet or the feet of their daughters. Bound feet became an important differentiating marker between Manchu and Han.
Today, in Liuyi village in China's southern Yunnan Province, they still have a few surviving ladies with bound feet. Though I admire the ladies having endured such hardship, I personally am glad this practice no longer exist.
Cutting off the pigtails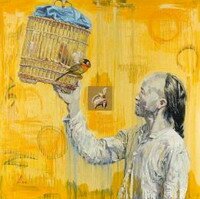 The Manchus imposed their hair style to the Han-Chinese, having pigtails was a policy used to effectively rule China. Anyone found not growing pigtails will be executed, 'shave your head or lose your head'.
This policy was a practical way for the Manchus to determine on the battlefield and elsewhere if a given Chinese was loyal to the new dynasty. A quick visual inspection told them if a given Chinese was loyal to the Qing or not.
A Chinese who had adopted the Manchu hairstyle was, of course, considered loyal. Similarly, Chinese were also forced to adopt Manchu costume.
Therefore, a practical way to determine who was loyal and who was not would have indeed been helpful. In this way Chinese losing its true identity, and forced themselves to act lower.
Walking around China today, no one has a pig tail anymore. At the time of his presidency, he advocated the cutting of pigtails. Even Emperor Pu Yi was said to cut off his pigtails with the advancement of Sun Yat Sen in China.
Locally in Penang, his fame grew till he and his supporters were called Orang Cina Potong tauchang.
Can we visit Sun Yat Sen,'s Penang Base?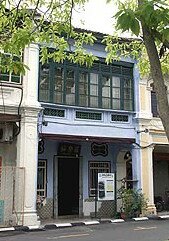 Most certainly, it opens daily from 10am to 12 pm. It is not open on Sunday. Telephone the present custodian, the warm and friendly Khoo Salma Nasution at .
And if she is in office, she will give you an explicit tour, one you would enjoy like we did. Address :120 Armenian Street. A minimal fee of RM3.00 to be given upon entering.
One more place in Penang Philomatic Union building which also houses the memorial of this great man. The address to visit is Sun Yat-Sen Memorial Centre, 20 Lorong Susu off Macalister Road, Penang.
Read some wonderful articles
Penang's link to international history, a complete article by Khoo Salma (our historian) on Dr Sun life in Penang. Sun Yat Sen.



A movie about his romance with his second wife. Also his last plea to his supporters which he raised 8,000 dollars.




It was a huge sum of money and the last straw was a do or die scenario. Many millionaires donated for the cause in Penang. Road to Dawn movie, is sold in DVD



And for books about Penang, especially the famous "Streets of Penang" are sold by historian and writer Khoo Salma Nasution. Presently she uses it as the base for Areca Books and Lestari Heritage Network.
Sun Yat Sen fought for over twenty years to bring a nationalist and democratic revolution to China.
He finally triumphed with the establishment of the Chinese Republic in 1912 as president, he had it cruelly snatched from him by the dictatorial and ambitious Yüan Shih-kai.
He died in 1924, with China in ruins, torn by the anarchy and violence of competing warlords.
His ideas, however, fueled the revolutionary fervor of the early twentieth century and became the basis of the Nationalist government established by Chiang Kai-shek in 1928.
Some of the millionaires in Straits Penang donated to the cause till they became pauper to help him fight for good of modern China.
Wu Shirong alias Goh Say Eng, Penang Tung Meng Hui leader, continued to be a leader of the overseas Kuomintang after 1911.
Huang Jinqing alias Ng Kim Kheng, gave away his fortune for the cause.
The poet Luo Zhonghuo, and two others, were martyrs of the Canton Uprising.
Chen Xinzheng alias Tan Sin Cheng spearheaded the founding of Chinese schools in Penang.
And 120 Armenian Street in Penang contributed and shaped the Giant China from this Nanyang shop house in Penang.
I remembered learning this in my school days. But the memory of what my late father shared of this great man who sacrificed so much for the nation was more powerful then learning from history.
To think there was such great man in the last hundred years in Penang is no longer a folklore. Many memorials all over the world is a testament of Dr Sun Yat Sen role in history.
And Penang, besides Singapore, Taiwan, mainland China, Hawaii bears witness to this great man. I would not leave this heritage sites out of my itinerary if I have the time.
Back to 120 Armenian Street Page
Back to My Island Penang Home Page