Dough figure sculpturing is a dying traditional Chinese folk art. Sculpture with dough is a folk art known to few countries, if any outside China.
So Master Xu with the Xizhimenwai District Cultural Committee worked together to preserve and promote China's dying folk art. His pit stop in Penang is where I found this dedicated Chinese gentleman at work.
Master Xu ShiYing, China's dough figure sculpturing grandmaster is on his road show in Ipoh and Penang in conjunction with Chinese New Year.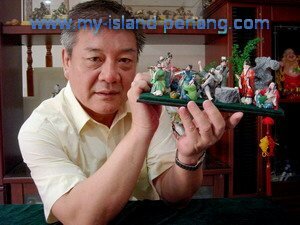 Dough figurine sculpturing, as one can see are small figurines made of steamed flour. To most people, wheat flour dough is what bread and noodles are made from. To Master Xu, it is a medium for his sculpturing.
Who is Master Xu Shi Ying?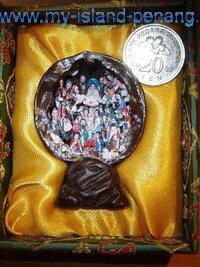 Master Xu Shi Ying was born in 1947, Beijing. He is China's and Beijing art and culture association member. He has been responsible in live performances of dough figure sculpturing at Beijing Wangfujing Art and Culture.
To date, Xu has traveled to many countries displaying his work. Xu is now an internationally recognized sculptor who uses colored dough to create works of art and fine Chinese figures. As a result, his works have been displayed all over the world.
His participation in the Singapore Cultural Arts and Travel Fair in 2006 and 2007 has encourage him to bring his exhibitions over to Malaysia. So with his son in law Mr Phoon, three states in Malaysia have been chosen for the exhibition, Penang, Ipoh and Malacca.
I do feel privileged to see him at work and Master Xu explained with much love and dedication to this folk art. At a very young age, he started making this tiny dough figurine or sculpture. Then at 15, he began to seriously specialized making them.
Master Xu's Work
Dough figure sculpturing pieces are mostly 3 inches tall, some as smaller to fit inside a cut walnut. Two half walnut with tiny figurines inside were seen on the display. Many pieces, were waiting for Xu to dolled them up with eyelashes or moustache.
From my observation, most of his artworks depict the ancient China. Though most of Malaysian Chinese comes from China, without these few craftsman coming over to show us, we would not have known there are lots of arts and crafts of our forefathers.
Dough figure sculpturing, though small and delicate takes me back to ancient times like old China. The creative artworks are evidence of his unrivalled skills and profound understanding of Chinese culture.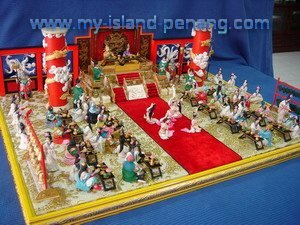 The eyelashes of a figure in the sculpture are so fine that they are best viewed with a magnifying glass. The dough figure sculpturing are so vivid and lifelike that they are dubbed "3-D paintings and voiceless operas".
The glamour of his artwork can be found in people's vivid expressions, the clothes they wear reflecting their times and in his harmonious arrangement of colors.
Three big glass famed up museum pieces costing thousand of dollars were displayed in Queens bay in Penang  this month. One spectacular piece depicted a scene in the "Court Scene during the Tang Dynasty".
Another was about "life and times of the Mongol conqueror Genghis Khan". Chinese dolled up figurines of ancient sage Confucius, poet Liu Yazi and various figurines of Chinese folklores stood watched the modern world in Queensbay Penang.
Mr Phoon showed me pictures of the master "sold dough figurine and museum pieces" that include "Life and time of Judge Pao", a scene depict a modern court session, figures of man and woman dressed in modern clothing.
The notably famous "Eight immortals>" were snapped up as there are serious buyers in this Chinese folk art from the village in Beijing.
Future of Dough Sculpturing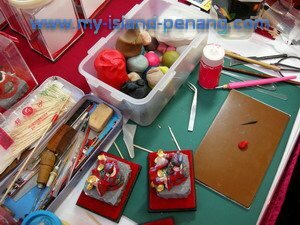 As we can see, most of the folk art forms in the district have seen comparatively slower development during the past decades. "Some of them are dying because fewer people show appreciation for them, let alone hand them down," says Master Xu.
As a result, Mr Phoon is encouraging more people to visit artists' "family museums" is part of the efforts to protect and promote these traditional arts.
I kind of like the idea of family museum as this would give us an opportunity to travel back to China to help protect and promote folk art.Creating a deep awareness to exhibitions abroad is another way to promote this dying folk art to the general public.
Master Xu in his days in Penang, Ipoh and later Malacca will conduct classes, demonstrate the art of dough figure sculpturing. Some shopping promotions may include a workshop by these folk art master.
Do some inquiries of workshop or demonstration in Queensbay or Gurney Plaza until February. Other folk arts that Mr Phoon and Master Xu are promoting are paper cutting, candy blowing and farmer painting by Pan Xiaoling.
Tools and Dough Making
p>I was fascinated how to make the dough that won't turn bad. I feel very inspired as I watched Master Xu at work. Tools he uses for dough figure sculpturing are scissors, tweezers, kitchen knife, comb, Chinese dates and Bunge prickly ash.
With well kneaded dough in his hands, colors and all, he shape them to a figure and within minutes created a vivid dough sculpture.
Making the dough is not as easy as it may seem. Tips he shared how to make a perfect dough to retain the luster and lively colors.
Honey, lard, powdered sugar and refined powder are made soluble by adding boiling water.
Mixed all in together with the flour.
Knead the mixture until no rough grain can be seen.
Edible pigments to form pastes of different colors are added during this stage.
Let the mixture sit for 20 minutes covered by a wet cloth.
The pastes are steamed for two to three minutes.
The most important point is not to cook too long as the steamed paste will lost its lustre. You can use some oil, nail polish or an emulsion to glaze on the dough sculptures.
Use a brush to make them gleam, looks more vivid and they will last longer. Keep the dough moist while working. Store sculptures in a container to keep them moist.
Watch this video of Master Xu Shi Ying at work when he was in Penang.
History of Dough Figure Sculpturing
Master Xu shared the origin of Dough sculptors and told us that as as this is now a dying art but hopefully can be revived. All the efforts being shared by some master beside him but still then few know the real secret.
He said as early as the Han Dynasty (206 BC–AD 220), dough sculptures were buried with the dead. During the Song Dynasty (AD 960-1279), dough sculptures in the shapes of people, flowers and birds were used as sacrifices and could be eaten.
Until the end of the Qing Dynasty, they were kept in glass boxes and functioned as artworks on some occasions.
A customer buying Master Xu dough figure said that in olden times, people were really poor and had no way to offer food to their ancestors. So they shape the dough in many forms of permitted food like fruits, flowers and animals to offer on the table.
From this understanding, I believe ancestor worship was mportant back in the old days.Today, dough sculptures often appear among dishes on high-grade banquets to beautify and decorate the dishes, and add foils to the banquet atmosphere.
Same like Paper Cutting is evident in many parts of the Malaysia. Even now in Northern China areas of Shanxi, Shaanxi, Shandong and Hebei provinces, dough sculptures are used as food during wedding ceremonies, sacrifices or funerals.
In Heze, Shandong Province, visitors can still see how local families are drawn together by making dough sculptures. Also in Shandong, one can find another dying art Candy blowing.
Read how Hou left his home in Shandong to seek better pastures in Beijing and found his way to Penang to show case this art. See more photos of Dough Figure Sculptures and be mesmerized with Master Xu Shi Ying Creations.
Only a few dough figure sculptors can compare to his achievements. His accomplishment has inspired him to travel and showcase China's unique folk art. Master Xu do accept inquiries and order here.
Go to Top of Dough Figure Sculpturing Page
Back to more photos of Dough Sculptures Page
Back to Chinese Paper Cutting Page
Back to My Island Penang Home Page