"Jom Pi Penang", that is what they say, it means come and let's go and discover other ways to Penang, by rail, land and ferry from the north and south of Malaysia.
Take the train to Butterworth Jom (Let's go)!. It is just a stone throw away from the ferry to Penang.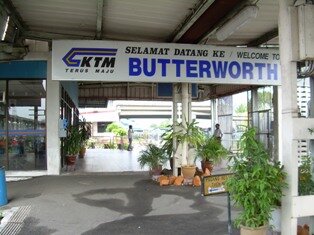 Jom Pi Penang, by walking across the bus terminal. Look out for the passage to the ferry has the blue roof top. Walk up the steps and purchase your tickets to go over.
Walk and have your first sight of Penang. Keretapi Tanah Melayu Berhad (KTM Bhd) has regular services and schedules of train, arrivals and departures are posted on this board.
For more information, you can contact the following offices.
Keretapi Tanah Melayu Berhad Ferry Terminal, Pengkalan Weld Tel:
Keretapi Tanah Melayu Berhad Butterworth Tel:
Driving to Kuala Lumpur will take 4 hours from Juru toll to Sungai Buloh toll but taking train from Butterworth to Kuala Lumpur or vice versa, it takes 8 hours.
But I can guarantee you, taking a day train trip is magical, you get to see our lovely country side, stops at all small or big towns in State of Bukit Mertajam, Ipoh.
If you want to travel using the bus terminal or ferry services from point of exit from Jom Pi Penang, it is worth thinking about it as the service here are more flexible. My choice is to use facilities in Butterworth. You have the train, buses or taxi all at one go!
More bus schedules here
Johor Bahru
Malacca
KLIA
LCCT
Ipoh
Taiping
Sitiawan
Teluk Intan
Butterworth
Kuala Lumpur
Ipoh
Alor Setar
Kangar
Bukit Kayu Hitam
Thailand Hatyai, book here
Driving-in the Penang Bridge
The Penang bridge is the third longest bridge in the world and longest in Asia. Enjoy the scenic view on both side of the sea when you drive on the Penang Bridge.
Jom Pi Penang, let's go!, on this sunny day, it can be glary to your eyes, so put on your sun glasses so you get to have a good look, maybe you see some dolphins playing in the water!
By roads, there are a few possibilities to come in, car, bus, motorbikes and caravans too. The scenic sea looks so calm, big ships and tankers come thru Indian Ocean on your left. Presently, the second bridge is in construction, so traffic is heavy most hours of the day.
Since opening the Penang bridge linking the mainland of Peninsula Malaysia from Alor Setar, in the north, through Kuala Lumpur to Johor Bahru in the south to Penang Island, it has made driving to our island all the more favorable.
Jom Pi Penang by driving in is fun way. You will have to be careful not to zig zag your way in to the toll booth. The further road on your left is for turning back to Butterworth, then follow by the lanes for motor bikes. Tickets cost for motor bikes is RM1.40.
No stopping to pay. Just to be doubly sure that the (bar) "palang" is lifted up before you zoom thru. Or you can use a toll card which you can buy.
Per trip the cost is RM5.60. This special cost is only for cards you buy in the Penang Bridge office at a minimum of RM50. Or if you are not a seasoned traveler of our bridge, the ticket cost is RM7.
Cyclist and walkers are not allowed on the Penang Bridge. Toll is levied on vehicles when entering the island but not when they leave.
When driving the car or passenger in the front seat, you need to wear your safety belt. Driver, please try to be hands free when talking on your mobile phone.
Driving under influence of alcohol or not wearing safety belt, you will be slapped with a fine. For motor bikes, both rider and pillion rider must wear helmet.
Sungai Nibong Bus Terminal
There is a taxi stand on the left hand on the entrance where you can get to your hotel. Taxi fares depend on where your hotel is located.
Day charges from Sungai Nibong to Batu Ferringhi can be about RM30. Night charges are approximately RM50. So take the public bus service if you aren't in a hurry. And if you intend to take an outbound bus for your next stop in Malaysia, look up a few choices.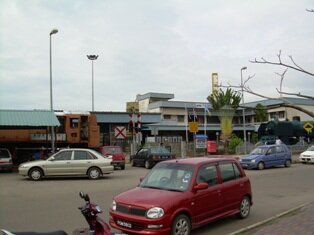 Transnasional uses a two plus one sitter and you have the economy buses too. PLUS LINER is another bus service you can trust.
Plus liner has 4 type of coaches services running the whole of Malaysia. Almost every two hours, there is service at major states. To get more information, call the ticket reservation line in Kuala Lumpur.
Executive Coaches services runs through Kuala Lumpur and Singapore and vice versa. Nice 2 is really comfortable enough for your long journey. They have services for:
Kuala Lumpur - Singapore (to and fro) Minimum 6 trips daily
Kuala Lumpur - Penang (to and fro) 4 trips daily
Kuala Lumpur - Ipoh (to and fro) 2 trips daily
It is a very comfortable bus to travel, with "5 star" services. It is a 2 + 1 seating arrangement, 23 seats in the upper deck and 7 seats in the lower deck.
It has spacious legroom, light refreshment served, pillow and blanket provided for your comfort, audio and visual entertainment system.
Nice is a 2 + 1 but without all the frills. If you are taking a day trip, this is good enough as they do stop half way for you to fill your stomach, for a smoke and washroom. Konsortium Bas Ekspres is another bus service you can depend on.
Economy run though the whole of Malaysia and the charges are as follow:
For Ticket reservation and enquiry, please call:
6
4
Check out various bus services, pricing, time schedules and locations here.
Take a ferry to Penang
You can reach the ferry by road, from the north or south of the mainland. Jom Pi Penang using the ferry services for passenger and vehicles is one exciting means of transportation.
You get a chance to admire the busy shorelines, with our 10 to 15 min ferries going to and fro between Penang and Butterworth.
Approaching Butterworth, the bus terminal, taxi stands, train station or ferry services are all in one location, within walking distance. The roads can be confusing but keep watching out for the sign boards. Just pause and focus for a minute to look at the sign.
Sometimes, it is used to take a U-turn back to the banking facilities, Maybank and HSBC. If you are not in a hurry to go over to Penang-Ferry, there are some places of interest in Butterworth, like Bird Park, Kew Long Yea's temple (Nine Emperor Gods) in Raja Uda.
Take it from me, it is worth your time to take a look. I have gone to the temple at least 10 times, with different oversea friends. Their comments is, they are glad to have made it and did not wanted to miss it.
My recent trip to Penang (talk about Jom Pi Penang!), by car, I took some sights around Butterworth as the ferry departs for Penang. Check the map of Penang for the places of interest
Generally the bus service you can't go wrong with are Transnational and Konsortium, because for a four to six hours ride to the South, we would want to stop in places where the food, rest and a place to answer nature's call has to be reasonably clean.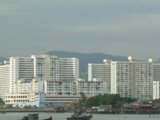 This is why I feels so sad. I have no qualms about modernization. But preserving our heritage building is equally important.
Tearing down building to build new ones, it makes no sense. Conservation effort can be seen all over towns. Another reason to Jom Pi Penang, go around and enjoy!
No longer are Macullum Streets flats the only tall building but along the coastal expressway way, more properties are sprouting Komtar looks lonely with all government offices relocating to their own premises.
On the ferry's right, the latest addition to the island is Tanjung City Mariner Bay. Whenever I travel back by bus or ferry.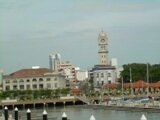 I prefer to use the services in Butterworth to Jom Pi Penang. The sight waiting for me back home in my island never fails to excite me. You get "home sick" due to missing the food and all the other things at Penang, I love Penang! Jom Pi Penang!
It only takes 15 minutes in the ferry. This gives me always an opportunity to reminisce on my island, the views, the attractions, the changes, Jom Pi Penang! The fusion of old and new.
And I am sure glad that the clock tower on top of Royal custom Building, formerly Malayan Railway building stood there to welcome me home.
The ferry service is available around the clock for both passengers and vehicles. Buy your tickets at the Butterworth terminal. There is no return fare.
You only have to purchased at point of entry.
Passengers Fares: Adult – RM1.20, Children - RM0.60
A flat rate of RM7.70 for cars is charged.
Jeeps or trucks are differently charged
Jom Pi Penang and enjoy Penang!
Back to Top of Jom Pi Penang Page
Back to Penang Free Shuttle Page
Back to Traveling to Penang Page
Back to Penang Bus Schedules Page
Back to My Island Penang Home Page