The Ma Choe Poh Folklore, a truly inspiring story my old uncle told us. I can not forget the story even though he told me it many years ago.
The Chinese goddess Mazuin in Ma Choe Poh Folklore, has many names and titles. Other names, with numerous titles that include Motherly Matriarch, Kuan Yin of the Southern Sea, Daughter of the Dragon, and Empress of Heaven.
Some people even feels she is the mother to Jade Emperor. Although some experts feel she may be a version of the older goddess Kuan Yin), Ma Choe Poe or Mazu is deeply rooted in the hearts of her people, especially coastal areas in the East.
She is best known as the Goddess of the Sea. Her middle-aged parents, the Lins, already had six other children, only one of them a girl. Her mother prayed to the Goddess of Mercy, Kuan Yin, for another daughter.
Hearing her fervent prayers, Kuan Yin came to her in a dream, giving her a flower blossom to eat that caused her to conceive the next day in this Ma Choe Poh Folklore.
Share with us your folklore, the ones you love when you were young.
According to Ma Choe Poh folklore, the day Ma Choe Poh was born, the land was covered by a purple streak. Perfumed scent filled every household and a golden halo appeared above house, within which emitted a red glow.
One month after her birth still she had not cried. So her parents called her Lin Muo Niang (Muo is the Chinese character meaning silence).
Ma Choe Poh was very filial to her parents. She is an intelligent girl, kind and loved to help people in adversity.
Her Death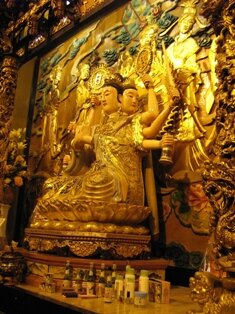 In one of the many Ma Choe Poh folklore, it was told Ma Choe Poh was a good swimmer. She loved to go fishing since childhood with her elder brother.
Ma Choe Poh often rowed a boat during a vicious storm to save people in distress at the risk of her life. Her heroic deeds gained attention far and wide.
However one day, Ma Choe Poh drown due to exhaustion after saving an overturned merchant ship.
She was not able to save one person as he was tossed away by a huge wave. Disregarding her own safety, she swam and managed to save the last victim in this Ma Choe Poh Folklore.
Reluctant to accept that she had died, people preferred to assume that she had become a goddess.
According to the Ma Choe Poh Folklore, somebody saw the Goddess in imperial garments soared to Heaven. Her town people built a temple dedicated to her.
Her miracles and deeds
After her death, the Goddess was said to become more miraculous. On one occasion, a violent storm was raging over the seas and overturned a few fishing boats. All the fishermen fell into the sea.
At that moment, a streak of light was seen among the dark clouds, the Goddess was seen descending from Heaven, she then miraculously set all the overturned boats and pulled the fishermen into the boats.
And then suddenly the wind subsided, the waves calmed down and the sky cleared. All the people were saved.
Then there was another Ma Choe Poh Folklore that told of her mystical rescue of her father and brother who drowned. It seems she was at home weaving then Ma Choe Poh fell into a trance.
In the trance like state, she used her spiritual powers to transport herself to them. As Ma Choe Poh was swimming home with her father clenched firmly between her teeth, her mother thought she was sick and looked funny slumped over her weaving wheel.
She shook Ma Choe Poh up, to inquire what was wrong with her but the trance was broken and her father drowned.
In some of her myths or Ma Choe Poh Folklore, Ma Choe Poh was engulfed by clouds that carried her across the waves to find him. Regardless, the outcome was the same.
The berefted Ma Choe Poh intensified her quest for spiritual growth, continuing her legacy of compassion and good works, but now she seemed more distant in her grief.
Emperor of various dynasties glamorized the Goddess
Like Kuan Yin, Ma Choe Poh chose not to marry but warriors of great fame wanted her hand. She challenged them to fight her and would bid to their command if she lost. You can imagine how the fight ended.
One general known as "Eyes that can see a thousand miles" and another "Ears that can hear the wind" died that day during the fight. To this day, the pair can be seen by her side in statuary.
She died as a very young age, by simply telling her family and friends it was time for her to leave this world and that she must go alone.
Reaching the top, Ma Choe Poh was encircled by clouds of dense fog, and to the accompaniment of enchanting celestial music, was carried into the heavens in a golden glow of light. Where she had been last seen, a great rainbow appeared.
In Chinese mythology the rainbow signifies the presence of a dragon, a symbol of great blessing and good fortune. The dragon is a serpent that quenches its thirst in the sea and, as a sky dragon, unites heaven and earth.
The rainbow also has special significance in Taoism. The colors represents the five Buddha families.
Those with the color orange are associated with the Bodhisattva, those who have achieved enlightenment but choose to remain on earth to be of service to their fellow humans.
Blessed with uncommon powers, the Chinese goddess Ma Choe taught us to be always mindful of the need for the reconciliation of the opposites in our lives.
The need for both the masculine and the feminine, kindness and ferocity, the balance of nature and civilization, and above all, the unity of mind, body and spirit.
You can see her altar now in Kuan Yin Teng Pitt Street Temple or the Kong Long Yea Temple in Raja Uda, Butterworth.
You also see people praying to her beauty, so powders, perfumes are offerings the ladies wants to stay beautiful and young like here.
Some ladies prays to her for finding a man in their life. Many smaller temples has her statues but these two temples have heavily decorated altars.
Back to Top of Ma Choe Poh Folklore Page
Back to Goddess Parvati Vel Page
Back to My Island Penang Home Page