Fruit Enzyme, the latest hobby among health enthusiast is making fruit or live enzyme or DIY Enzyme. After consuming it for the past year deepen my faith towards the goodness of Enzyme.
When I was told making your own fruit enzyme remedies, I shrugged it off as I thought it is not safe to consume. To me it was like making illegal samsu (a locally distilled potent spirit) or toddy (which was introduced by the British during colonial times).
Well, as some of my close friends are making or taking Enzyme, they shared their experience they convince even their aged parents to take it daily for their aches and pain. Some of them regimen tally takes it 3 times a day like drinking tea. It is really good, they say.
First thing you do when you get up in the morning, just pour 2 to 3 table spoonful of fruit enzyme in a cup and add water (not hot water though) full to a cup or glass.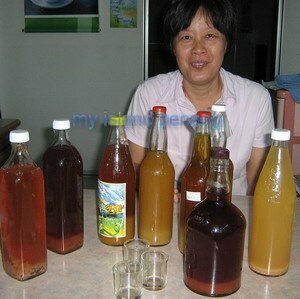 So I tried not to be too skeptical and purchased one from a good friend Mrs Lim who is an expert in making live or fruit enzyme. I did feel some great changes physically like feeling more alert, fresher and livelier. Mrs Lim introduces me to different favors of Fruit Enzyme for different types of body problems.
Mrs. Lim enzyme mostly uses honey, so it is to me a better quality product. Soft fragrance and sweet enough not to feel, you are force to take medication. How about that? Contact her for orders, Delivery and cost, do talk to her. 6.
What are enzymes?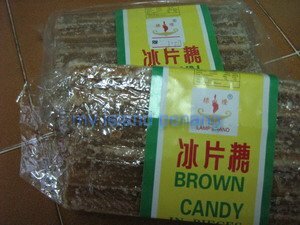 Enzymes are protein molecules which is responsible for all biological activities in human cells. Enzymes are organic catalysts that increase the rate at which foods are broken down and absorbed by the body and help various metabolic functions in the body take place.
The vital foundation of life will be severely impaired without enzymes. Human body will not be able to digest, absorb and utilize nutrient. So my simple understanding is this. Consuming live fruits or vegetable enzymes will help our blood arteries to do a better job in delivering oxygen to our body.
It contains alkaline with a higher ph to naturally allow breathing in the organs. Maybe when you imagine closing your nose up, how do you feel? Struggling to breath, right? Well that is how our important organs break down without oxygen.
How to make fruits or vegetable Enzymes?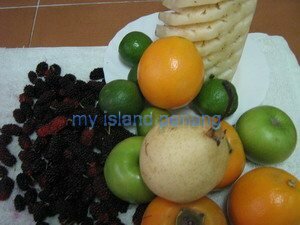 There are two types of Fruit Enzyme I now make. One, for human consumption and the other is garbage enzymes. I will go in depth the different combination later. For now let us start with the basics of making Fruit Enzyme.
You would need the following:
Bottles or plastic containers, wash and air dry before use.
Fruits or vegetables, washed and dry or air dry before cutting.
Pure honey, Sugar bars or brown sugar can be used.
Ratio of 3, 1 and 10 meaning 3 parts of fruits, 1 part of sugar and 10 parts of water for garbage enzymes.
Further example on ratio, as I keep getting emails on this. 300 grams of fruits weighed after cutting off the skin like pineapple or papayas. 100 grams of honey or brown sugar and then 1000 grams of water if needed.
Fermentation Process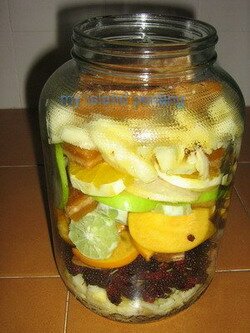 Fermentation refers to the activity of bacteria and fungi. These microbes break complex compounds, like sugars, into simple substances, such as carbon dioxide and alcohol. Because these simple substances are toxic to food-spoiling microbes, they act as natural preservatives for food.
Bottles, plastic containers must be thoroughly dried before use. Fruits after cutting does not require washing even it is watery. Like pineapple, once you cut off the skin, washed it before cutting the "eyes" of the pineapple. Dry it well.
Your preparation starts by having all the right proportion of sugar and fruits. Keep your bottle open as you cut the fruits. Immediately arrange in layers the cut fruit into the bottle. Do not I repeat do not sit the cut fruits outside the bottle.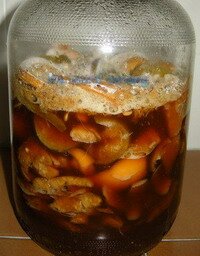 The reason is simple, if the fruit flies gather around on the cut fruits, it lays eggs does it cause the enzymes to turn bad or moldy during the fermentation process. Line the first layer with fruits to one third of the bottle. Add one third proportion the sugar or honey in.
Repeat another 2 times, alternating fruits between sugar. The last layer should be the honey or sugar. It is important to allow some breathing space for the process to release the natural gases. You don't want it to break or explode, do you.
First two weeks, every three days shakes the bottle or stir it. Close the lid but not too tightly. The earliest to eat is after 1 month. The best is after 4 months. I was told 4 months would mean the ph level is approx ph4 which is good for some chronic illness.
Two things can happen, if you have done it well. It won't turn moldy. If there is a white membrane, do not worry as it is a normal occurrence of bacteria activity that forms during fermentation.
To harvest the enzyme
Use a big sieve or a santan bag to squeeze out the juices. I find that using the sieve, I don't get much yield. My advise is cut small slices of fruits and use a santan bag to squeeze the juices out. I do get more nutrients from my harvest Fruit Enzyme this way.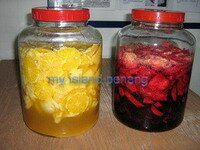 Preservation of Live Enzyme
Pour the Fruit Enzyme into bottles for storing. It is not necessary to keep in the refrigerator. But keep in cool dry place. The leftover fruits has many uses. If you have any skin problems, scrub your body with it while showering like shampooing your hair. Or use as fertilizer for the garden. Do not shampoo your hair with enzyme if you have dyed your hair!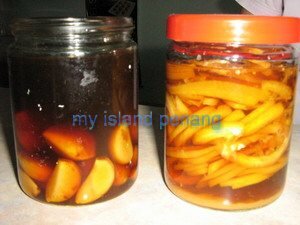 Some great enzymes recipes I have experience making them. And I would recommend you making it.
Apple and Lemon - both cut in rings
Lemon and Oranges - both cut in rings
Garlic - peel off skin, keep it whole or cut in slices
Pineapple with lemon
Dragon fruit, grapes, ribena or strawberry (red enzymes)
Pomelo, Chinese Pear and Celery - good for diabetic
Bitter Gourd and Chinese Wolfberry - good for liver problems
How to make garbage or eco enzymes
Making garbage or eco enzymes is very useful in a long run. Remember the ratio 3-1-10, use 10 parts of water to make this enzymes. Again, I give you the formula for edible DIY fruit enzymes:
300 gms of fresh fruits, wash and dry before cutting
100 gm sugar, honey or molasse
For Garbage or Eco enzymes
300 gm of skins, peels of fresh fruits, spoil or bad fruits cannot be use
100 gm of Gula Melaka or Brown Sugar
1000gm of Tap Water
The finish enzyme looks yellowish and diluted which is good for diabetic people who has no tolerance to sugar. But do remember to use fresh fruits for human consumption.
When using water for eco enzyme, the fruits and utensils need not be dry. Washed, cut and dropped all in a big can or bottled. And use the proportion as above. For garbage or eco, use any fruits that has been in the fridge for far too long or skin of fruits you are about to throw away to make this enzymes.
It all depend on how much you are preparing. My friends are collecting fruits skin from the fruit seller in bulk and make in a really big tub. Many people are going all out to pour this eco friendly enzymes into drains, streams and rivers.
What is Garbage enzyme good for?
As this is going to be pour into drains, streams and river, use the cheapest sugar you can find. For sugar, use gula melaka, fruits and water. It must be left fermented for 4 months. Good to use to final rinse your fishes for cooking or rice. As for soaking vegetable just soak for a short time like 3 to 5 mins.
You won't want your vegetable to look or turn squeamish. Wash and mop the house using 1 to 10 ration of water to mop the floor. Use the same proportion to wash and scrub the drain. By doing so, you are repairing the ozone layer and reduces global warming. More recipes are been evaluated now then we will uploaded soon.
Go to Top of Fruit Enzyme Page
Back to My Island Penang Home Page