The Air Itam town in Penang is where I spent my childhood days. Walking to the wet market in the morning to do marketing for my dad was unforgettable.
Or in the afternoon to have ice kacang with Laksa is something we kids do in those days. This is where Penang Dam, Penang Hill and the famous Kek Lok Si can be found.
Now since the traffic is that heavy, it only means two things. One, it is very populated and locals still love living in this part of the Penang Island. Two, with Penang and Paya Terubong Hills keeping Air Itam intact, it is the coolest part of Penang Island.
So despite the daily crawl traffic jam and all, it is still a much sought out place to live. Air Itam town is not a location to miss when visiting Penang.
The Ayer Itam valley is fortunate to have some of the richest soil as two rivers flows Sungai Air Itam (Black Water River) and Sungai Air Puteh (White Water River) flourishes the town.
Captain Francis Light sponsored a program to establish the island agriculture base growing pepper and was first cultivated in Air Itam valley.
Today, flowers, fruits and vegetables are still grown on the surrounding hills. Nutmeg is a popular fruit found in this part of the Penang Island.
Mausoleum of Sheik Omar Basheer
On your journey exploring Kampong Melayu Air Itam, make it your first stop to grace upon the Mausoleum of Sheik Omar Basheer. A religious teacher for the Acheen Street Mosque.
A well respected reformist and trusted by the British during the famous Penang riot in 1867. It was said that the head of Malay families were made to swear in front of Sheik Omar Basheer that they do not support the Secret Society of Hai San and Ghee in 1867.
Penang Hill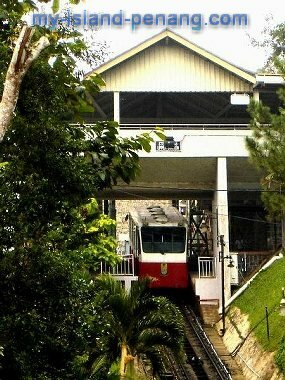 The Penang Hill is the first hill resort in Malaysia. The locals Malays have always affectionately referred to it as Bukit Bendera (Flag Hill).
As for the Chinese it was originally called Flagstaff Hill (Seng Kee Sua, "raising of flag" in Hokkien). It got its name when a flag on Bel Retiro was used as a beacon for signaling to Fort Cornwallis at the north-eastern tip of Penang Island.
Today the places of interest and Penang Hill attraction are an Indian temple, a mosque and canopy walk. For food, there are public food center, tea kiosk and Bellevue Hotel if you are interested to stay in cool Penang Hill.
Next to Penang Hill, you will find Tiger hill and Western Hill. Up in Western Hill, the Malaysian Air Force has a Radar Station and this area is a restricted zone.
When is best time to visit Penang Hill?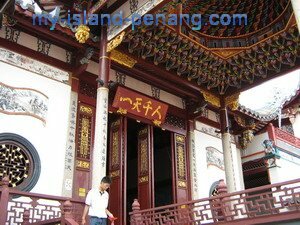 Along Summit Road, you can walk to Tiger Hill and Western Hill. There is a small reservoir to supply fresh drinking water for the hill residents.
Bird watching enthusiast find many species of bird and if you are lucky, the Black Giant Squirrel measuring 50 cm run along the Summit road every now and then.
Avoid going during the schools holiday. The waiting to buy tickets can take hours. But if you are taking a jeep up, go to the end of Waterfall Road at Botanical Garden. Only 4 wheel drive can go up this Penang Hill Trail.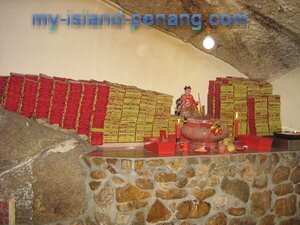 The Penang hillsides are revere locations for the many old temples. Dad used to tell me as we walked this town.On the right side of Penang Hill stood the Jade Emperor Temple, (Thni Kong Thua, which sits on Phoenix Mountain (fuo san) that resembles a horse.
And four sacred creatures of Taoism green dragon, white tiger, black turtle and red peacock, guard the temple from four different directions.It is believed thatsitting on this level of the mountain, it majestically guards different levels of heavens.
Bat Cave or Bit Poh Tong
To honor the birthday of Jade Emperor Yu Huang, the Supreme Ruler of Heaven, offerings are made to him at his temples. The celebration actually starts on the Eve of Jade Emperor Birthday on the 9th day of the first moon.
All night long, crowds throng the Thnee Kong Thua at the foot of Penang Hill next to the Lower Station to pay homage.
Down on the foothill, there is a Tua Pek Kong Temple, also known Bat Cave (Bit Poh Tong). Bats are attracted to the old caves near the mills that once supplied flour and bread to the whole town.
An old lady used to take care of this Bat Temple. Since she died most bats too have left due to the negligence of her son. The Tai Say Yei or Savior of Suffering Deity is being worshipped greatly here.
I was told it is also very popular with devotees all over Penang Island. I am not surprised. Chinese People in Penang practicing the Taoist faith will run every corner to ensure themself or family to be forever in the good books of Gods and deities.
Read about this unique temple here.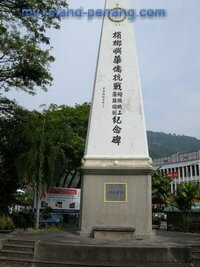 Right in front of the roundabout before making a turn to Air Itam, Kek Lok Si or Penang Hill, you cannot miss the Anti War Memorial.
This memorial served to remind us of the World War Two massacre where thousands of Chinese were brutally murdered during "Sook Ching" or "Wipe out" literally translated.
Only 700 were buried in this memorial. Dad has stories of the Japanese Occupation that left a big scar in his life.
Read more of what happened here.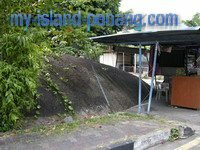 On the way up to the Kek Lok Si or market place, I am very sure many of you passed these two road signs. Jalan Batu Jantan (Male Rock Road) sits on your left partially hidden by some stalls selling flower or tit bits in front of the Indian Temple.
Or Jalan Batu Perempuan (Female Rock Road) on your right before the Post Office as you are coming up.Our old folk tales has it that in the olden days these two rocks met and mated. These activities carried on until the British landed.
It seemed the male rock was shot and was not able to move back to its original station further inside the road. Being wounded, it now laid on the side of the road never to meet his love again.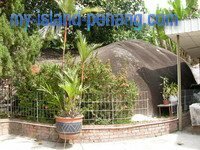 The surprising find for me is the female rock. As kids we used to play on top of the rock. To me at that time when I was 6 to 10 years old, the female rock seemed to be 10 times bigger than the male rock.
But now looking at it yesterday, it looks only 3 times bigger. I wonder why. So if you do pass Air Itam town, take time to stop and turn into Jalan Batu Perempuan.
The rocks are now being fenced off by the houses recently built. There is definitely no way for either to meet or mate again. One being wounded, the other caged. Strange but is it true?
Come in the early morning and you will not be disappointed. You will still see farmers bringing their produces down from the hills. Freshly plucked or pulled vegetables, fruits are being stacked on the road side in lorries or motor bikes.
Walk up the Paya Terubong bridge and sit down on stool to enjoy the famous Curry Mee. The massive traffic jams allows you to enjoy this part of Air Itam. Drivers and motorcyclist all alike will wish they could walk like you to buy and partake all you want.
It is fun to wander and eat the Koay Teow Th'ng or Bee Tai Bak in the market food court. The famous Laksa is just in front of the wet market but it starts in the afternoon.
Kek Lok Si Temple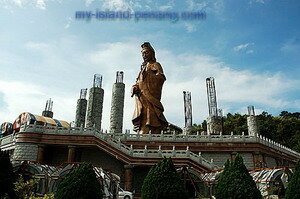 On this part of Ayer Itam the "He San or Crane Hill", stood majestically two very old temples. The largest known temple in the whole of South East Asia, Kek Lok Si is said to be positioned in the eye of the crane.
Expanding the whole valley with a grand pavilion for the huge statue of Goddess of Mercy to me has taken away its original splendor. In the past for me at least it was like the hanging Gardens of Babylon.
Further up the hill is a retreat for serious Taoist practitioners called Cheng Kon Sze or Cheng Jee Chan. Literally translated as 1002 steps temple, you can find the famous Thai Siong Lok Kun statue sitting on a tiger greeting you when you arrive.
I imagine me sitting to mediate and hearing the bells ringing a distance away. Birds chirping, trees swaying and the breeze put you to relax mood and allow your mind to wander off. Such BLISS! Indeed I feel blessed.

The Penang's first dam at Air Itam was officially opened in 1962 by the Governor of Penang, TYT Y.M.Raja Tun Uda Al-Haj bin Raja Muhammad. Beside the Penang hill, the Dam is the most popular area in Air Itam.
The panoramic view of central Penang Island seen from the dam is scenic and breathtaking. And if you are a tourist visiting the pagoda, ask your guide to bring you up to the dam to get marvelous views of part of Penang island.
Air Itam Dam supplies water to whole of Air Itam town and surroundings of the Penang Island.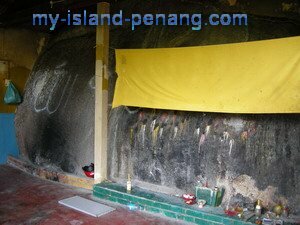 As you drive up to the Dam or Kek Lok Si, another spot you totally missed is the Shrine of the Seven Sisters or Chik Chia. The Malays too believed that it is a sacred place of worship for the Kramat Tujuh Beradik.
Dad used to tell me stories about how the seven sisters reputedly link to the Nine Emperor Gods. They were the sisters to the Nine Emperors Gods.
Legend has it that the seven sisters during festivals times would take their bath or frolicked in these foothills of the heavenly Gods. Water from the Dam is at its cleanliest as we went to walk and climb the massive rocks and boulders.
I will not dwell on this too much as it is now a hideous sight now. But I will show you some lovely photos of the surrounding areas of the shrine.
The actual shrine is now a place for beggars and drug addicts. If more people are aware of it, probably the locals would clear up this forsaken place and made it fit for site seeing and an interesting place to see. Sadly, it has turned into a car park much to our dismay.
Back to Penang Bat Cave Temple Page
Back to Anti War Memorial Page
Back to Shrine of the Seven Sisters Page
Back to Photos of Seven Sisters Page
Back to My Island Penang Home Page