Diving in Payar will be a great experience. Pulau Payar (pulau means island), is a marine park. As it is a Marine Parks, it means you are not allowed to stay on Payar island.
This seems a disadvantage but with Langkawi nearby it's in fact an advantage. With the status as a marine park the coral reefs and fish are well protected.
Thus it gives you optimal pleasure for snorkeling, beginner- and advanced divers. Even children can have their fun in experiencing the underwater world.
Where is Payar or Pulau Payar?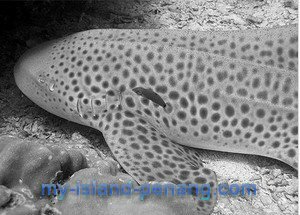 Pulau Payar is located in the Andaman Sea and the Strait of Malacca, close to Langkawi. Even though today the Straits are a busy cargo route for ships you will find Pulau Payar surprisingly undisturbed.
The coral reefs are stunning. Even if you have never been under water and only want a snorkel you will find extraordinary sights.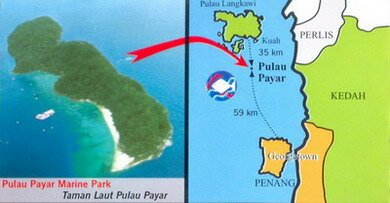 The abundance of fish is the result of Payar as a Marine Park. This can be seen in many ways. Enchanting beaches, hiking trails with vast diversity of fauna and flora.
Marine Parks surrounded by superb coral garden that is home to a diversity of magnificent hues of coral and and truly amazing colors of tropical marine life. In short, you can do more than diving in Payar.
The boats of our diving company have and underwater observation chambers so even if you can not, or do not want to swim, you still will be able to get a glimpse of the underwater world.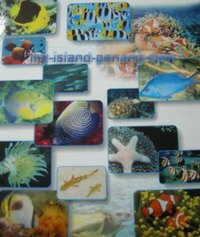 Snorkelers find Payar great because a part of the reef is easy accessible for snorkelers.
For the more experienced divers, the reefs go deep enough to have the opportunity to even see sea horses (and any diver knows how hard they are to spot). Around Pulau Payar, no commercial fishing is allowed.
It is not surprising that you will be able to see a range of fish from black tipped reef sharks, snappers, boxfish, barracuda schools, clownfish, spectacular butterflyfish and surgeonfish. There are morays and bright coloured pipefish.
You may see at the sandy floor near the reefs some standup razorfishes and lionfish hiding. Nudibranch lovers will not be disappointed with a wide selection. Anemones are plenty too and if you are lucky you will find prawns and seahorses.
Where is the exotic marine or sea life located?
The Pulau Payar Marine Park is an extremely popular tourist destination in Langkawi. Diving in Payar is in an area that is 2 nautical miles large and lies off 4 islands, namely Pulau Payar, Pulau Lembu, Pulau Kaca and Pulau Segantang.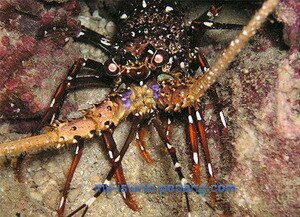 Fishing in the Pulau Payar Marine Park is strictly prohibited. No one living on all of the 4 islands except for some officers who enforce the law there.
As there are no accommodation choices available on the islands, most travelers will come to Pulau Payar on a day trip.
From Penang, for example, you can reach the Marine Park in approximately two hours. From Langkawi its a bit less, around 60 minutes.
For diving in Payar, our company chose four to six strategic awesome spots to ensure you get the best opportunity. You can get home to say, you get to say "been there, done that, seen this". All in your day trip.
For beginners and experienced divers alike, Pulau Payar has plenty to offer. But to ensure your safety, allow the dive master to assess your diving ability, the first dive will be at the reef platform.
Platform Reef Dive - 1st dive
Even with the visibility depth of 8 to 10 meters and the water temperature of 28°C is considerably warm around Platform Reef. The sea floor is sandy with hard corals like Boulder, Staghorn, Plate, Sponge, Brain and Sea Anemonies.
A good variety of fishes in these part are Sargeant Major, Rabbit, Wrasses, Titan Trigger, Snapper, Moray eel, Lionfish, Jacks, Seaperch, Fusiliers butterflies, parrot, angel and resident barracuda.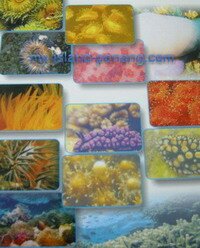 Shark point
At Shark Point 5 to 8 meters, these parts are sandy and hard corals are seen here. A good variety of coral fishes and blacktip sharks are evident.
The second dive of the fun dives in the package will be chosen by the dive master depending on the visibility and local conditions.
Coral Garden - The most favored choice
Diving into invisibility depth of 8 to 12 meters in Coral Garden, the corals are the most magnificent. This is the most desired choice for diver for its kaleidoscope of beautiful hues of corals.
From my diving friend Ning, she says to me: "If only I could lend you my eyes, you will see what I see." Read her experience in Sipadan here.
Soft corals like Dendronepthya and Vase Corals lays floating softly as if calling to you to lie on them.Diving in Payar
No wonder Giant Groupers, Sweet Lips, moray eels, barracuda, leopard shark, snappers, jacks, sea perch, parrotfish and lionfish plays hides and seek with Ning whenever she tries to get them on her camera.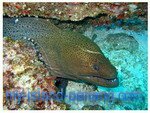 Kaca (North)
Kaca is an alternative choice but, as always it depends on the visibility. Kaca diving visibility depth is at 10 to 13 meters.
Here you will find a boat wreck,: the staghorn, Tree, Vase Barred Sponge and Boulder. Fishes spotted here are a good variety of coral fishes including snappers, barracuda, blacktip sharks and lionfish.
Grouper Farm - 2nd dive choice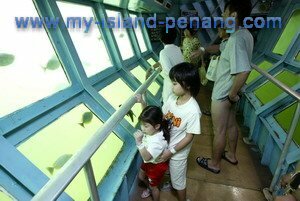 Grouper Farm is the clearest of all the diving in Payar. At 20 to 24 meters, the warm waters of 28°C allows one to enjoy diving in this rocky part of the Langkawi island.
Most of the corals found here are Tree Corals. Giant groupers, snappers, jacks and barracuda like Pelargie is in this deeper part of diving in Payar. Hovering over the coral reefs you will experience a different world.
Many colorful schools of fish are living here and the reefs provide a natural habitat for a huge amount of sea life. Watching this is a fantastic attraction and you will understand why it is so important to keep these reefs protected.
The park is threatened by severe damage to its ecosystem if the flow of visitors is left unchecked.
Respect the Environment
When you dive, make sure you don't disturb the fish or break coral off. Your dive master will inform you about the situation underwater and will explain where you dive and what, most likely you will see at that place.
Safety and Health
Pulau Payar is a very safe place to dive. But in case problems occur, fortunately seldom, Penang and Langkawi have modern hospitals with all the necessary equipment and a decompression chamber (in Langkawi).Diving in Payar
Prevention of decompression sickness can be easily avoided by using the surface intervals(SIT) and safety stops under water.
Our dive company has a range of Diving Certification Courses to Pulau Payar available. From snorkeling trips, to free fun dives, dive courses and Langkawi nature discovery tours.
See our special dive tours page for more details. Now get this package for fun dives and snorkeling for your family and friends.
Go to Top of Diving in Payar Page
Back to Diving in Malaysia Page
Back to Diving Certification Courses Page
Back to My Island Penang Home Page