Chinese Paper Cutting is almost a must have during this coming Chinese New Year. The Nyonyas and Chinese in Penang uses these paper cutting to adorn entrances of buildings and homes to bring good luck and fortune.
In Penang, the simpler version of Chinese paper cuttings are also placed on top of fruits or wrapped around fruits in preparation for prayers to the Jade Emperor. Some are used to place of top of gift packs of New Year cookies.
In Penang, the simpler version of Chinese paper cuttings are also placed on top of fruits or wrapped around fruits in preparation for prayers to the Jade Emperor. Some are used to place of top of gift packs of New Year cookies.
When there were wedding ceremonies at home or other celebrations, these red paper cutting would be in great need. The bridegroom's family would send the bride a plate covered by red paper as a wedding gift.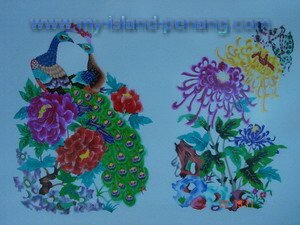 In the plate, there must be at least one paper cutting of Chinese character "double happiness", or more tastefully, an auspicious design. The bride's family would also use these lucky designs to decorate all the china and tinwork.
But we get to learn the true essence of paper cutting, as China has many folk artists specializing in paper cut outs. The knowledge usually was passed on by generations of paper artists in their family or home town.
There are different styles of rendering paper cutting in each region of China. There used to be only traditional Chinese themes but today western images and modern art touches are found in certain paper cut outs.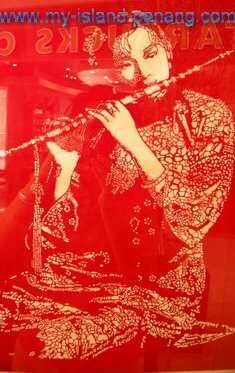 Folk paper-cut is an ancient traditional folk art in China. It has a long history and a special pattern and is loved by people at home and abroad.
Chinese paper cutting, which can be dated back to 2,000 years ago, is one of the most popular traditional arts in China.
History of Chinese Paper Cutting
Long time ago, glassware was very expensive and only for the rich. The rich would exchange glassware as gifts or as decorations round their houses.
So how the poor or village people decorate their house, they would paste a kind of paper to their window frames.
When the New Year came, they would tear the old one and paste a new paper again to give it a new look. But the newly covered white paper looked so plain and too neat.
What these old women and young girls would do some paper-cut to decorate the windows with their clever hands. They used red paper to cut auspicious designs, such as wishes for super luck or for a smooth year.
Each design is crafted finely with serious dedication. In addition, they also made the paper-cuttings for the Dragon Boat Festival, New Year and wedding ceremonies.
Chinese celebration color seems to be red, green and white while for Christmas, it is red and green. There seems to be a common theme when it comes to colors representing New Year since olden days.
Who started Paper Cutting?
A Chinese Court Official of the Han Dynasty called Ts'ai Lun invented paper in 105 AD. The Chinese also introduced the "art of paper cutting" during the Northern and Southern Dynasty (386-581 AD).
Intricate patterns were cut-out using scissors or sculpted using a very sharp knife. Papers of various colors were used to shape various objects familiar to the paper cut artist's surroundings.
Paper cut themes also reflect the aspirations and wishes of the Chinese people featuring themes like good fortune and a prosperous life or harvest in the farm.
These paper cut outs were used to decorate houses during festivals and even used as hair ornaments by women.
Demonstration and workshops for Paper Cutting
Many lovely pieces cut by masters are available today. I have personally gone to admire at their art work and so impressed with it that I can't helped but to write in here.
Why do you think I do that? To treasure the memories and joy seeing the masters at work in Penang, all the way from China. But for these paper cutting, the Chinese lady Pan Qing Mei is a great apprentice under her mother's guidance Wang Feng Zhen.
Watch Miss Pan Qing Mei at work in Gurney Plaza recently.
I put myself in her position cutting her niche and I can sense her mother must be proud of her work. Many locals purchased the cutting without the framework.
Some purchased in appreciation to Miss Pan dedication which they are just happy to buy t he whole set with frame.
The themes involved in Chinese folk paper-cut art are various and colorful, which vary from the subjects in daily life with which people are familiar to the future life people are dreaming of.
From these subjects, we can know the simple and pure feelings of laboring people. Paper-cuts can't be called artistic works until they meet certain requirements. A good paper-cut require great skill in knife work and paper selection.
Another grandmaster is here to showcase this Chinese Dough Figure Sculpturing art. His dedication and respect towards dough is most admirable.
Another hand and mouth art will be lost if Hou Goa Yi master his homeland folk art, Candy blowing. Fascination is the right word when I watched him at work.
If you want to purchase them, don't think twice. I lost one particular one when I went back to the next to buy, it was gone. And just as a reminder, all the paper cuttings displayed are hand cut.
Some customers not knowing the art of culture actually thought most crafts shown were machine cut! Don't miss out the next time they are in town.
Go to Top of Chinese Paper Cutting Page.
Back to Dough Figure Sculpturing Page.
Back to more photos of Dough Sculptures Page.
Back to My Island Penang Home Page.