CheongFattTze mansion in Penang became the pride of Malaysia, beating 26 other international entries to secure the Unesco Asia-Pacific's Most Excellent Heritage Project Award.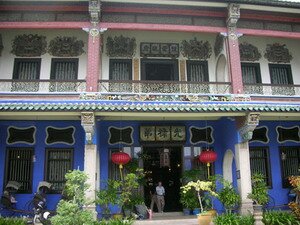 You cannot miss the blue painted walls of this imposing heritage building. It is located at Leith Street and triangulated by Chulia Street, Penang Road and Light Street. The private owners have bought this mansion and restored to building to its original splendor.
My fascination
Yes, the CheongFattTze Mansion is with the faded blue paint. Despite the crummy exterior, the interior of Cheong Fatt Tze mansion is an architectural marvel. God only knows how many times my breath was taken away when I gawked at the ceramic relief paintings, the old-encrusted wooden frames and the majesty of the spiral staircase.
The crummy blue exterior paint which I found out later, happened to be indigo paint which washes off with every rainfall but since the paint is organic, it preserves the "health" of the walls and prevents cracks.
The Heritage Architecture wonder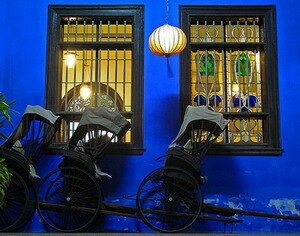 It was the 19th century residence of Cheong Fatt Tze, a Hakka immigrant "rags to riches" millionaire who was deputized by the Qing Emperor.
Upstairs, the glass windows are beautifully restored. There is also an interesting small souvenir shop. Also refurnished heritage rooms for tourist accommodation with a nice courtyard.
Experience the old world charm at its best. Book CheongFattTzeMansion here.
The Rockefella of the East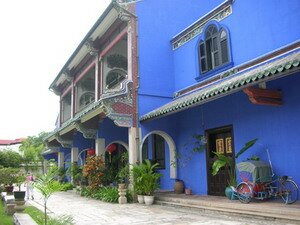 Cheong Fatt Tze alias Chang Pi Shih migrated from China to the Dutch Indies and rose from rags to riches to become a capitalist-industrialist with interests in plantations, banking and Penang-Medan shipping.
Moving his base of operation to Penang and Singapore, he was appointed a Ching dynasty consul representing the Overseas Chinese.
He originated from Tai Pu village in Teochew district of Guandong, China. He came from a large family of labourers and thought that he would be doomed to be in the same situation of his forefathers if he had continued to live in his village.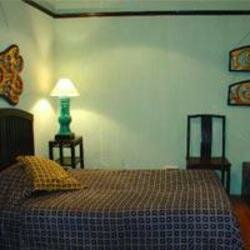 Shortly before he died, the New York Times dubbed him "China's Rockefeller". He had eight wives & six sons, and although he owned many residences throughout his trading empire, he made Penang his base in the early 1890s & built his family home there.
A Fengshui house embedded within the house's walls are large copper pipes that divert rainwater through the house for cooling purposes in the tropics.
The pipes lead to the center courtyard, which channels the water in from a vent shaped like a Chinese coin to symbolize wealth flowing into the house.
Of his many homes through east Asia, Cheong's favorite was the Penang mansion which boasts 38 rooms, 5 courtyards and 7 staircases. The restoration and adaptive reuse of it was awarded 'Most Excellent Prize', UNESCO Asia Pacific Cultural Heritage Award.
Today, the owners have turned this treasure to a heritage homestay. Book Cheong Fatt Tze Mansion here.
Rag to Riches
His business soon prospered from government contracts from the Dutch colony of Indonesia. Noted as one of China's last Mandarins and 1st Capitalists, that his fame saw that on his funeral the Dutch and British flags were flown at half masts throughout their colonies when he died in 1916.
He had a unique will which bequest much of his will to his son from his favorite wife - the 7th wife (you will see her picture near the courtyard - and she was very young when she married him in the 70s) and their son was only 2 years old, and so most of the money was under trust which was later mismanaged.
Cheong Fatt Tze built several elaborate homes - some 5 are mentioned but only 2 have survived. The one in Medan, Indonesia still resided by the Cheong family. But the one in Penang is said to be the most interesting. This mansion was built by master craftsmen from China, was constructed over a seven-year period from 1896 to 1904.
But in years CheongFattTze Mansion was acquired about 10 years back and saw massive restoration that Unesco awarded it a national award for conservation in year 2000.
CheongFattTze Mansion has won numerous awards such as:
1995 Malaysian National Architectural Award For Conservation.
2000 UNESCO 'Most Excellent' Heritage Conservation Award.
Best Tourist Attraction 2003 Merit Award - Malaysian Ministry of Culture, Arts & Tourism.
ASEANTA 2004 Excellence Award; ASEAN Cultural Preservation Effort.
Experience the old world charm in CheongFattTze Mansion
Interestingly the Oscar winning movie Indo Chine was filmed in this CheongFattTze Mansion heritage.
I was told, over USD 2M was spent to restore this crumbling heritage site which was homes to over 30 tenants as the son of Cheong Fatt Tze sixth wife could not upkeep the mansion.
Convincing them to vacate, compensating and then restoring takes alot of efforts. For that, after my research, I would like to make another trip just to enjoy the grandeur and splendor of the luxurious heritage site.
If you choose to stay during your time here, then imagine the days of luxuries, filled with lovely ladies adorned in the fineness jeweleries, maids and Chinese amahs (domestic servants) at the whims and fancy of their mistress and masters. That was the life style of the rich and wealthy in the last century.
Another great man worth knowing lived not far from here.
To know more about the Penang Heritage Mansion,go to: Orientalarchiturea
How to go there
This map will give you an idea where CheongFattTze Mansion is located.It occupies a fair bit of area in Leith Street Penang, one third of Leith Street actually. As for bus that goes through this Penang Heritage City site, get our Penang Rapid Bus from Jetty: Bus 103, 204 and 10.
Book CheongFattTze Mansion here
There is a tour twice a day which covers the "fengshui" or geomancy aspects of the building.
The first tour is at 11.00am and the second at 3.00pm. Ticket is RM10 per person and can be obtained inside the building.
NOTE:Photography is prohibited of the interior so visit the website below to have a better look.
Website: http://www.cheongfatttzemansion.com.
# Phone:

View in a larger map
Go to the top of CheongFattTze Mansion Page
Back to My Island Penang Home Page
Pearly Homecooks Daily classes

Available Monday, Wednesday or Friday.
Wet market tour, Pick up, prep, cook and eat.
Morning Classes:
9 am to 2pm
Evening Classes:
5pm to 8pm
Write to us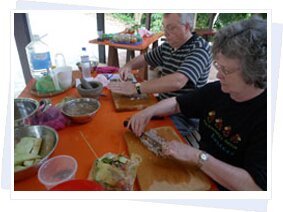 Cooking class in Tropical Spice Garden, Penang. Time: 10am to 1pm
Spice Garden tour, prep, cook and eat.
Days: Tuesday, Thursday and Saturday
Check us at Tripadvisor
Booking a boat
Discover the bays and shorelines of
Pantai Kerachut,
in Teluk Bahang with our boat tour, or a fishing trip?
Monthly Nyonya Dinner

Pearly Homecooks
Diving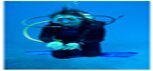 Heritage Homestay in Georgetown
Experience staying in our very old heritage house over 100 years old.
Segara Ninda, a place like no other.
| | |
| --- | --- |
| Winner of Asia-Pacific Heritage Award | The magnificent structure was restored by architect Laurence Loh and is also known as 'La Maison Bleu' or the Blue Mansion and touted as the best of 18th and 19th century Chinese architecture in Penang." (New Straits Times, The Star/Asia News Network) |