Kuan Yin Folkloreis a typical Buddhist or Taoist of Chinese origin. It is about the love from a girl named Kuan Yin to her father. And how she saved her father, the King from great danger.
Her father, the King of the country was childless and since he was growing old. He made sacrifices and prayers to the gods and his prayers were answered as told in Kuan Yin Folklore.
Three years in a row, the Queen gave birth to three daughters, and no sons! So what can the King do? He married his two daughters to man whom he believed to have ability to succeed him.
But the youngest daughter refused to marry as she wants to devote her life to attain Enlightenment.
Her Physical and Spiritual trainings
She pleaded with her father to build her a nunnery so that she could begin her spiritual training. But her father, the King not only refused her but commanded her to do the toughest and the most menial jobs.
Despite undergoing all these hardship she patiently overcome it with persistence, her compassion moves heaven.
It was told in this Kuan Yin Folklore, even gods and animals conspired to help her. Eventually, when the King found out he was furious and ordered the nunnery to be burned.
With Heaven's help the fire extinguished with a heavy storm. She was later executed and her soul descends into Hell which was soon transformed into paradise.
An edict was sent up to Heaven saying: "There must be justice both in Heaven and Hell, if you do not send this saint back to earth there will no longer be a Hell but only a Heaven".
Read about Goddess of Mercy oldest temple in Penang.
Save others and you shall be Saved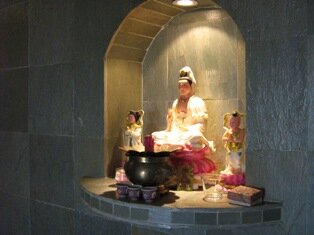 She heard about her father. The King was stuck with an incurable sickness. It could only be cured by the hand and the eye of the person who "is never angry".
She went to visit her father and offered her hands and eyes to her father. He was healed and he realized he owed his daughter his life. In repentance, he gave up his kingdom and convert to be a Buddhist.
But then the story did not end there. her compassionate decision despite given the opportunity to become Buddha, she did not.
In Kuan Yin Folklore, Kuan Yin Ma vows not to become a Buddha until all sentient beings are saved from the nearly endless round of suffering in samsara.
See more photos of devotees in Pitt Street Penang.
Her Bodhisattvas Role
She has committed to continue existence so that she can help suffering beings. Kuan Yin is not the only bodhisattva who has made this vow.
With this in mind, I bowed my head and prayed sincerely and thankfully for my existence and her lightening my sins and impurities understanding Kuan Yin Folklore.
I know and treasured my existence and am enjoying my years this life. I have great faith in my savior.
Go to Top of Page Kuan Yin Folklore
Back to Goddess Parvati Vel Page
Back to My Island Penang Home Page