Hokkien New Year Photos, Watch how much fireworks were lighted. Penang was like the fourth of July. Colorful skies painted with fireworks sparkling every minute after midnight till morning. Huge joss sticks were burned in most Hokkien homes.
Look at Aunty Tian diligent preparation for the Hokkien New Year ceremony due to the total lunar eclipse as the procession had to start early.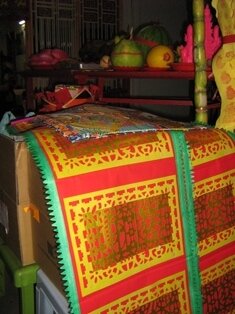 For offerings to Heavenly Father, she has Thnee Kong Sar, or Heavenly Clothes for attire. Together display on the table are meal fit for the Emperor, truly he is one. Sugar cane story is never forgotten for the Penang Hokkien Lang or people.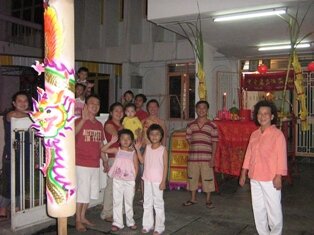 The whole family would sit down to fold "Thnee Kong Kim" or Heaven money. All of us were taught from young how to fold, almost like origami except in a more solemn tone.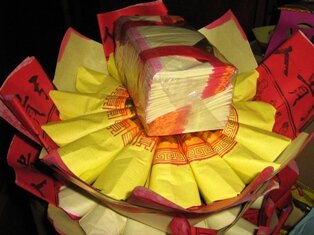 Preparation for prayers starts excitedly after dinner and time seems to go so fast into midnight. Hardly had time to decorate the table in finery with all the explanation what to do and not to do. Gone are the days when we have elders to advise.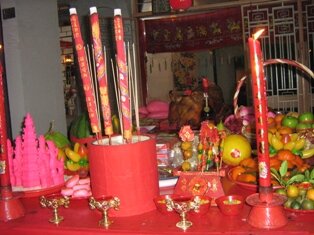 Fruits, food, local kuih like huat kuih and bee koe, mee koo, longevity peach and sweet traditional stuff like geng geng, ang choe, tang kua. It is a feast for your eyes. All this signifies abundance of wealth and prosperity for the family.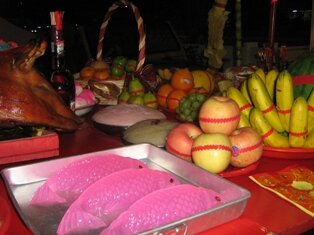 At midnight of the 8th night, these hokkien new year photos were excitedly taken with Aunty Lian family. "Yu" or fish made from jelly signifies good luck and prosperity for the family. Cutting red paper frills to decorate the fruits is young girl's responsibility.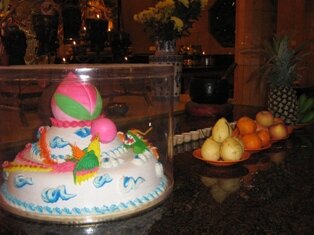 A grand cake with pinkish peach on the top symbolize longetivy. How awesome can it get?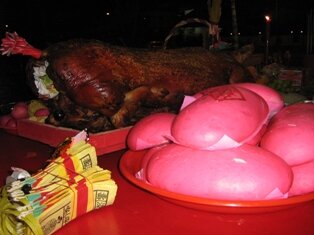 "Ang Koo" or Chinese steam bread and many other offering make the grand entrance.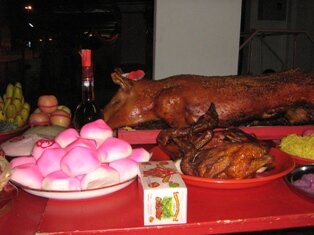 Most of the roasted pork, chicken and many dishes will go in our supreme chop suey for the New year lunch. How I look forward to have with porridge. I can't wait to be invited for lunch, really.
Go to Top of Hokkien New Year Photos Page
Back to Nyonya Chap Goh Meh Page
Back to My Island Penang Home Page