The Floating Chariot Procession in Teluk Bahang Sri Singamuga Kaliamman Temple started earlier this year. We nearly missed this year's unique ceremony due to the total lunar eclipse as the procession had to start early.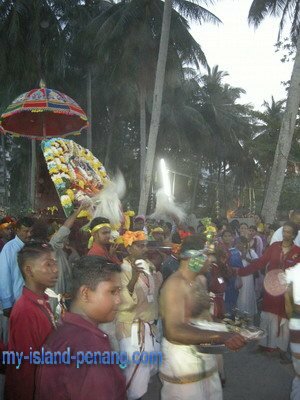 The total lunar eclipse will dazzle the night sky in the late night hours. I reckon lunar eclipse may be worth staying up for, because it will be the last one until December 2010.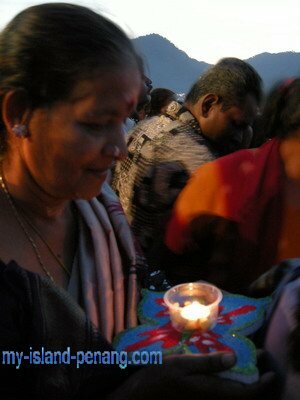 Unlike the year before, 6 to 8 strong Indian men carried "Ammah" as she is fondly addressed, round the temple ground before sending her, on her annual floating procession in Teluk Bahang sea.

This year, Chandra's sister Susila came all the way form Seremban with her friend Mrs Govin to witness our Penang Indian Festival held in Teluk Bahang Beach.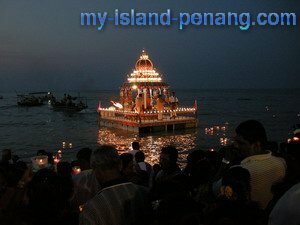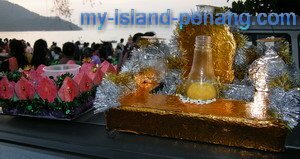 Susila, my sister-in-law used to live in Teluk Bahang years back. She shared stories she heard from the locals about Sri Singamuga Kaliamman.
It seems the horses of Lord Muniandy "Ayah" can be heard troding on the Teluk Bahang beach in the early days when there were Indian fisherman living there.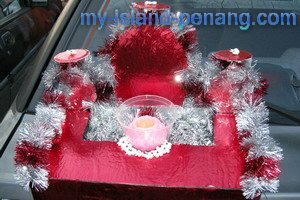 Also the fisherman were seen singing happily after their daily catch in the 70's. We had a good laugh as those memories were that of the Indian movies.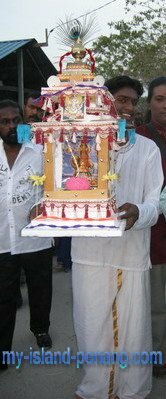 Well, here I prepared two videos and many photos of the Floating Chariot Procession. As in most festival and celebrations in Penang, the crowd is massive.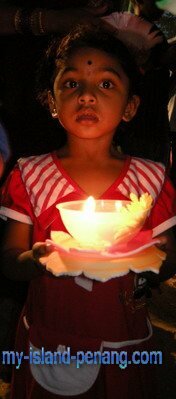 The sounds, shouts and music will blast at its maximum peak. So in the videos, the distortion is unavoidable. But do enjoy the festive and spiritual significance of the Procession in Teluk Bahang Penang.
We had fun watching the devotees letting go the lighted styrofoam dish lantern in the sea. The waves this year was quite strong. Many lanterns overturned as the devotees were not prepared to be soaked by the strong waves.
Observing them in action, I saw some patient devotees standing firmly on the strong waves and let go the lantern as the wave roll back to sea. Here are more photos of the festivals.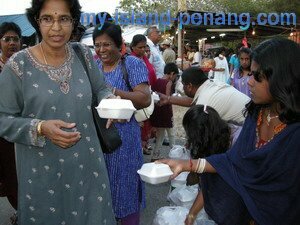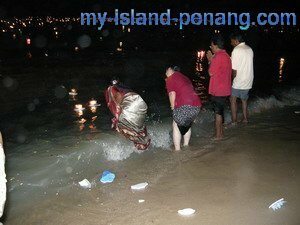 Go to Top of Floating Chariot Procession Page
Back to Places of Worship Page
Back to Sri Singamuga Kaliamman Page
Back to My Island Penang Home Page