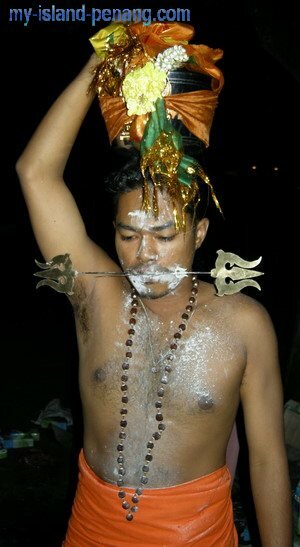 My Thaipusam Story is with my son Thinakaran. He sprang a surprise to us a week before Thaipusam. He is going to give thanks to Lord Muruga, a silent vow he made when Chandra his father was in hospital for two weeks.
Chandra received the news like any Hindu father, it is ok if he has made the vows, he got to fulfilled it. But it was a different Thaipusam story with me.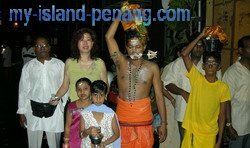 Having gone to many Thaipusam, seeing other people doing it is acceptable. Don't get me wrong, I respect all religion and I am big into cultures, tradition and customs.
I enjoyed people views and insights and am happy to be able to participate in most festivals and events held in Penang.
My reaction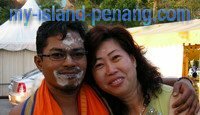 When Chandra told me, I kept very quiet and pondered concerned for him, thinking whether does he know what he is doing. Until the actual moment he was to shower with cold water before being skewered, my heart and my whole emotion was within control.
I did the video when he was skewered without watching at the scene. When I saw the one foot "Vel", a six inch "Vel" and the tiny one for his forehead placed for prayers first, I started to get edgy.
According to Karan, he was cool and prepared and all tuned in. But the family seeing him felt he was tensed and scared. Well, it is my Thaipusam story and I tell it the way I feel it, no offense son.
I never once dismiss that since he is just doing on his face, I should take it lightly. I just couldn't. Simply at some point, although I did not tell Chandra or my son, I did freak out.
And it did not helped seeing him tense. But he was really in a trance like state. He has been in this stage on the eve when we saw him, kind of in another level.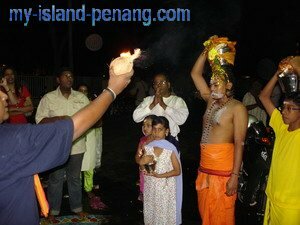 I was real concerned. Chandra advised me that fasting, listening to devotional songs, taking vegetarian food, he was under the care of a deity named "Lord Muniandy".
Karan (his home name) told me days later his schedule for 14 days fast. He tuned in daily to prayers, did not leave the house, did not smoke (holy molly, he can do that).
That is his way of calming me down. Chandra knows how I feel about needles and tried to make it easier for me to accept.
In the morning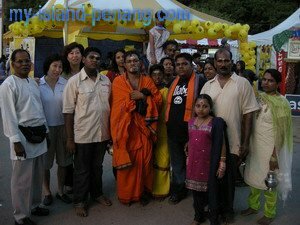 By 5.30am, after done all the rites and prayers, he entered the temple where the skewering begin. Oh boy, all around the drummers and musicians packed the temple hall. Many devotees were starting to have their face and body skewered.
I can see the faces of their loved ones, they were as tensed as me. As for the helpers and those experience guys, they are the ones who gave them real support.
I think this is the first time in my Thaipusam story, I really watched the expression of the bystanders, they were concerned, wary but have to keep feeling positive.
Seeing them, preparing him for skewering was tough for me. They smothered his mouth to soften the flesh ready for the 1 foot "Vel". Believe you me, I could not watch.
Watch the video I prepared as they skewered his mouth. Don't be surprised, I still don't have the guts to view this video till today. And my Thaipusam story is written with admiration for my son who has done it!
At 6am, the whole entourage with cousins and uncles and aunts, he walked to Waterfall Temple to pay homage to Lord Muruga. We drove as Chandra must not exert himself too much.
By car was slower, as the time we took to reach Waterfall Temple, he has come down. The traffic was massive, we had to park the car far to walk to the Waterfall temple.
After the Thaipusam Walk
We got there in time to see him walking down the steps. I was relieved when we saw no sign of pain, blood on his face. And the good things was he felt he has fulfilled his vows.
And I guess all of us plus my sister were proud of him, this quiet unassuming boy has grown up. Just yesterday, he told me that he will be repaying it for three years.
Gosh, I need to be stronger and I will be more prepared this time, I hope. This is my Thaipusam story. Can you tell us yours?
Go to Top of My Thaipusam Story Page
Back to Penang Vel Thaipusam Page
Back to Photos of Thaipusam Vel Page
Back to Photos Kavadi Ceremony Page
Back to My Island Penang Home Page