My Island Penang Travel Tour Guide will share with our wonderful state in Malaysia. If you look in the map of the world, you probably will not find it, maybe just a tiny little dot between big brother Malaysia, Singapore, Indonesia and Thailand in the north. Still, we are a BIG part of the Malaysian islands.
Make sure you arm yourself with a good map of Penang and scroll with me. The island where one can find evidence of rich colonial life right in the middle of Georgetown. We locals knows it as our living heritage city and a place of cultural fusion.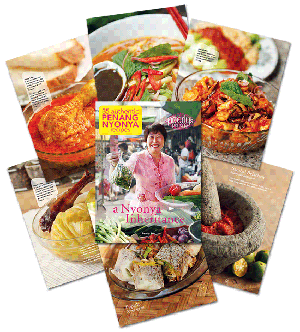 A Nyonya Inheritance is my 1st recipe book to my cooking guest, who comes back year after year to diligently attend my classes. I am indeed humbled and privileged to have wonderful guests who became friends. Or you can read more about it here: https://my-island-penang.com/A-Nyonya-Inheritance.html.
We may be one of the many Malaysian islands but we are simply THE BEST one! My Island Penang Travel tour guide is prepared for you by a REAL local lady, who is passionate about her island Penang.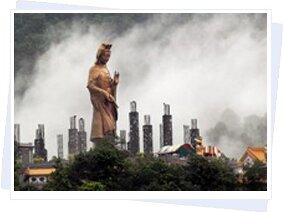 That is why this travel tour guide covers a lot more then the usual tourist attraction in Penang or Malaysia. It contains everything I know, experienced, learned and revisited over the years. If you want a holiday that is more than just memorable, or a place you want to consider your second home one that will stay with you forever, then My Island Penang Travel Tour Guide will take you there and guide you from first hand experience.
Getting in and around my island Penang is not difficult. Consider taking a bus or a trishaw, sit in our latest Penang buses, The Rapid and you can enjoy the air-con in the bus. If not, just hop into the local buses stretch your legs and enjoy the breeze as it takes you to the furthest point in Teluk Bahang or Balik Pulau. Cars are easily rented if you have an international driving license.
Easy Penang Travels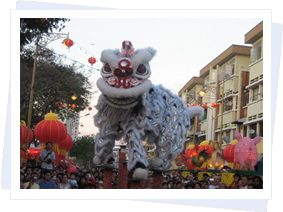 There are several ways of coming into my island Penang. You either fly in where you will land in Bayan Lepas, then take a cab to the nearest hotels. Or alternatively, you can come by land. You can drive to Penang through the Penang Bridge or coming from the North or South of Malaysia, by rail or bus. You need to take the ferry from Butterworth if you coming by rail or in-bound buses. My island Penang warmly welcomes you to this part of the world!
What others say?
Penang is 8th most livable city in Asia.
Penang has best street food in Asia.
Assam Laksa is top 7th most delicious food in the world.
Top 9 holiday destination in Asia.
Top 44 cities to visit in 2009.
Kiplinger report, only city in Asia.
Our Penang people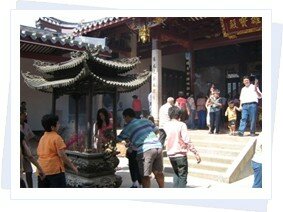 We have among us Buddhist, Thai, Burmese, Taoist and Hindu temples all over my island Penang. You might even hear the calling of the five times prayers from the nearby mosque if you lived in the heart of Georgetown.
Churches sounding the bells can be heard if someone passed on in the neighborhood. Walk and tour our island's places of worship here. Then there is a snake temple or Admiral Zheng He's place where you will see his gigantic footprint. Georgetown in my island Penang was also listed by the World Monuments Watch as one of the World's Hundred Most Endangered Sites. My Island Penang is quickly losing its heritage character through modern renovations and defacement but it has not lost its charm.
Penang Festivals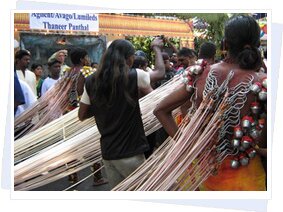 Little Indian man bending down hard at work in the goldsmith shop next to Chinese kopi tiam (coffee shops) is a common sight in my island Penang. The temple looms over visitors with its prominent red roof, snarling dragons and lions.
The incense, smoke in the Chinese temples will make your eyes watery as you observed the devout or god fearing locals praying away on the 1st or 15th of the Chinese lunar month.
The number of festivals we have here are a talk of the town. Some even felt it was a "once in the lifetime" experience. Some were spiritual awakened. Of course some shook their head at the sacrifices they think the devotees made.
The Thaipusam festival will give you something to think about, some new meaning to body piercing and body sacrifices. Well, the other aspect is, do come and learn about our culture too. We have the Nyonyas like me and Eurasians beside the major three races Chinese, Malays and Indians who lived in almost perfect harmony.
If you are in Penang in January or February, that will be during Chinese New Year for the Chinese. 60% of Penang population consist of the 19th century immigrants from China.
The Chinese New Year festival surely puts you on a new track for the new year, all on My Paradise Island Penang. The rituals in the Chinese temples will keep you in awe what these people are doing.
We even have a unique snake temple where you get to curl the neck all over your body if you dare! Our Founder, Captain Francis Light memorial can be found in one of the oldest church in Penang.
Check the monthly dinner here
Some great friends came for dinner and they blog about it. Most are locals so you know how it is like to cook for locals. Their grandmother is my yard stick, so poor me.
Penang Hotels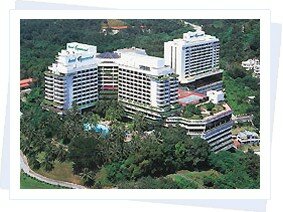 Arriving by plane in our Penang International Airport and looking for a taxi or a car rental? Or you are on a business visit and need a private car to take you to your destination in style. No worries, booked before you get here and have them greet you at our airport. You like that? Talk to Richard, my car rental man of beautiful Penang.
Backpackers have choices along the Chulia Street in Georgetown or Batu Ferringhi. Well, there are even some great accommodation packages which comes with a car. Hotels along Batu Ferringhi is most popular with tourist and can be packed during the peaked seasons.
Without leaving out, guesthouse and lodges for the easy or backpackers, you find many along the heart of our heritage city. Segara Ninda, A heritage homestay right in the middle of Georgetown will make you stay a truly interesting one.
Penang Food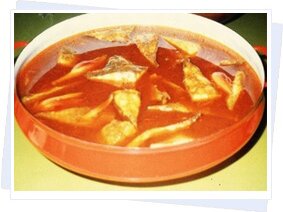 Try taking cooking course while you are here. Most of us are taught the finest point of cooking from young. Well, remember be involved even to go to our fresh wet market. The abundant and varieties of vegetables, locals herbs is really a feast to your eyes.
The Chowrasta is as close as it gets to a well-stocked bazaar boasting of prices that even the locals will call cheap. The market trip to acquire ingredients and tips on authentic dishes will charm you to the simplicity of our locals lifestyle.
Eat cheap, delicious food only locals know where to find. The authentic Indian Spicy Curry, Malay Nasi Lemak, the Mamak Nasi Kandar stalls, the Chinese Hawker or Street Food with Hokkien mee, Curry mee, Chee Cheong Fun will make you burst your belts and seams.
But it will not make a hole in your pocket. Malaysian food cuisine fuses traditional Malay ingredients with Indian, Chinese, Southeast Asian, Nyonya and Portuguese Eurasian styles. We now are diverse with our mixed marriages to make things even more confusing. It has been said that you talk of food, you think of Penang.
The Penang Nyonyas rich cooking heritage is now left in the hands of the last few. Don't leave Penang without eating Nyonya Food. Some exclaimed "It's divine or "die-for" food ! The traditional dessert for our festive season Nyonya cookies are big time favorite during Chinese New Year.
Activities and things to do
After that, go for a jog or walk in our lovely trails in Penang Hills or the seven hills surrounding Penang. My Island Penang is more beautiful than you can ever imagined. I must agree though our laid back attitude towards life does gives you a sense of space and freedom you never though possible.
You can jog in Botanical Garden and observed a nursery for the planting of tropical plants. The 72-acre garden has bloomed with cool tropical plants, lakes and greenery, becoming a venue for joggers, family outings.
Penang stands out a better choice is because her history and nostalgia sentiment. She is not too developed to get rid of all the heritage or cultural identity in the communities. Yet, she is not that too rural to be depraved of all the necessities.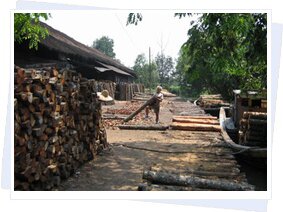 Charcoal Factory in Matang Taiping
All you need is enough information, and a reasonable measure of common sense. I like to think that I can offer you plenty of both, so lets get started. Just remember, I am not a qualified tourist guide or a paid guide. So you might say, why must you listened to me? Well this is why, and I write from my heart of the Penang Island I love. I am so pleased you choose Penang for a vacation so let me welcome you here. Have an awesome holiday,ya!