120 Armenian Street is Dr Sun Yat Sen, Penang Base is a shop house with facade lime washed indigo blue. A heritage signage stands to advise visitors of the many heritages sites in the heart of our Penang Unesco Heritage City.
Chandra and I had the opportunity to visit Dr Sun Yat Sen Penang Base in 120 Armenian Street. Little did we know how fortunate we were to learn some in depth knowledge of this great man.

View in a larger map
Khoo Salma, a conservationist writer, present custodian of the house runs a daily tour of Sun Yat Sen Penang Base.
For many of us, the name Sun Yat Sen is whispered throughout our life. But never really knowing the extent of his influence in us and China.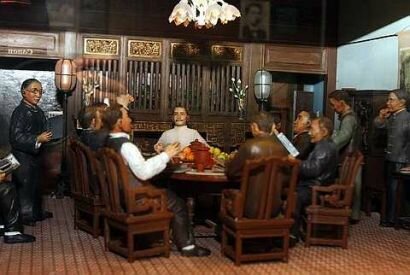 Dr Sun and supporters at Penang Meeting
It is in this shop house that Dr Sun Yat Sen and his supporters planned a famous event of the 1911 Chinese Revolution. The Tung Meng Hooi was the party of Dr. Sun Yat Sen alias Sun Chong San, leader of the Chinese nationalist revolution.
His days in Penang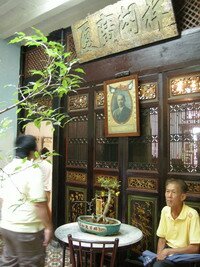 Dr Sun traveled many times around the world by steamship. He first came to Penang in 1906 and it became his yearly trip until 1911.
During his sojourns in Penang, he stayed at the homes of his wealthy supporters. Grand entertainment of wine, woman and song were held in these homes.
His own residence was at 404 Jalan Datuk Kramat (since demolished). He came together with his family consisting of his two wives, his two daughters and his brother.
During their stay in Penang, the daily expenses of Dr. Sun and his family were borne by his Penang supporters.
What is Tung Meng Hui?
Leaving his family in Penang, he went one or two more world trips to countries he was not barred to campaign for monetary support.
The Chinese United League or the Chinese Revolutionary Alliance, was a secret society and underground resistance movement organized by Sun Yat Sen and Song Jiaoren in Tokyo, Japan, on 20 August 1905.
The Tung Meng Hooi headquarters was then in Singapore but later moved to Penang. On 13th November 1910, the famous "Penang meeting" was held in this house.
It was an Emergency meeting convened to plan the Canton uprising which took place in Guangzhou on the 29th day of the third month of the lunar calendar, (27th April 1911).
A massive fund raising campaign was initiated and Dr Sun managed to raise 8,000 Strait dollars on the spot.
When you visit Sun Yat Sen Penang Base, you get to see the antique bulky safe where he kept all the money for the revolution.
"The Overseas are the mother of the Chinese Revolution", quoted by Dr Sun, as with his last pleading money poured in from Chinese communities from Canada, the Dutch East Indies, French Indo-China, Thailand, United States and British Malaya.
120 Armenian Street, Penang Base
As a secret society and underground resistance movement, this house was chosen for a few reasons. Initially to cover up their activities, the millionaires would used it as a reading room or a place they come for relaxation.
Today, the reading room is located at Macalister Road called Penang Philomatic Society. Secret meetings were held whenever Dr Sun was in town.
In case of a police raid, the escape route as the back exit of this elongated shop house opens into the back alleys of the Indian Muslim community.
Try walking in the alleys of Kampung Kaka and Kampung Kolam and you will understand what I am trying to share with you. It will be difficult to catch anyone who knows the back alleys at the back of their hand.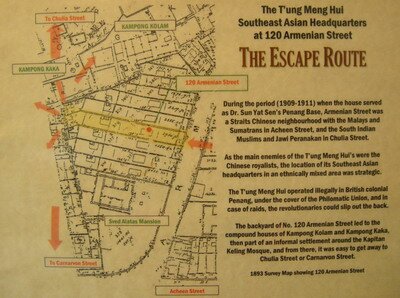 Inner courtyard at 120 Armenian Street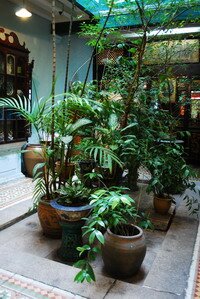 The shop house Sun Yat Sen Penang Base is really a wonder. This Straits Chinese residential terrace house maintains a heritage interior complete with carved screens of the 1880s. You will get to view 1920s furnishing with an inner courtyard garden.
As you walked in, you get to the 1st hall, where visitors are received and announced to the master.120 Armenian Street
Interior of 120 Armenian Street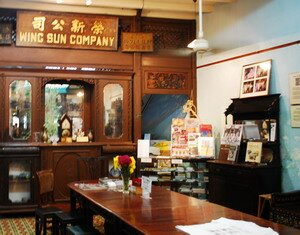 Behind the heavily carved screen is the second hall. A Tok Panjang or long table is where family and guest have their meal here.
One can viewed the century old history from the first owner till the present custodian Khoo Salma who converts it to the office for Areca books.
The wooden chairs adorned with mother of pearls, an old hat stand, fireproof safe (where 8,000 Straits dollar were kept stands solid in the second hall).
An old portrait of Dr Sun were handsomely hung on the carved screen. Chinese school students would bow to the portrait to pay respect to him.
A very familiar scene appear at the back of the shop house with a typical Nyonya kitchen, complete with coffee corner, stone mortar and pestle (anak dan ibu or chingku) and firewood and charcoal stove.
The "dwelling house" or messuage was already extant in 1875. At the time, the owner was Cheah Joo Seang, a trustee of the Cheah Kongsi from 1879 to 1895. From 1900 to 1913, the shop house belonged to Lim Boon Yeow.
In the 1926, the house was taken over by a gun dealer Ch'ng Teong Swee, and until it was used as a godown for his company Ch'ng Eng Joo.
Today, it is the office of historian and conservationist writer, Khoo Salma Nasution. Though it is privately owned, Khoo Salma would be happy to show you around for a minimal fee of RM3. Opens daily from 10am to 12pm and is closed on Sunday. Telephone # .
Some happenings at that time
The Penang supporters were led by Goh Say Eng. In 1906 they started the Penang Branch of the Tung Meng Hooi. Another society was the Penang Philomatic Society in 1908.
Then in 1910, both of them founded Kwong Wah Jit Poh which is the oldest Chinese language newspaper in Malaysia. It was first published in 120 Armenian Street.
A grand memorial was built at Hwang Hwa kang, Guangzhuo China to 72 fallen heroes of the Canton Uprising. Of the known martyrs, 24 were Nanyang Chinese, of whom the most posthumously famous was Malaya's Luo Ching Huo.
Among the martyrs were distinguished writers, gifted poets, popular journalists, skilled workers and farmers.
After the Wuchang uprising in October called the "Double Tenth Revolution", Dr Sun Yat Sen became the first President of the new Republic of China. So, the "Father of Revolution or Republic" became famous known as "Father of Modern China".
Sun was a uniting figure in post-Imperial China, and remains unique among 20th-century Chinese politicians for being widely revered in both the People's Republic of China and Taiwan.
Nearby places to site see around 120 Armenian Street
Yap Temple
Yap Kongsi
Cheah Kongsi
Penang Islamic Museum
Penang Heritage Centre
Lim Kongsi
Madrasah Hamid Arabi
Kapitan Keling Mosque
Khoo Kongsi (Leong San Tong)
Acheen Street Mosque
Noordin Family Tomb
Go to Top of 120 Armenian Street Page
Back to My Island Penang Home Page