The Penang National Park, a fishing village is no longer a quiet place in Penang. A majority of us locals, in our teens will choose to spent time with our friends during the holidays. I am sure most locals have at least visited it once in their life time.
It was a favorite part for us teenagers wanting to escape our daily routine. Some would take the holidays to cycle around the island, hike to Muka Head Lighthouse or camp in the open beaches of Pantai Kerachut.
Today it is a different story. Pantai Ached Forest Reserve was re-gazetted to Penang National Park in 2003.Penang National Park
Making a few trips there now, makes me more familiar with this part of the island. But I did make two trips to see the floating sea lantern during the beginning of the year.
And it was in the evening to participate in the Indian sea lantern festivals.
Some places of interest and things you can do:
See more photos of our recent trip here. The Teluk Bahang shorelines, bay and beaches are worth your time to explore Penang Island.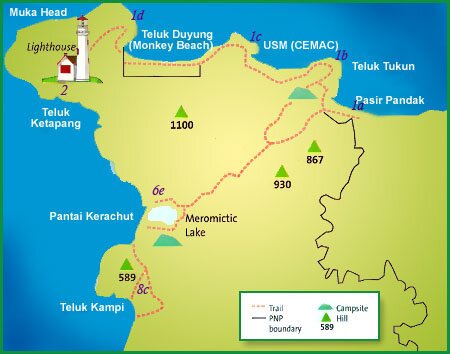 The North Eastern Hills, Wildlife, migratory birds and animals lives in various habitats on this part of Penang Island.Penang National Park
It is the only nature reserve in Malaysia with 5 types of habitats, namely the only confirmed meromictic lake in Peninsular Malaysia, lowland dipterocarp forest, montane/hill dipterocarp forest, mangroves and sandy beaches.
The Department of Wildlife and National Parks (DWNP) together with the Penang State Government manages and protects the natural scenery of our metropolitan island. The Penang National Park opens daily from 8am to 6pm.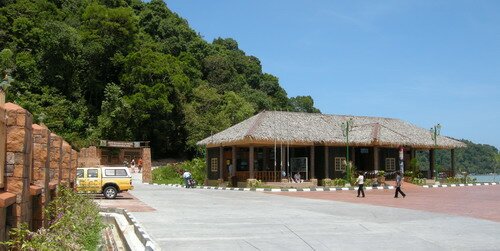 I was told the Penang National Park looks after the preservation and protection of wildlife, plant life, objects of geological, archaeological, historical and ethnological.Penang National Park
And other scientific and scenic interest and through their conservation and utilization to promote the education, health, aesthetic values and recreation of the people living near the Straits of Malacca.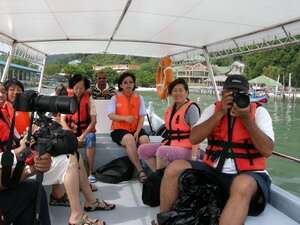 You can enjoy hiking, bicycling, climbing, swimming, fishing or photographing beautiful scenery. Leisure and relaxing, spotting and observing wildlife or just sit back and enjoy the forest and marine surroundings would be most ideal to de-stress.
Whichever activities you choose, make sure you wear the right kind of footwear. For photographers, bring along a water proof bag to keep your expensive camera. You don't want your camera to be soaked or wet.
Bring enough food to last your trip as there is no food stalls in the forest unless the boat can take you to the inlets of Kuala Sungai Pinang fishing village.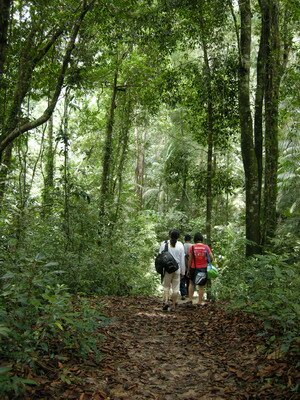 By foot, one can go hiking by two trails to Muka Head or Monkey Beach which will take you 45 mins to an hour.Penang National Park
The Pantai Kerachut and Teluk Kampi trail is a little longer so with pit stops and rest, you might need two hours to reach your destination.
I remembered hiking to Pantai Kerachut, we got to turn left as we reached the jetty. Also the famous seafood restaurant "End of the World" no longer stood in its spot. We enquired and was told it is now near the roundabout.
This restaurant was so famous that when you talked about it, everyone will know you are referring to the seafood restaurant in Teluk Bahang.
There was no park rangers to report to when you hike in the Teluk Bahang hills then. Today, to enter the hills, one needs to register with the Penang National Park office.Penang National Park
The forest park rangers will give you some hints and tips, do's and don'ts before you begin your hike.
Penang National Park - 4 Major known Hiking Trails
Teluk Bahang to Muka head - 2.5km

Muka Head to Teluk Ketapang - 1.2km

Teluk Bahang to Pantai Kerachut - 3 km

Teluk Bahang to Teluk Kampi - 7 km

As Chandra and I have hiked before, I decided to take a boat ride, this time to explore the other parts of Teluk Bahang.
There are boats for hire to major 4 parts of the Teluk Bahang shores. A maximum of ten people can sit in these boats.Penang National Park
We were quite pleased with Iskandar and Don who rode safely and carefully. Care must be given as not to destroy the fishing nets.
We were told a handful of Irrawaddy dolphins are also sometimes sighted in the coastal seas of the park.
In total, the national park has 243 recorded species consisting of:
- 36 mammalian species
- 44 reptilian species
- 163 bird species
- diverse insect and amphibian species
The unique features here are five habitat types not found in the other major Malaysian nature reserves. The park is a haven for a wealth of 417 flora and 143 fauna species.
Among the animals spotted at the park and its surroundings are dolphins, otters, Hawksbill turtles and monkeys.
Secondary forest is the main feature here. The beach is long and plants are aplenty ranging from rocky bonsai to timber and herbal plants.
Trees and plants which can be found here include Chengal, Meranti Seraya, Jelutong, Gaharu, Tongkat Ali and Bintangor.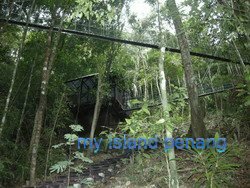 Sungai Tukun flows into Teluk Tukun. Pulau Tukun Tengah is an island located opposite Teluk Tukun.
There are several small swimming pools for campers with piped water being supplied from the reaches of the upper stream.Penang National Park
Earlier this year, a new addition, the 250m long Canopy Walk at Penang National Park hovers 15m from the ground. It cost RM3,000 to construct. It allows visitors to view the lush forest from an interesting angle.
Initially the first few months, the Park offers free entrance, now a minimal fee is required.
The Sungai (River) Tukun flows into Teluk Tukun (Tekun Bay). A small island opposite is Pulau Tukun Tengah.
To get there, use trail 1A-1B, and it is about 20 minutes from the Penang National Park entrance. The trail is a clear and easy walk along the coast to reach Teluk Tukun beach.
Camping grounds are built along Tukun River. Tukun River flows into Teluk Tukun. A small island opposite is Pulau Tukun Tengah. The National Park headquarters are situated near here. There are several small swimming pools for campers.
Established in 1996 and owned by Universiti Sains Malaysia (USM), it is used by researchers to carry out maritime related studies.
The research station is located in Tanjung Aling where there is a jetty to receive and unload supplies from Teluk Bahang. The station's forest bed is used for botany and other forest related research.
Follow the coastal trail via Sungai Tukun with trail 1A-1B-1C. It will take about 30 minutes to reach Tanjung Aling from Penang National Park entrance.
The Muka Head Lighthouse in Teluk Duyung or Monkey Beach seems to call out to us to climb up the steep cliff. To let you into a secret, I was never a keen hiker or climber of hills or trail.Penang National Park
But thinking of the long walk or boat ride, I told myself I must attempt this for at least once in my life. Shame on me, really. It was indeed an exhausting walk, not for the faint or weak heart. Stern warning to those having heart problems, do not attempt.
Usually an energetic person would take 30 mins but for me it took 50 mins. So, up we went to the 227 metres or 785 foot cliff. There were 4 resting wooden cabana for hikers to take a rest.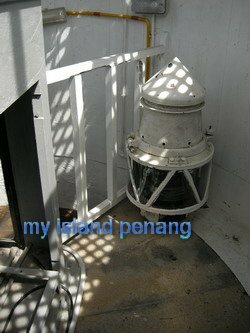 The Muka Head lighthouse was built in 1883 at a cost of 37,000.00 pounds. This 115 year tower is now treasured as a historical site. It is still operational.
If you have an opportunity to climb up to the tower in the late afternoon, stay till the sunset to be bask in the transcendental glows.
It is private land, cultivated with coconuts and durians and managed by a caretaker. A 60-year old burial ground which resembles that of Indonesian's Acheh, could make an interesting historical research subject.
Its original lights, fuelled by petroleum vapor, were first installed around 1900 by Chance Brother Smethwick of Birmingham.Penang National Park
In 1954, these lights were replaced by the same firm using electric lamps, a task made immensely arduous by the inaccessibility of the tower, and was recorded as necessitating "five trips a day by Chinese laborers".
A nice walking trail with cemented bridges over small ravines leads to this place. At normal pace, it would take about 2 hours to reach Teluk Duyung from Teluk Tukun. Larger boats would be able to reach here only during high tide.
You can walk or take a boat (only during high tide) to Teluk Duyung. You can reach Teluk Duyung about one and half hours from the entrance of Penang National Park by using trail 1A-1B-1C-1D. Teluk Duyung is a beautiful bay protected by the Muka Head's cape.
The Penang Muka Head Light climb up was indeed a climb I will never forget. Sitting on a cliff 227 metres above sea level offers spectacular vista views.
A small isolated beach originally known as Monkey Beach. Teluk Ketapang is derived from the numerous sea almond trees known locally as Pokok Ketapang.
This isolated beach can be easily accessed by boat from Teluk Bahang jetty. Alternatively, you can try trail 1A-1B-1C-1D-2.
Teluk Kampi has the longest beach in the park. There are many artifacts and past history. The tell-tale signs of trenches found along the northern coast indicates a defense post for the Japanese Army during World War 2.
Teluk Kampi is another isolated beach that guarantees an easy and relaxing trip. The most common trail is the one from Pantai Kerachut over Tanjung Kerachut and down to Teluk Kampi using trail 1A-6A-6B-6D-6E-8A-8B-8C.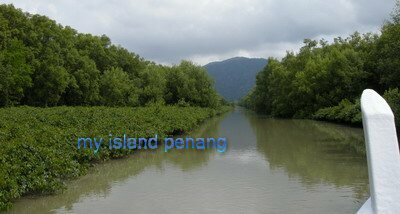 From Pasir Pandak, our first stop was a long ride to Kuala Sungai Pinang Mangrove Forest. This will lead to the southern part of Penang called Balik Pulau where there is another entrance into the Penang National Park.
It was quite an experience going into the mangrove forest on the boat. Iskandar, our guide turn off the engine but not before disturbing the quiet life of the birds and iguanas. We sat quietly just soaked into the ambiance of the environment.
The Kuala Sungai Pinang Mangrove Forest provides a rich ecosystems for the wild life of migratory birds, animals alike. And without the mangrove, there will be no sea life.
The tranquility, the absolute quietness can be appreciated as we saw huge monitor lizards crawling inwards to the mud land. Migratory birds was such a pleasing sight. See my Tabblo
Migratory colorful birds flew off as our boat went deeper into the mangrove. We had the opportunity to see a few fishermen laying traps for crabs and markers along the sides of the mangrove swamps.
Prawn catching and fish boats were a refreshing sight. Read more about Mangrove Forest from here.
After some time in the mangrove forest, we arrive at Pantai Kerachut. From the sea view, as we approached Pantai Kerachut, it is indeed a lovely beautiful stretch of sandy white beach popular as a picnic and camping site.
I would say majority of people have heard about Pantai Kerachut and it would seem to be the most popular.
It boasts a unique rare geographical phenomenon of a Meromictic lake - the lake (or more a lagoon) is a dry mud bank during neap tides and during the dry season.
The sandy stretch is also the nesting place of the Green Turtles (Chelonia mydas) from April and August, and the Olive-Ridley (Lepidochelys olivacea) between September and February.
To get to the area, take the path on the left that leads away from the coast, or just use1A-6A-6B-6C/6D/6E. You should be able to reach Pantai Kerachut in one hour and a half.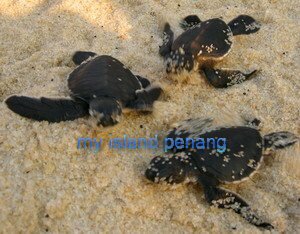 Another very interesting activity on this beach is the Green Turtle and Olive Ridley turtle. We were led to the hatchery to witness the baby turtles.
In this quiet and peaceful sanctuary, the eggs were located from the original spot to a safe place.
Our local university USM (University Sains Malaysia) together with the State Fisheries Department protects and manages this research station from the time the turtle lays their hundred eggs.
Approximately after 3 months is needed to care for the turtle eggs. Once it hatches, till it is then released back to the sea.
The sandy stretch is also the nesting place for the Green Turtles (Chelonia mydas) from April and August, and the Olive-Ridley (Lepidochelys olivacea) between September and February.
The most impressive part of the shorelines of Teluk Bahang is the Pantai Kerachut or Kerachut Beach.
Pantai Kerachut really makes me awe inspired with a unique rare geographical phenomenon. A Meromictic lake is a lake that contains freshwater streams.
The effect of the Meromictic happens when streams from the hills and mountains above flows down to partially mixed or wholly unmixed the water layer with the sea water during a given cycle. ... See my Tabblo
Believe you me, it is a very emotional moment when you witness the young ones making its way out of the shell and getting their first breather.
One can either watch the hatching of the baby turtle or the releasing. So talk to your guide on the schedule if you want to watch the process.
Some pictures were taken by our team when we were there. Those who went home without seeing the release missed the sunset in Pantai Kerachut too.
Personally I would recommend staying the whole day but this needs to be arranged. Not for nothing, Pantai Kerachut is a place to go.
I am sure you go home pleased as you have seen the only Meromictic Lake in Malaysia and feeling reborn seeing the baby turtles.
Approximately 140 eggs a mummy turtle lays. After 60 to 65 days of enclosed incubation, 95% make it alive. After 5 to 6 days of monitoring, these little babies turtles are released into the sea.
If you have seen enough National Geography, you would know not many make it to become adult. Actually only 1 in a 1000 makes it to adult turtle. And you know what, if at all they make it, after 25 years, it will make its way back to its origin.
Turtle landing in Malaysia is getting less and less. We need to protect this species. They are vulnerable from the egg stage till adulthood. The eggs are been consumed as food, the baby turtles become prey to birds and fish and the adult turtle by fisherman.
To help in preserving this dying species from extinction, stop buying turtle eggs, educate the fisherman not to kill turtles caught in their nets and do not pollute our sea.
And do not forget, much as you may loved them after my sharing, please try as much as possible to refrain from holding them.
But if you still want to hold and take photographs, wash your hands thoroughly after that. And to take a snap, do not use flash as it would blind these little darlings. Read this article to understand more.
The often used trail starts from Pasir Pandak and branches to the left, away from the coast at the first suspension bridge. This will take about 2 hours to reach Pantai Kerachut.
Or hired a boat, the guide will make arrangement so you won't be disappointed. For information on accommodation and transport, check this page here.
Back to Top of Penang National Park Page
Back to My Island Penang Home Page