Many of Penang folklores are folk tales, legends, myths and these stories were told by our late parents and beloved uncles and aunts.
I guessed my dad, uncles and aunts found this easier to tell some of this traditional Chinese stories or old folk tales through story telling.
So like all kids, any fairy tales, stories was one way to enjoy our lighter moments with our elders or teachers. And I love our Penang Folklores very much.
I could still remember how while telling us these Penang Folktales, traditional or fairy tales, they would insist we sat upright and be attentive. Making us sit in an unbelievable posture without leaning on each other which we love to do.
As kids during rainy weather, curling up in our blanket or on dark nights, ghost stories about Hantu tek tek (ghost with big breast), orang minyak (oily man), pontianak (female ghost looking for her lover) would made us squirm and screamed.
How these Penang Folklores, tales or Chinese or indian stories were told starts like this... not once upon a time. You know Ha ha but more to you know when we were young and once they start, most of us would be yelling to each other story time.
If you find the pages too long, check here:
I am amazed how good they were in the telling Penang Folklores or tales to the extent I still can not forget it.
As one gets older and with kids of our own, we realized that most of these myths, tales or folklores are very traditional with Chinese or Hindu ideologies. I supposed it was easier for kids to absorb these stories telling.
My brother in law Manogaran told me, he too remembered one time an aunt caught them so quiet and was not sure whether they were captivated or just plain bored.
So she would say to them, each time they agreed to the tales or folklores, they must nod their head up and down or say amak or yes.
If you see some Indian movies, you know how these people nod their head up and down or left to right in acknowledgment. It was really funny as we recalled these story telling sessions recently.
Some of these foundations of ideologies includes:
Loyalty, filial piety, resilience, diligence, perseverance, character building, sacrificing oneself for a just cause. So it is not strange to hear them peppering the Penang Folklores, folktale, Chinese or Hindu stories with it.
It is really a real cool way how it sinks deep into our thoughts and become what we are today.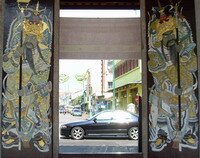 Some of the Penang Folklores or folk tales would include stories of how the Emperor would be so fearful of devils and ghost because he had commanded so many killings, fought so many wars that he could not sleep at night.
This Hokkien Penang Folklore can be traced back centuries ago, to the times of Kuan Yin, the creation of Enlighten Buddha and Goddess of Mercy.
Another story is about why the emperor assigned his generals to guard his doors. Read about the Door God (Mui Sin).
They would use phrases like "To be able to suffer hardship and persevere are traits of Chinese" then rattle off with tales of what sacrifices the Heavenly God have to go through before he can be called the Jade Emperor.
Now this is a real local Penang Folklores, the Kitchen God. In the Penang Folklore, read how a mortal man became Kitchen God here.
In the beginning of God's creation, written in the Taoist scripture, my uncles would share his side of story about Lao Tzu. Lao Tzu, the founder of Taoism, advocating modesty, overcoming force with patience and tact.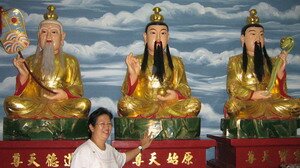 Who are the Three Pure Ones the highest gods in Chinese pantheon?
They are not rulers, but rather seek to save mankind by teaching and benevolence. The Three Pure Ones folklore is revered by Ancient Chinese till today.
Thaipusam has a deep significance for the Indians. It is not about throwing coconuts, or fulfilling your own vows.
It is also remembering how Goddess Parvati gave Lord Muruga the Vel, the almight Vetri Vel to destroy the Evil demon Soorapadman. He feared the Vetri Vel so he hid in the deepest ocean as a tree.
Read how Lord Muruga defeated him. This local Indian Penang Folklore is easily understood due to Thaipusam being celebrated as a yearly festival.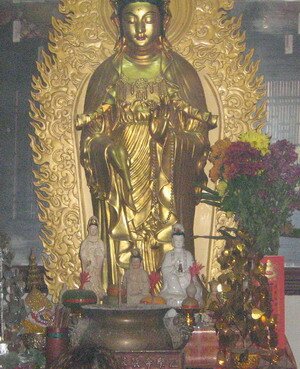 Of course, my aunt would tell her stories too about how Kuan Yin cut her hands and dug her eyes out to save her father, the King. Compassion and selflessness was displayed by Kuan Yin.
Even Heaven helped her when all things seems mean when the King punished her for not obeying his command. Kuan Yin, our beloved Goddess of Mercy Folkore is passed down from generation to generation.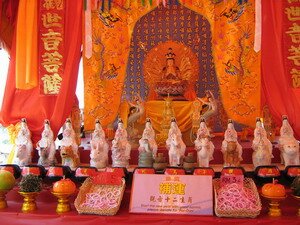 Sometimes, they were confused too by Ma Zu, on whether she is the mother to Jade Emperor or just a sea farer patron saint. She sits in front of Jade Emperor in some Taoist Temples.
In ancient Penang folklore tradition it is believed that, when you are facing great difficulty, you can call her by the name "Mazu" and she will immediately come to your rescue.
If, however, you address her as the "Empress of Heaven", she will have to take time to put on her fine clothing and will be delayed in coming to your aid! My uncle has made it part of Penang Folklores by repeating this story.
Sometimes when I meet my cousins, we would recalled these story telling fun days. By the way, my Aunt Elaine Kee stills prays to Mazu for guidance in Sungai Bakap.

The one other Penang Folklore, I never grew tired of is Buddha and how he received Enlightenment. Read about how Buddha managed to go out of his palace to attain Enlightenment.
I remembered how Uncle told us how to make concise prayer to Buddha. He used an example of a poor old lady who has no money to buy anything as offering to Buddha.
This poor old lady cut her long hair to buy an oil lamp to offer a true sincere prayer. The moral of the tale was, only her oil lamp withstood the strong blowing wind.
That is why to this day, Indians believed they have to shaved their head bald as a sign of sincerity for their prayers.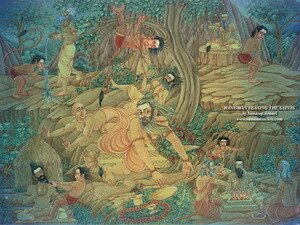 Another magical Indian folklore I enjoyed is this about Hanuman. Hanuman the Indian monkey god may be mischievous but a loyal subject to Lord Rama and Sita.
After reading many legends of our Chinese gods, here is one you must not missed. Majestically sitting in front of the Penang Taochiew Ancestral hall is the Northern Sky God.
Legend had it that Xuan Wu's stomach and intestines that were tossed out became the "Tortoise Mountain" and "Snake Mountain" in China.
Mu Lian or Bok Lean is a filial and good son. In this folklore about Mu Lian, a filial and good son. Read how he went down to the deepest hell to rescue his mother.
For his action, he is well remembered till today for respecting elders, filial piety and obedient to the teachings of Buddha.
So as I go along, I will compiled all of it here as some are related to our Indian or Buddhist beliefs, cultures, practices and these inspires me greatly. You may have heard it too when you were young. Or you might have forgotten.
If you do have some, would you like to share? I am sure you have some fantastic folklores, traditional Chinese, Hindus, Malay stories, tales too.
Kiddo, we got to keep telling stories, folklore, folktales. We got to keep reading and listening to legends, myths or what shall I say, grandmothers stories?
Well, this keep us alive, keeps our traditions, our festivals and our beliefs going. That is what it does to us, young or old.
These story telling is not only for the young or the kids. It is for all of us, pals. We are never too old to listen to folklores, don't you agree?
Go to Top of Penang Folklores Page
Back to My Hidden Treasures Page
Back to My Island Penang Home Page