Though the Penang Weather is not unpredictable, you may need to have some equatorial climate information. Your Penang travel would be more enjoyable if you are not soaking wet, right?
We are indeed blessed to have tropical weather, no natural disaster except the recent Tsunami a year or two ago. Sometimes we do sense a few shake up when Indonesia or Philippines have an earthquake.
Other then that, Penang is really suitable for holidays or vacation with no natural calamities.
Do you consider the weather in Penang when you buy property here? Properties in Penang is a big market now. So it is not a surprise that our government prides itself with all the detection of Tsunami or any earthquakes in the surrounding areas.
Be it you are having holidays in Penang or a short Penang vacation, this Penang Weather guide will try to make it easy to have a splendid time in beautiful Penang.
For our local growing fruits, vegetables and padi planting, good Penang weather matters a lot. Certain fruits are seasonal, good weather during those times will yield best crops.
How is Penang Weather?
It is more a pleasant mix of warm, sunny days and occasional cooling rain storms. August through November being the wettest months generally.
Tropical climate, annual southwest (April to October) and northeast October to February) monsoons. Average rainfall is 267 cms throughout the year.
Humidity is usually high, temperature would average between 23C to 32C. As such, there are no recognizable hot or cold seasons.
Do you know that a daily weather forecast involves the work of thousands of observers and meteorologists all over the world, and the work of thousands of machines?
Weather is not something that can be studied at home using some hokey pokey method. Modern computers make forecasts more accurate than ever, and weather satellite orbiting the earth take photographs of clouds from space.
Types of Forecasting
Meteorologists actually use a combination of several different methods to come up with their daily weather forecast. Here are the different types:
1. Persistence Forecasting
This assumes that what the weather is doing now is what it will continue to do. To find out what the weather is doing, meteorologists make weather observations.
A thermometer measures temperature.


A barometer measures air pressure.


A rain gaugemeasures precipitation.


An anemometer measures wind speed


A radiosonde attached to a weather balloon measures weather high in the atmosphere.


A satellite orbiting Earth takes pictures of clouds from space to help us see where and how fast clouds are moving.


A radar shoots a radio signal into a cloud to shows where precipitation is falling and how much. It can also spot severe storms and how fast they are moving.


Eyes and ears are probably the most accurate tools. Meteorologists all over the world observe clouds and precipitation, and relay that information and their measurements to other meteorologists throughout the world so we can know how the weather is changing from place to place.
Meteorologists plot their observations on a weather map every hour to see how fast the weather is changing, then forecast where those changes will occur next.
2. Synoptic Forecasting
This method uses basic rules that the atmosphere follows. Meteorologists take their observations, and apply those rules to make a short-term forecast.
3. Statistical Forecasting
Meteorologists ask themselves, what does it usually do this time of year? Records of average temperatures, average rainfall and average snowfall over the years give forecasters an idea of what the weather is supposed to be like at a certain time of year.
4. Computer forecasting
Forecasters take their observations and plug the numbers into complicated equations. Several ultra-high-speed computers run these various equations to make computer models which give a forecast for the next several days.
Often, different equations produce different results, so meteorologists must always use the other forecasting methods along with this one. That's why when it comes to forecasting, machines can't do it alone; you always need humans involved.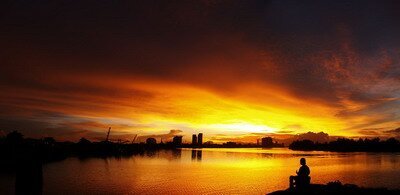 Using all the above methods, forecasters come up with their best guess as to what weather conditions will be over the next few days.
Forecasters use the observations from ground and space, along with formulas and rules based on experience of what has happened in the past, and then make their forecast.
Whether Penang weather is good weather or really normal or is moving or which side the wind is blowing, it is very exciting for all of us.
It is not always easy when weather is out of control or is kind of lousy, but weather is key to the future. Global warming weather is normally like for tens of thousands of places worldwide so it is no surprise when weather is received with mixed blessing.
Penang Weather may always be on the sunny side up. But what really sends my adrenaline rush are some fascinating sites. They can make my heart race, knees weaken like falling in love for the first time.
This is what happen when you sit to browse for information and walaa it speaks to you directly. So look after your finances with ease and comfort of your home here.
And while you itch to spent some, the computer guides here are one of the best reliable resources with freebies.
Go to Top of Penang Weather Page
Back to Malaysia Calendar Page
Back to Penang Introduction Page
Back to My Island Penang Home Page