The St George Church, the oldest Anglican Church in Penang stands majestically right in the heart of Georgetown. It is at the busy part of town, at the corner of Lebuh Farquhar and Jalan Mesjid Kapitan Keling (Pitt Street).
Till today, it is still the oldest landmark in the city with some grand heritage building at all corners.
Further down the road is Cathedral of the Assumption, one of the many churches in Penang. The newly restored awesome Penang High Court or Supreme Court as it was known in the early settlers days.
The Founding Fathers
The Reverend R.S. Hutching, then Colonial Chaplain and Captain Robert N. Smith were responsible in building this historic Church which was named after a patron saint of England in 1818.
Colonial Chaplain was also the driving force in building the Penang Free School. Captain Robert N Smith was from Madras Engineers. He constructed the church edifice with a Madras style flat roof after a big church in Madras.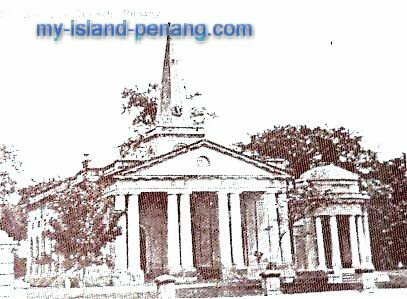 It was not practical and a pitched roof was changed in 1864. Captain R. N Smith, a military engineer was also a man of many talents, his oil paintings of early Penang are displayed in the Museum.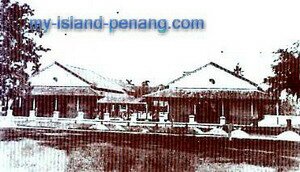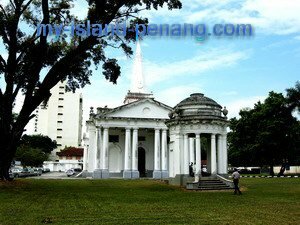 Today Logan Memorial stands visible on the roadside in front of the new 7 stories Lower Court Building which is directly opposite the High Court. It used to be situated inside the grounds of the High Court.
The first Marriage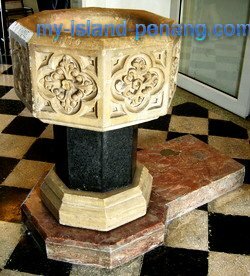 Janet the daughter of Colonel J.A. Bannerman, marriage to W.E. Philips was the first to be solemnized in the new church. St George Church cost 60,000 Spanish dollars to construct.
Although the outside is almost as it was then, the contents were completely looted during World War II. All that remains are the font and the bishop's chair.
In the front of the church is a beautiful Greek Temple specially built for our founding father known as Francis Light Monument, who established the island in 1786.
Inscribed are these words:
In his capacity as Governor the settlers and natives were greatly attached to him and by his death had to deplore the loss of one who watched over their interests and cares as a father. October 21st 1794.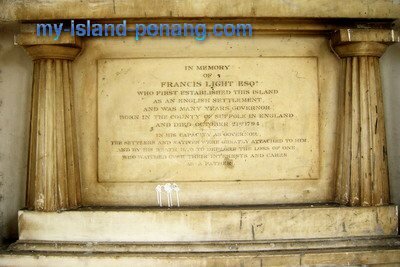 It has been faithfully holding services since its conception in 1818. Stroll through the grounds and if you are lucky, you might just hear sweet strains of the church choir practicing. Services in English are held on Sundays at 8.30am.
This location is known as the streets of harmony. As one can find the various places of worship for the three major races of Penang or Malaysia.
In Pitt Street, Mesjid Kapitan Kling, Goddess of Mercy or Kuan Yin Teng, one hears the gongs and calling for 5 times prayers religiously throughout the day.
Not left out in Queen street, the sweet flower and incense offerings in the Maha Mariamman temple permeate our beautiful Penang.
Go to Top of St George Church Page
Back to Places of Worship Page
Back to Photos St George Church Page
Back to My Island Penang Home Page