Penang HomeCooks Setup is now in the location I always dream to live in Pulau Tikus, Penang.
Pulau Tikus is located outside Georgetown. It is within the vicinity of Baskin Robbins, Adventist Hospital, One Stop supermaket and not forgetting Immaculate Church of Conception.
And it is really great as it is just 10 mins to the wet market. This is the wet market, I will take you for a tour.
You get to observe why most of our people still go to market daily, as most vegetables, seafood are freshly caught. And certain roots for soups and herbs used for prayers and rituals, you and I would think is long forgotten.
Customs and die hard traditions are very much alive in our multi cultural society. The best thing is learn and know us is going to the market. It is the heartbeat of our people.
Our home,Shanta Niketan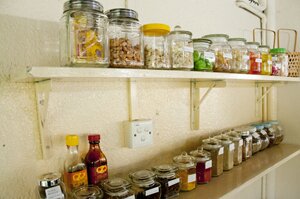 Our home is called Shanta Niketan, in Sankrit which means "blissful home". Chandra's sister has named their home after a holiday trip to India.
We loved our home, and Penang homecooks setup is fitting for a cooking experience. We love to grow our own herbs, remedy plants and the number of fragrance flowering plants are grown.
We have galangal, lemongrass, torch ginger, cekur, curry leave, pandan leave, turmeric plants and roots which we often used in our cooking. And we will share why it is so important to grow them
We must lived with greens, fresh herbs and spices in your garden. You want fresh air ot circulate where you are, grow them.
Classes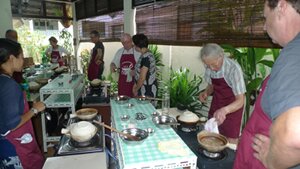 Our classes are pretty private. We have busy adults coming for beginners classes. We have very experience chefs learning Asian cusine.
We even have older adults having fun learning and they are very good cooks in their home. It makes me very humbled, let me tell you.
We teach from 2 to 30 persons. Some older guests says the sit down is what attract them to our Penang homecooks setup and cooking school.
Some younger ones stand to work so we are pretty easy with whatever style you are happy to learn.
For booking, write to us here. Or call .
Coming back from wet market tour, we prepared the ingredients for washing, peeling and cutting. Work prep is done by your godself while I share many tips which I think is important for you to know.
Live to eat or eat to live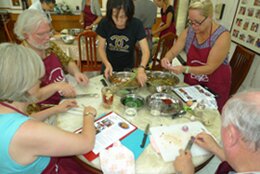 Sometimes I wonder, whether you live to eat or eat to live? It is best to know what you put into your body if health is important to you.
We gently share the medicinal properties some herbs and spices have and how good it taste to cook with it.
Home cooking is prepared by your loved one, as cooking can be labor intensive. So appreciate your mums, dads, wife or husband who prep, cooked, put it on the table.
What about washing up, do you help? That is why I always share with my guest. Cook with love and eat with gratitude.
To serve the food of love

Once everything is prepared, we set the table for lunch or dinner. Home made juices are served.
We will all sit down and enjoy the food and so far, begineers or experienced chefs just love the dishes.
It can be Nyonya, South Indian food, nasi kandar or street hawker food. Some realised why the food taste good. You do too, right?
.
Penang homecooks setup and class, I wish will give you more happiness and fun time with Chandra and I. We inspire to share lots with you. God bless.
For booking, write to us here. Or call .
Go to Top of Penang HomeCooks Setup Page
Back to My Island Penang Home Page