Batu Ferringi Beach is without a single doubt uttered by foreigners as a place they must step on when they landed in Penang. Second to Georgetown, the heart of Penang heritage city, Ferringhi is the most developed part of my island Penang.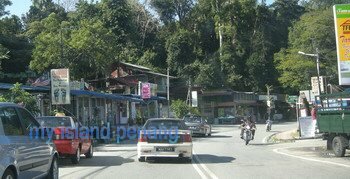 The beach is slowly losing its character though the fusion of new Penang. No longer do you see coconut trees swaying at Batu Ferringi Beach but in its place are three, four and five star hotels, luxury apartments and condominiums. There is no signs of any fishing village since the tsunami hit the island. The unique attap wooden stilt houses which I love are all gone. Now most fisherman learned to lived in blocks of apartments.
It stands with bazaar of resorts, restaurants, shopping malls and a buzzing place that has surely lost some of its natural energy because of the man-made progresses. Along the roads of Batu Ferringi Beach, guest house or travel Inn awaits tired or budget conscious travelers. The popular hotels resides here with at least 60 to 80% occupancy is found here.
Hotels like Hydro Majestic Hotel, Sri Sayang Apartments,Rasa Sayang Resort and Spa,Golden Sands Resort,Lone Pine Hotel, Holiday Inn Resort, Grand Plaza Parkroyal Hotel, D Feringghi Restaurant Hotel and Bayview Beach Resort Hotel are very popular amongst foreigners and locals.
Fun in Ferringhi
We observed Suhaime, a sea sport guide, an ex employee with Mutiara Hotel guiding the tourist to enjoy the sea sports. He makes me feel that these tourist are really having fun. Yes he said, he is serious, they are having fun and if we take instruction, there will not be any accidents. Conquer your fear and relax, just have fun, he advises the girls. I might be tempted to do it. Well, if you are keen, booked Encik Suhaime for the sea sports here.
For now, we enjoy the Batu Ferringi Beach. The "older folks" like Chandra and me remembers our school holidays. Which beach is crowded like bees searching for honey, or where is more private for young lovers, campers and picnickers. Today despite the heavy construction going on, Batu Ferringi Beach is still a great choice to escape in our daily lifestyle.
Beaches in Ferringhi
It is still a mystic what draws the tourist to this part of Batu Ferringi Penang? If you say it is the cleanest or clearest beach, you get no marks for this. But it can be argued that because of the beach, the tourists, the place has become a favorite.
Many of us knows our favorite spot. The quiet golden sand beaches or private deep blue green coves like lovers needing hidden privacy.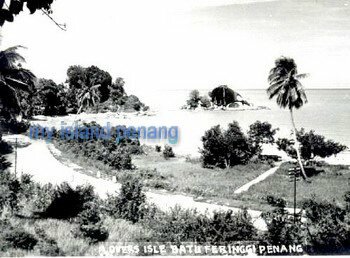 Apart from the regular dining, shopping and nosing around, there are specialized services available around the place that goes with the energy of spending time at a beach water sports is one such service which most people love on holidays. It has become the favored place for retiring in Penang for the British and working expatriates alike.
There are still many historical spots not forgotten for site seeing in Penang. Lovers would endeavor to see the foreigner's rock or Lover's Isle which have been standing in its place in the Batu Ferringi Beach ever since the Dutch landed. Most of us will never forget the haunted house "Adorable" as you drive along the windy coastal roads of Batu Ferringhi. And yes, it has a new coat of paint and no longer look haunted.
Sunshine Bay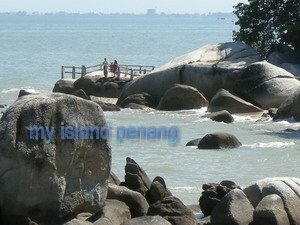 Sunshine Bay is the start of rocky part along the coastal beaches in Batu Ferringhi. The road around this bend is higher then the beach level.
You need to do a little walking down the beach through rocks and tricky path. A spot not many knows about so it is pretty quiet. You might want to know where to look for right?
The beautiful resident of the Japanese Consulate is an easy spot to remember at the beginning of Batu Ferringi after passing Tanjung Bungah.
Many of us might not know this. This used to be the resident of one English architect Richard Winthrop, who had an architect firm in 39 Beach Street way back in the 50s' He later sold it. I wrote this after Alan, the son wants to find his father house.See beautiful photos Alan sent me of old Batu Ferringhi. Apartment for rentals Mar Vista is just next road for some needing a place here.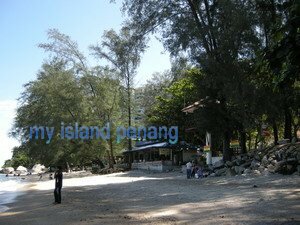 Penang Miami Beach in Batu Ferringi Beach
The beach here is full of rocks and sandy. The path leading down to Sunshine Bay is quite steep so be careful when coming down. Fairly a quiet place and a lover's hideout in this part of Batu Ferringhi Beach.
There are just a handful of houses, one of which belong to the late millionaire Datuk Loh Boon Siew in which his son was found hung.
Miami Beach
Next you come to Miami Beach. Miami Beach is a popular hunt for the locals. Weekends and holidays, it is almost packed with picnickers and campers like.
A life guard station, a row of beach cafes ever lasting popular ice kacang and young coconuts is easily obtained here. Did I forget rojak, a local shrimp prawn paste dessert?
Though the beaches looks the same as in the past, it is not the same story on the other side. Luxury apartments and beautiful houses worth millions stacked the skyline of Penang Miami beach front. Many foreigners choose this property in their "Malaysia My Second Home" retirement program.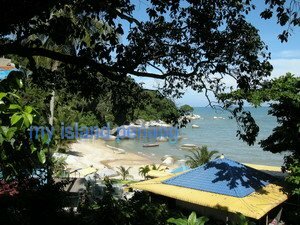 Penang Moonlight Bay Cafe in Batu Ferringi Beach
Like Sunshine Bay, Miami Beach has no hotels. But Miami Green, the new property on top of the hill is really a beautiful property. Many expatriates and locals are purchasing real estates on this stretch of Batu Ferringhi.
To enjoy the beach, just park your vehicle along side the road. It is the locals beach paradise. This is one picnic beach. We used to frequent with our school friends loaded with banana leave packed of Nasi Lemak and sardine sandwiches.
Moonlight Bay
Supposedly the best time to enjoy this beach is in the evening. The moon shines down at us caused a shimmering effect, almost silverish ream on the waters of Moonlight Bay.
I was surprised how bright the moonlight is, we were able to walk on the bright beach on a dark night. No wonder, it is called Moonlight Bay. The Moonlight Bay Cafe serves Malay food and local cuisine. The cafe only opens in the evening. The food is not too bad. It should have been better and it would have complete our time in the northern part of Penang. It is still a quiet beach if you want the beach to yourselves.
Massive real estate construction on the hillside has been halted due to the recent landslide in Kuala Lumpur. Just opposite Moonlight bay, the hill are no longer green but bare and orangey sand slopes.
From this hill on, one can observe modern luxury homes that makes you think you are in another country, meaning there is Strait Chinese designs or Anglo Indian or Moorish designs.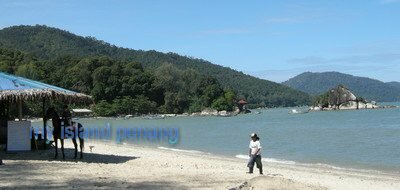 Intelligent horse resting in Batu Ferringi Beach
Ask Chandra and he will tell you the best way is cycling to Batu Ferringhi. It is still done by some.
For us who has a vehicle a car, there are 3 ways to reach Batu Ferringhi.
We talked about the mid point of entering Tanjung Bungah which you need to pass to reach Batu Ferringhi. From Ferry point Georgetown, through Kelawei and Burmah Road or Vale of Tempe Road which is no longer a secret fast road to reach Batu Ferringhi or Teluk Bahang.
From Air Itam or Green Lane, we drive through Gottieb or Burmah Road then turn into Mount Eskine Road which joins up to Tanjung Tokong Road.
Or coming from Bayan Lepas, circle Balik Pulau, Teluk Bahang and land in Ferringhi.
By bus, my choice would be use the Rapid bus. They are 6 trips in a day you can go to Batu Ferringhi with this bus 101. Estimated time in the bus is 30 mins. This bus start in ferry terminal in Penang.
There are other buses like the Transit link #202 or Transit link air-con #93 but they are not that regular so I won't want you to sit waiting for this particular bus. This buses can be found in Komtar, where you do your shopping spree.
Arrival in Penang by Air - There is no bus straight from the airport (Bayan Lepas) to Ferringhi. A taxi ride will cost you RM80 to get to the hotels in Batu. You'll have to buy a coupon for the taxi when leave the arrival hall after collecting your luggage. But if you still want to take a bus, walk out to the main Bayan Lepas Road, and wait for three routes that passes through here. U302, U307 and 401E
Batu Ferringi Beach lies between Tanjung Bungah and Teluk Bahang coastal line. Tanjung Bungah is a township filled with supermarkets, shopping complexes while Teluk Bahang is a great spot for nature lover. The only spot filled with hotels are in Batu Ferringhi and Tanjung Bungah.
Let me be your travel agent if you are going home or visiting other destinations. Hotel combined, an affiliation I trust has most of the hotels anywhere in the world which are affordable, even the pricey ones. Have fun in Penang and have a safe journey when you leave Penang.
Go to Top of Batu Ferringi Beach Page
Find more hotels in Batu Ferringhi here
Find more hotels in Tanjung Bungah here