Penang Chingay performance is a spectacular procession. The performers carried the bamboo poles carefully watched by his other strong team mates.
They would balance a huge flag pole with colorful triangular flags, on their forehand, chin, lower jaw or shoulders.
The 35 feet bamboo pole is tie with a strip of triangular transparent silk flowing from top till down to the ground to display the gracefulness. Some poles, I heard weighs 50 to 80 pounds.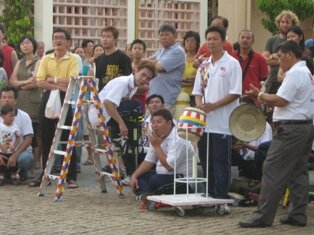 One can see that, to skillfully play with the chingay poles, you need great balanced, might and strength. And if you observe, the powers of physical co-ordination and lightning reflexes are main agility points for being in the team.
The Chingay mates besides performing stunts, must ensure this soft material ends does not drape itself around and entangles the performers.
Also, if the flagpole seems like falling at any time, the other team members will move in to prevent it from crashing on to the onlookers and spectators or objects which may be in its path.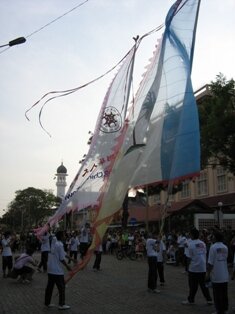 When the Chingay bearer of the moment is tired, his mates will relieve him of the heavy weight of the flag and resuming the procession without a halt.
It takes great strength to master the intricacies of supporting the flagpole and holding it aloft for all to see and admire.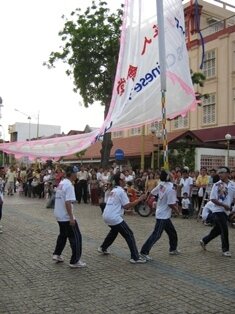 There are also different performers accompanying the Penang Chingay participants. And these include wildly animated lion dancers, moon face clowns, stilts walking and girls trick cyclists. A band of musician playing Chinese instruments help to enhance further its spectators.
During each parade procession, the streets become a sea of colors and motions as multi-colored triangle-shaped flags billow in the breeze.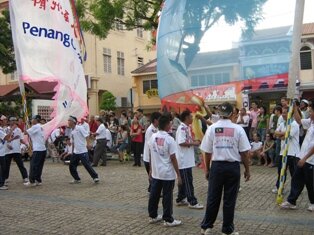 Sometimes, the drummers and Chingay performers celebration is seen during birthdays of the Chinese deities. Since it is Chinese New Year, Chingay and Chap Goh Meh drummers entertained both the human crowd and Goddess of Mercy who most locals worshiped.
Some more of Penang Chingay performance, history and flag making from here. Chingay is now performed in many parts of the world but read the past, present and future here. Penang Chinese has come a long time since the 19th century, the fine arts and crafts from mainland China is still practiced in Penang.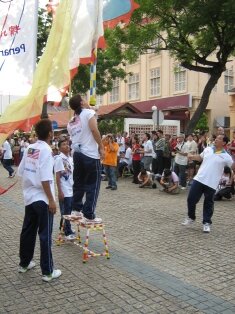 Know which animals you born with and why certain animalistic behavior we might have here. Interestingly read why fruits and trees are used by business people during Penang Chinese New Year.
These are some of the Penang Heritage that is in dire need to be preserved. Most of the traditional cultures is what makes Penang into a heritage city recently.
I can still recall my young days when December comes and father would take us to relatives prewar house in town to watch the Chingay procession. All the young kids, me and Junnie included would be standing on wooden stools with our head popped out of the window excitedly shouting out, "one more coming"!
The most unforgetable was a couple called "Bong Bai Hia and Bong Bai So". A quarrelsome couple who were heavily made up in Chinese opera costumes and white faced, dark red lipsticks and deep red rogue on her cheeks. They verbally and physical fought each other on a trishaw. Everyone watching would jeer or cheer them as they fought much to the amused delightful crowd. Such memories are still so vivid in my half century old head.
Go to Top of Penang Chingay Page
Back to Photos of Hokkien New Year Page
Back to Nyonya Chap Goh Meh Page
Back to My Island Penang Home Page