My Kee Heritage takes me back to my home town Sungai Bakap a few weeks ago. Before this, I used to take my father home whenever he missed his birthplace. But I did not feel much significance until recently.
Those times, it was just a customary visit, as the old man wants to go home. Now I realize why he longed to go home, to our Kee Heritage home.
It is life changing, shocking and can be bittersweet, funny attitudes of the olden days, one has to find out. Some experiences are bitter and some hilarious.
And I have my magical moments too. So, for me to tell you about my Chinese Ancestry, let's go back in time to the mid 1800's. Chinese Ancestry also means tracing your Chinese family history.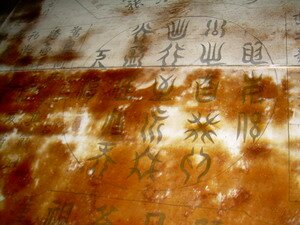 And whenever he talked about his younger days and Kee Heritage, I admit I was humoring him. He talked while I drove. He used to laugh at jokes or stories he told me on the way to Sungai Bakap. I never felt his pride then.
Find out more about Kee Heritage here:
How he allowed them to smoke opium so that they could do all the hard work to built the Kee Ancestral homes. So mostly all design and stuff in Sungai Bakap, Kee Kongsi or Ancestral Homes originated from China, artisans and craftsman and all.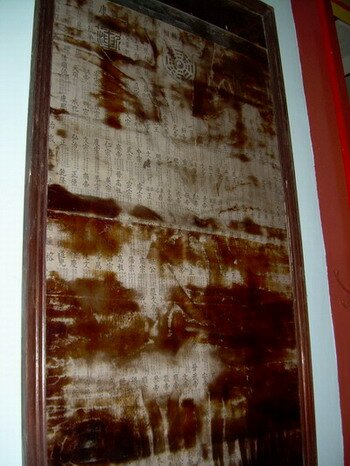 Something kept making me go back to visit my Kee heritage home these past few weeks. So I follow the tide and went home to Kongsi to learn more about my heritage.
I started to listened attentively when my uncles and aunts shared their stories. I needed clearer explanation because sometimes they would rattle bits and pieces.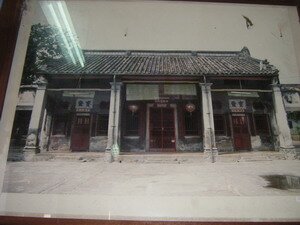 I went to the ancestral hall to offer my prayer and read papers cuttings about my heritage. I am fortunate there were many paper cuttings of our Kee Kongsi.
I got very interested about Sungai Bakap being called the Valley of gold and probe them to tell me more.
They got on to share his early days of hardship, toiling on grounds of swamp lands. Day and night, he would worked on his swampy land till it became fertile for the sugar cane plantation.
How he built the township, hiring coolies from China. Stepping into the receiving hall, two very old and dowdy glass frame work can be seen.
It may look insignificant at first sight but not for a keen eye. One is a large frame showing "The Evolution of Chinese Characters".
The other is an illustrated "Table of China's Emperor" from Emperor Shi Huangdi to Pu Yi. I was told that these Table of China's Emperor might be one of its kind left in the world.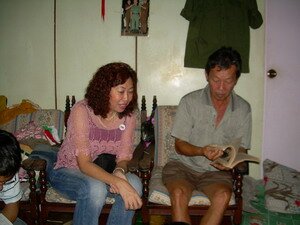 The Larut Wars fought over 14 long years, the signing of Pangkor Treaty were two main events during 1830 to 1874.
And the involvement of the Province Wellesley Taochiews that helped to change the history of Johore Sultanate were the highlights during my great great grand father Kee Tek Phang time.
With the influx of Chinese immigrants, for plantations and tin mining, formidable secret society were formed. The triad society had every one under their wings. Khaw Boo Aun, brother-in-law to Chor Chor Kee Lai Huat, then was the Ghee Hin Leader.
Khaw Boo Aun took over his father Batu Kawan sugar plantation of 2400 hectares. According to Khaw Chin Kooi, the estate is so huge, that a bird could not fly out of the estate without resting.
Kee Kongsi motto is "Look Before You Leap". See the sign posted as you enter the clan house. Filial piety, respect, and honoring our Ancestors are important rules in the Teochew History and Kee Heritage.
Watch how worshipping of ancestors on Cheng Beng is ritually practiced yearly. Then I remembered how we carry food up to the Kee Cemetery and had a picnic after that.
Gone are the days but as it is customary, I went with Newman (Jack) Kee and wife and offered my prayers to great great grand father Kee Tek Phang and say hi to the rest on the Kee Cemetery. How cool is that, I said HI! to the honourable ancestors!
So (Cheng Beng) All Souls Day, (Chang) or Dumpling Festivals, Tung Cheh or Winter Solistic Month", Hungry Ghost are yearly prayers offered. But the biggest is on offering of food for the Hungry Ghost or Hoe Hea Ti.
Hundreds of bowl of food, fruits, local cakes are offered on 10 tables every year for the (Hoe Hea Ti) good brothers . My uncles and aunts are very traditional and still offer these prayers in the Ancestral clans home.
My friend Tim writes about our heritage home. You can find it here
Go to Top of Kee Heritage Page
Back to Kee Ancestral Home Page
Back to Kee Kongsi Cheng Beng Page
Back to Kee Clan All Souls Day Page
Back to Kee Lai Huat Vision Page
Back to Province Wellesley Taochiews Page
Back to Kee Ancestors Lineage Page
Back to My Island Penang Home Page