Garlic Asparagus dish is Chandra's favorite dish. One of our own family concocted dish after having eating Eurasian food one day. To me it is the best stir fried Garlic Asparagus dish. Simple yet nutritious.
The kids loves them! With our love for garlic, we wanted to eat it as fresh and simple as possible. We would added butter or even sambal belachan to this dish and waa la, it turned into a Malaysian food dish.
Chandra would never failed to remind me to cook this dish for him. Asparagus fried with sambal belachan is yet another dish I love.
I do not mind having asparagus blanched in hot water and dripped over garlic oil and butter. So much that my daughter, when she comes home to visit us, she brings asparagus home.
Or if I forgot to purchase it for any festive occasion, he would go and get it. Luckily I did not dreamed of Garlic Asparagus in my sleep.
It has to be cooked for any family function. According to Chandra, the fresh and crunchy asparagus is his vegetable of choice.
Green and fresh, he would watch when I cooked it. Why, he would put more butter in after I have finished cooking and seeing the melted butter sipping through the hot dish makes his day.
Ingredients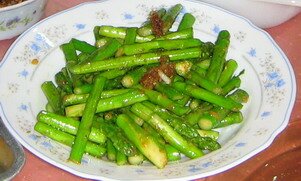 1 kat asparagus, peel the skin and blanch. Blanching the asparagus will take the bitterness away.
To stop the over cooking, immediately pour off hot water and replace with ice water.
This will keep the asparagus green. Seems easy but it is not so.
5 pips garlic
2 Tablespoon Butter
1/2 teaspoon salt or to taste
Methods
Heat pan, medium heat. Stir fry garlic in butter till aromatic. Turn the heat down and scoop half garlic oil for garnishing.
Add asparagus and salt. Dish and served immediately. This dish is great as party dish too. Try it and I am sure you will love it too! Another variation is to bake it.
Roasted Asparagus and Garlic
1 pound asparagus, cut off woody ends of stalks, then cut into 2 inch pieces
3 T extra virgin olive oil
8 large cloves fresh garlic, each sliced into 3-4 pieces
salt and fresh ground black pepper to taste
Break off the woody end of one piece of asparagus; use that as a guide to tell where to trim the other pieces. Cut off woody ends, then cut asparagus into 2 inch pieces.
Cut each large garlic clove into 3-4 slices. Put asparagus, garlic, and olive oil into large ziploc bag and let garlic marinate 1-2 hours. (You can skip this step, but the asparagus will be more garlicy tasting if you marinate it.)
Preheat oven to 450 F. Place asparagus on large cookie sheet and season with fresh ground black pepper and salt. Roast until asparagus is slightly softened and edges are starting to brown slightly, about 20 minutes.
Serve hot
Go to Top of Garlic Asparagus, A Eurasian Delight Page
Back to Lina Jam Puff Photos Page
Back to My Island Penang Home Page