Chinese New Year is the most auspicious and busiest times for all Chinese people, not only Malaysia Penang, but world wide. The Chinese claimed that since they worked so hard all year round, they deserved to take off days for 15 days.
Our 15 days of Chinese New Year celebration makes this page far too long, I must admit. I just love to share what we do here in Penang, Malaysia.
The Chinese zodiac consists of twelve animals, rather than the solar signs used in the west. In the Chinese calendar each period lasts for a full cycle of the moon, from new to full.
There are twelve complete lunar cycles in a Chinese zodiac year, but one animal symbolizes the entire year. According to the Chinese calendar, the cycle is completed every twelve years.
So if you were born in the year of the rooster, you would celebrate your zodiac birthday every twelve years, and your Chinese zodiac sign would be the rooster. But in the west your astrological sign appears once each year.
Chinese Zodiac or Almanac
The Chinese Spring Festival basically celebrates the triumph of good over evil. And very much tune in with the zodiac or Chinese almanac.
The Chinese almanac consists of beings like rat, cow, tiger, rabbit, dragon, snake, horse, goat, monkey, rooster, dog and last but he still arrive, the piggy. See the infamous twelve here.
Buddha then announced that the people born in each animal's year would have some of that animal's personality. I sometimes wondered how the cat got left out?
Preparing for New Year by the Chinese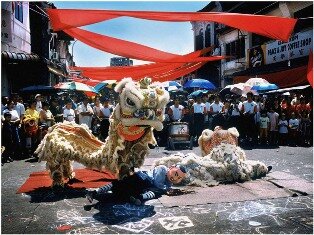 The preparations for the festivities of Chinese New Year are exhausting as well as being extensive. It is usual to clean the house from top to bottom in-order to rid it of bad luck (sweep it out).
In our apartment or houses in Penang, Malaysia, Spring cleaning usually starts on the 20th day of the 12th month of the Chinese lunar calendar.
It is also traditionally a time for painting window and doors (usually in red for luck). Any debts are repaid and decorations, primarily of red and gold couplets, are used extensively hung on walls and in windows.
The symbolic meaning that speak of happiness, wealth, longevity, like safe and peaceful on your coming and going and big prosperity coming in a big way is hung everywhere.Chinese New Year
Buying New Clothes
As well as smartening the house, it is usual for the individual to use the run up to the festival to get a hair-cut and buy new clothes to wear during the celebrations. Some of these customs we may recognize and conform to ourselves.
Many Chinese also use the time before the festival to prepare their bodies for the New Year by choosing a more cleansing diet.
Making Traditional Cookies and Cakes
I look forward for Chinese New Year as I get the opportunity to taste all the lovely traditional cookies like Kuih Kapit, Kuih Bangkit, Nian Gao, Peanut Cookies and Jam Tarts.
This is part of our traditional Malaysian cookies. It is a must make, or must buy and MUST EAT!
Significance of Plants, Fruits and Flowers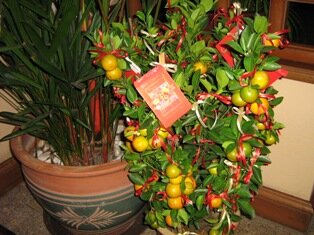 Flower decoration or arrangements of plum blossom just starting to bloom are a hot favorite. If arranged with bamboo and pine sprigs, it symbolizes never ending or continuous friendship.Chinese New Year
Some of the lovely decoration is very symbolic to Chinese as their belief is the three elements: Wealth, Health and Prosperity.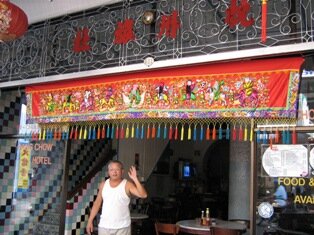 Why these fruits or flowers are auspicious to us Chinese?
Oranges or Kums

When visiting family, relative or friends during Chinese New Year, remember to bring along the kums (oranges).




The significant is you are bringing prosperityto them. (Hokkien word: ban ban means millions). The tiny orangey parts are called ban. It also means abundant happiness.




Tangerines

Tangerines with leaves intact assure that one's relationship with the other remains secure. For newlyweds, this represents the branching of the couple into a family with many children.




Kim Kua or golden pumpkin

Kim Kua is also called Huat Chai Kua which signify abundant wealth.




Hor Lor Pu or Bottle Gourd

Signifies abundance of riches.Chinese New Year




Ong Lai or Pineapple

Bright or positive charge is "ONG' in Hokkien. So let the strong positive vibes will be flowing in.




Zamioculcas or money tree

They are twisted in spirals to take away bad vibes and bring in the good ones. In Mandarin, it is called jin qian shu.Chinese New Year




Chai

The red beautiful piece of satin banner with character is hung to welcome the New Year. Usually it is hand sewn and has auspicious wordings sewn on it.
Candy Tray
Dried candied melon - Good health and continuous growth
Kua Chee (Red Melon Seed) - Joy, Happiness, Truth and Sincerity
Sweeten Kumquat - Strong family relationships and prosperity
Coconut - Bonding and togetherness
Groundnut - Longevity
Longans - Have good male descendants
Lotus seed - Many children for newly weds.
Ancestor Worship
Nowadays, as most of us are working, there is hardly any time to cook all the dishes for prayers at home. So a week before Chinese New Year, we had our ancestor worship in the temple. See more on Ancestor Worship in Penang.
Reunion Dinner or 'Ooi Law'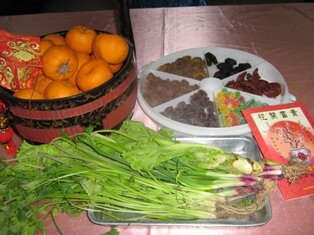 Chinese New Year's Eve is traditional a time for large family gathering and the sharing of a banquet. The style of food is dependent on the area where you live.
This is the time for remembering and honoring departed ancestors. It is widely believed that the spirits of these departed relatives will attend the living on New Year's Eve in order to celebrate the changing of the year together.
Reunion dinner is a dinner when all family members congregate the night before to have a big hearty meal. Food and cooking for reunion dinner and ancestor worship have very deep auspicious meaning.Chinese New Year
For example, we will have fish, as the Chinese character: (Yu) abundance, Fatt Choy, calling in prosperity or mushroom (Kor), literal translation aunt as in father's sister. The meaning is beside respecting our elders and parents, not forgetting our aunties too.
The other is Too Thor Th'ng. Too Thor is actually pig intestine. The dish is cook to remind us that everyone has intestine but only human (ren) respects their elders or teacher. This reflects the importance placed on human beings as we are not animals.
It is a time, the whole family gets together at least once a year, share a meal and usher in the new year.
Chinese New Year actually serve to remind us of our values, tradition and customs. Of similar importance are the religious occasions of the Goddesses and Gods.
Ushering The New Year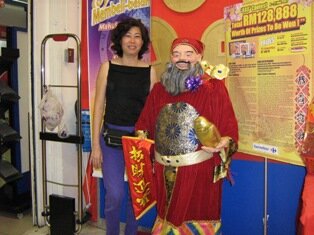 New Year Eve's night, fireworks are tied up on the pole, the longer the better. Neighbors used to outdo each other to see whose fireworks can last the longest. It is believed that the crackling flames and sounds drive away evils spirits.
My nieces and nephews asked for some clarifications about Chinese New Year. Nowadays, you can't tell them to do this or that. They want answer before they would listen to you:) No problem, so here goes my two cents worth.
Long ago in China, a man eating beast, Nian (Nyan) from the mountains, could infiltrate houses silently to prey on humans. The people later learned that Nian was sensitive to loud noises and the color red.
So, they scared it away with explosions, fireworks and the liberal use of the color red. Once Nian ran away, people joined together to celebrate for another year of safe life.
Fifteen days of New Year in Penang
On the first day of Chinese New Year, distribution of Red Packets to the elders and unmarried is customary. Lion dances helps to usher in the new year. Houses and business offices will be brighten by the lion dance troops.
Though we went to bed late, after midnight with the firecrackers and fireworks still brightening the sky, we were excited in the morning.
Fully attired in our new clothes, we greet our elders with Kong Hee Huat Chai, offered our first prayers to the honorable ancestor.
We then went to pray in the Chinese temple in Penang. You have to go early to (Goddess of Mercy) Kuan Yin Teng temple in Pitt Street. Be sure to put on your glasses as the joss stick smoke and ashes is so thick in the air.
And see more pictures too. Do you know how forgiving Goddess of Mercy is, read how her father, the King gave her the toughest and meanest job and how she overcome her training?
It is the busiest times of the year as prayers to Gods and Goddesses of your choice are being worshipped. You get to see Ma Choe Poh or our Patron saint of the sea in Goddess of Mercy Temple too.
The third day is beggar's day usually spent at home and you know what we do...gamble. There is a saying, if you do not gamble, you are not a Chinese.
On the sixth day, it is the birthday of Chor Su Kong, so off we go to the Penang Snake Temple in Bayan Lepas. The 600 year old Manchurian bell is in the main hall.
Seventh day is known as Everybody's Birthday. All these temples have long since become tourist attractions in Penang. Noodles are eaten and farmers must display all their produce, making drinks out of various fruit and vegetables.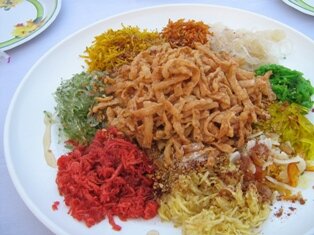 On this day, Yee Sang is eaten by tossing it as high as you can with the chopstick. The practice of TOSSING it high is to bring in renewed luck for the coming year.
The higher you can toss, the greater the prosperity they will enjoy throughout the year. The dish consist of pickled ginger, shredded vegetables, lime, raw fish, raw cuttlefish and various sauces.
Well, in Penang, we are always out to have fun and see how we celebrate everyone's birthday.
Lion Dance is important to the Chinese. The street near to Khoo Kongsi was lined with metal poles for the Northern Lion dance performance. People were busy taking photographs of the colorful almanac of the twelve zodiac animals.
For officiating new offices, they would use the Lion that can ward off any negative vibrations or the unrighteous dealings that may come along the way.
To the Hokkien, the ninth day is even more important than the New Year itself. Well, the stories is that, they hid in the sugar cane plantation on this day that the entire clan of Hokkiens were spared from being massacred.
On the eight morning till night, the Hokkien prepares for the midnight prayers to Thnee Kong.
Essential items needed for the celebration sugar cane stalks, roasted pigs, cooked meats and fruits. At the stroke of midnight, they will give thanks to the Jade Emperor, also known as the God of Heaven. Click here, for more photos of the Hokkien New Year celebration.
For the Hakkas eating nine kinds of vegetables on the ninth day is a must. Numerous offerings are set out in the forecourt or central courtyard of temples to celebrate the birthday of the Jade Emperor during the Chinese New Year.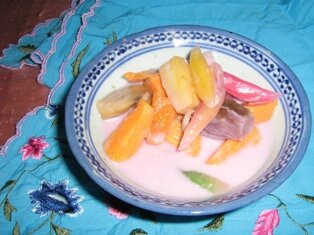 Chap Goh Meh which is the fifteenth day will end sweetly with young pretty ladies throwing oranges in Esplanade, Penang.
We will also have a sweet dessert called pungat to end the New Year. Some years, we have Dondang Sayang or Chingay festivals.
In the Dondang, the Chap Goh Meh revelers will go around Esplanade singing the pantuns and the Straits Settlement songs. It is very fascinating for me as a Nyonya too. But alas, though I enjoyed listening to them pantun.
Penang does live up to its name by having Cultural Shows for its people. The street were filled up with drums and young girl under their master were performing to the delights of the crowds.
I can only remember the good old days when dad told me how mum used to pantun, sing and with sireh and kapuk in her mouth.
Pantun - one person usually the man serenading like in Romeo and Juliet singing and the other replies, can be very amusing, how spontaneously they are able to reply in such haste.
Whereas in the Chingay, stilt walkers, lion and dragon dances and acrobats parades through the streets to the beats of gongs, drums and cymbals.
Going for Holidays?
China Beijing Tours: Beijing tour operator offers China Beijing city packages with tour itineraries to Great Wall, Forbidden city, Tiananmen and to other Chinese cities. Hiking tour suggestions are offered.
China holidays with tour packages. China has 16 legal holidays, and peak time for travel always occurs on National Day, sometimes the New Year's Day and Spring Festival.
Go to Top of Chinese New Year Page
Back to My Island Penang Home Page