Hokkien New Year are celebrated widely in Penang and all over Malaysia. Hokiens celebrates their New Year grandly with sugar cane, preparing of folding Thnee Kong Kim, the morning to night buying of food, wrappings of food.
Well, some of you may ask why only in Penang we have Hokkien New Year. Well, majority of Penang Chinese are Hoiken or Hokkiens.The Chinese in Ipoh and Kuala Lumpur are Cantonese speaking and Taochiews are concentrated on the mainland.
Then again, with the spirit of inter marriages amongst the Chinese themselves, springs the majority respecting this festival.
All one has to do to please the Father in Heaven, the Jade Emperor. The majority of the Hokkiens live in Penang and the mainland around Butterworth.
It is great to join in with the fun at Hokkien New Year with friends and family. For the tourist, this is the highlights or major festivities for the Chinese. If you choose to have your Penang vacations or holidays here, you will not regret it.
This celebration goes on for fifteen days and all the days, there are different celebration, be it in temple or home. Even China loses out when it comes to Penang Chinese New year.

As it was quiet at home for me, I decided to look around town, knowing fully well that this little town called Raja Uda will be lighted in full glory for the Hokkien New Year.
Nine Emperor Gods Temple in Butterworth

Chandra and I decided to pop in to see how the Taoist people are preparing for the Hokkien New Year. Hokkien respect for Jade Emperor, Thnee Kong) is unbelievably strong. Fireworks, can be seen everywhere.
It was a surprise for us to find out that the Nine Emperors God Temple, in Butterworth to be pretty quiet, though fully lighted up.
On the table outside and inside the temple, vegetarian food is offered. Other than that, all are quiet. It is one of the biggest Temple in Butterworth, really spectacular place to see.
Some folks were there by eleven pm to get ready the joss stick and Thnee Kong Kim for burning.
We did our prayer in and outside the temple praying to all the heavenly Gods and Goddesses, like the Three True ones, Jade Emperor, Ma Choe Poh and many others.
Aunty Lian Hokkien New Year Celebration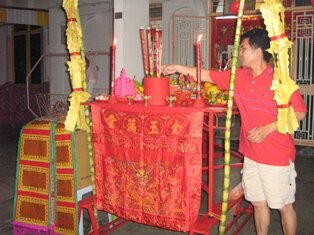 There are two reasons why Hokien takes this prayers on the eight night seriously. One is good triumphed over evil. Two, due to continuous prayer to Jade Emperor for defeating their enemies.
We then stopped by our friend's house to join in the Hokkien celebration. Low and behold, the family is getting ready to offer prayer to Thnee Kong.
Aunty Lian's effort can be seen by the preparation and offering on the table. The food and fruits are specially wrapped round with red paper. Cutting of red paper to bind the fruits is going to be a dying art.
The pig ling with its butts stuck up, lovely mee koo, jelly and other foods are food offerings for the Gods. I asked her whether she roasted the pig and she laughed, she has been offering the pigling for the past twenty years.
Chinese New Year Celebration in Chew Jetty Penang
I am flabbergasted beyond words. Food! Food! Food offerings on Hokkien New Year celebration to Thni Kong or Jade Emperor! The Hokkien community in Chew Jetty tops the New Year celebration again.
Over 20 long tables with roasted piglings, big bottles of cognac and trays, baskets, plates in all shapes and sizes laden with food. See for yourself the Chew Jetty celebration.
The Thnee Kong Kim is jointly folded by her daughters. It is an art one must learn. More photos of celebrations here.
Prayers to Thnee Kong
For homes, the Thnee Kong altar is always placed outside the house. Joss stick, candles and oil lamps are placed on the daily altar, while on the specially erected altar, are one of that handsome spread of offerings.
Once a year, like the 8th day morning till midnight, it is really busy day for Hokkien people.
These are some of the Penang Heritage that is in dire need to be preserved. Most of the traditional cultures is what makes Penang into a heritage city recently.

Approximately, eleven at night, all the prayers stuffs are carried out and placed on a specially erected table for the grand prayers.
I joined Aunty Lian daughter in the folding of Thnee Kong Kim. Even touching them makes one feel lucky and bountiful of wealth and prosperity.
Not lovers in the air but prosperity and wealth are tingling down as I folded the Thnee Kong Kim. Amidst the grandkids shrieking as fireworks are spouting up in the air. All the calling to us to watch, firework shooting up.
Go to Top of Hokkien New Year, A Chinese Festive Event Page
Back to Penang Lion Dance Page
Back to My Island Penang Home Page