Plesantly speaking, Kuih Kodok brings back many childhood memories. Kuih or Cucuk Kodok is a must have, be it breakfast or tea time snacks.
Many version of Cuk Kodok can be found in Penang. No afternoon is complete without eating this snack.
Not having the best way to describe it, I then called it Banana Patties but I still prefer saying Cuk Kodok or Kuih Kodok.
They are basically bananas all mashed up with flour, eggs, sugar, and then deep fried. They are usually round in shape but with uneven surface, hence the name kodok meaning toad or frog in Malay language. Whether you believe it or not, Malaysian loves this Cuk Kodok.
Grated coconut or Chempedak add on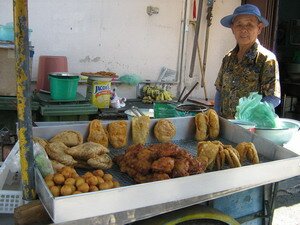 There are a few variations and I love variations. Depending on my kids or husband taste buds, I add grated young coconuts or seeded Chempedak.
Just lessen the flour if you want to add an extra ingredient to make this dish. Both versions are well accepted and has been eaten for ages.
All these are considered our tea time dessert. Maybe also a traditional Malaysian Food too? Most of us have been eating this Kuih Kodok since we were young.
Banana plants are like mangos, rambutans and star fruits tree grown in every household. It was said, in the good old days, our parents can feed a family of 10 for a mere RM200 in a month. Almost vegetable and fruits can just be plucked from the garden.
It is no wonder, our mums chit chat, sample the food cooked and recipes are passed from word to mouth. These days it is passed from internet, then mouth to mouth.
Kodok Ingredients
3 big ripe bananas
1 1/2 cup flour
1 1/2 tablespoon sugar
1 egg
1 teaspoon baking powder
Go slow with the water, if consistency is too runny, add less water.
Oil for deep frying
Cooking Method
Sieve together the flour, baking powder and salt.
Break the bananas (with your cleaned fingers) into small pieces and put them into a bowl.
Add flour, egg, sugar, and some water.
Use a big spoon and stir the ingredients to form a semi thick batter. (Scone like batter)
Heat up a frying pan and add some cooking oil for deep frying.
Once the oil is heated, scoop up a spoonful of batter into the frying pan. Try to shape the batter so it's somewhat round.
Deep fry until golden brown.
Drain well before serving.


If you purchase from the Penang Hawker, for 5 pieces, it would cost an affordable RM3.




Tips




Be careful with the water as it gets too watery if you add too much. The consistency should be, when scooped it lightly falls in the hot oil. Give a curve twist in the hot oil to shape. The uneveness shape is how the sweet cake got its name as Cucuk Kodok.




Generally, if you purchase from street vendors, they would give you on a piece of paper. We use it to soak up the balance oil and also hold it to cool it off. Sometimes you see us doing a balancing act trying to gobble the hot cuk kodok.




Back to My Island Penang Home Page